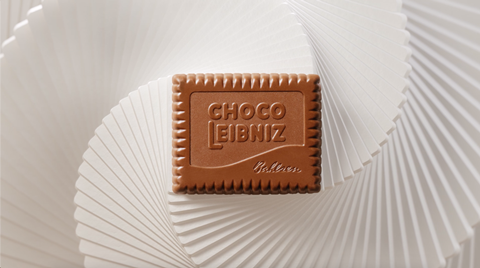 Family-owned biscuit company Bahlsen is showcasing its new look packaging in a new TV ad. Running until 28th May, the striking new packaging will feature in a national TV campaign showcasing Bahlsen Choco Leibniz.
Taking inspiration from the brand's rich artistic heritage, the new advert embodies the brand's affinity for art and design, cemented within the brand thanks to their founder Hermann Bahlsen. The extent of Bahlsen's exact attention to detail can even be translated into sound. The 'snap' of each Bahlsen biscuit is consistent every time and the TV advert creates a multisensory experience by marrying art with a technique called
cymatics, whereby animations are driven by sound. This allows the melody of the advert to be in the same key as the sound that the biscuits makes when it snaps.
Claire Sutton, marketing director – global brands and insight at Bahlsen, said: "Our TV advert is the perfect way to launch the new visual identity of the Bahlsen brand. The same level of thought, love and attention to detail went into every aspect of the campaign just as it goes into every aspect of our biscuits. From the biscuits being treated as the masterpiece in the frame, to the backgrounds reflecting the elements that make each biscuit unique, to the music track matching the note our biscuits make when snapped, this campaign showcases our products in a unique way".
The creative has been led by MullenLowe and the brand relaunch is supported by a £5m heavyweight media investment across TV, OLV, digital, print, social media and shopper activations in store and online, that will be rolled out over the course of 2021. The bold new advert is set to air during key prime time programmes such as Gogglebox, Alan Carr's Epic Gameshow, Too Close and Game of Talents. The advert will reach 72.7% of the core Choco Leibniz audience of ABC1 adults at least once.