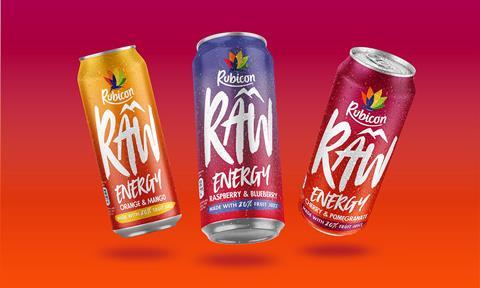 Rubicon Raw focuses on natural ingredients, such as caffeine from green coffee beans, ginseng and guarana, and is made with 20% fruit juice, which Barr Soft Drinks claims is the number one reason consumers like the product. The 500ml cans come in cherry & pomegranate, raspberry & blueberry and orange & mango flavours. They are available in plain (rrp £1.29) or £1.29 pricemarked packs and will be shipping out to market from 22 February. The firm is investing £1.5m to promote the drink across a range of partnerships, sponsorships, influencer campaigns and social media.
According to Barr, the average big can energy drinker is 31, but these products are designed to appeal to those in their early twenties to mid thirties. "They [energy consumers] adopted the category as young adults, but many have matured and evolved as consumers since then, and they're calling out for something new," said marketing director Adrian Troy. "Three of the four big can energy brands occupy the same loud, full on, masculine space. They're all very dark in some ways and operate within the same sphere of the market."
He claimed that Rubicon had moved away from the position of just being solely for an ethnic base. "Three out of four drinkers of Rubicon are now white British," he said. "Rubicon is recruiting younger shoppers and pulling 20 somethings into soft drinks."
Marketing around the brightly coloured cans encourages consumers to 'be a force of nature'. The firm claimed that 82% of consumers thought Rubicon Raw was different and that 80% would probably or definitely buy it.
Energy has grown to become the top Drink Now segment of Soft Drinks worth £1.4bn and growing at 8% [IRI Total Market Place MAT 04.10.20 Value Growth % and Vale Growth Actual]. Within this, Big Can Energy is driving the growth at 13%, highlighting an opportunity for retailers to take advantage of innovative NPD that meets the needs of today's Energy drinker, claimed Barr.
"Flavour remains really important to energy drinkers, they are looking for more than functionality, they want a great tasting product," added Troy. "Eight of the fastest growing Energy SKUs are flavoured, four of which are juice based."
Barr claims that Rubicon is the no. 1 exotic juice brand and no. 1 sparkling flavoured water brand. Rubicon Spring has brought 400,000 new shoppers into the category, delivering an incremental value increase of 75%.
"We are confident that Rubicon Raw will help retailers provide Energy shoppers with the product they're looking for – a big boost of energy with a fruity and refreshing taste experience," concluded Troy.