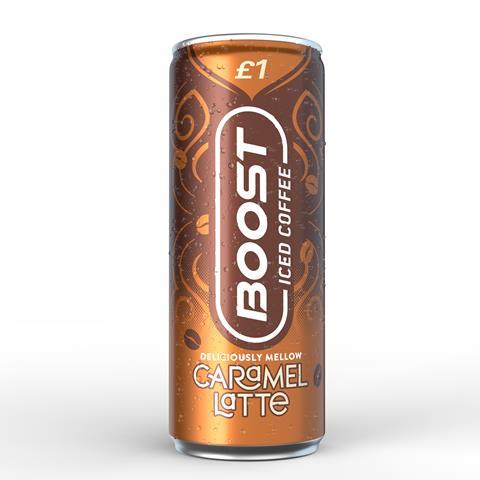 Boost has extended its iced coffee offer with a Caramel Latte variant (250ml, rrp £1), which comes in cases of 12.
The company claims that the drink has been developed with a superior milk content recipe, and that the Caramel Latte flavour uses special production techniques to guarantee a smooth taste and extended shelf life for retailers compared to other brands.
To support the launch, Boost is activating a multi-channel marketing communications campaign across both trade and consumer formats, including digital and OOH. New POS in the form of caramel wobblers will be available for retailers to download from the website. Boost has also invested in coffee specific distribution driving activity to help land the product on-shelf and the brand will be conducting sampling both in-depot and direct from the retail stores.
Boost's original ready-to-drink coffee launch in 2020 proved to be hugely successful and it is already the number two iced drinks brand in Northern Ireland (IRI Marketplace Data Symbols and Independents 52 weeks volume sales to 29th November 2020).
The iced drinks market is worth £25.6m and is growing at 49% YOY (ibid). Boost states that Caramel Latte Iced Coffee is the fastest-growing and second-largest flavour segment in the iced coffee category, with a 21% market share.
Caramel Latte joins the Caffe Latte and Double Espresso SKUs, which launched in 2020 and is the 3rd fastest unit ROS within the independent iced coffee market, according to Boost.
Simon Gray, founder and managing director at Boost, said: "As the only soft drink brand that continues to sell exclusively through the independent retail sector, we're passionate about fulfilling our commitment to selling exceptional value products with no compromise on quality.
"In order to stay ahead of the curve and grow our ready-to-drink iced coffee range, we have invested in new flavour development to ensure we are offering a wider range of high-quality functional drinks, tapping into consumer interests and trends to help retailers increase sales. 2021 will be a landmark year for us as we also celebrate our 20th birthday, and we very much look forward to the opportunity to thank all our partners and customers who have supported Boost's journey thus far."