A later Easter gives retailers more opportunity to excite shoppers with eye-catching displays, gifts ideas and all they need for a get-together.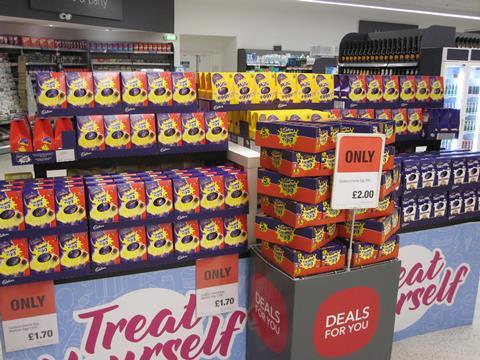 Retailers have been quick off the starting blocks when it comes to getting Easter stock out on shelves this year, determined to wring every last penny out of the gift that is a later 2019 season.
The combination of the Easter season kicking off just as the festive season tails off has led to a bumper start for Gaynor Grist, manager of Spar Hillcroft in Newport, South Wales. Easter is usually a good time for the Hillcroft team, and this year looks like being no different. Gaynor is determined to keep the momentum going right up until April 22.
"It sounds crazy, but Mini Eggs have been one of our most popular products since we started selling them from about Christmas Eve.
"We've already had to order in some extra big cases to keep them in stock. Shoppers don't seem to mind that the Easter season starts so early now, and I think it helps that the season falls late this year as it gives us more room to increase sales."
Early demand may well be down to shoppers not being able to resist a little chocolate treat for themselves. Chirag Shah, seasonal brand manager for Mars Wrigley Confectionery UK, claims that 68% of shoppers who buy for Easter agree that they like to treat themselves.
Harry Goraya, owner of Rosherville Post Office (Nisa Local) in Gravesend, Kent, is expecting high demand for Creme Eggs thanks to Cadbury's Hunt the White Creme Egg promotion.
Consumers can win up to £10,000 if they find a white creme egg, and a convenience retailer can scoop up to £1,000 if the winning egg is bought in their store.
Harry says: "I think Cadbury's White Egg campaign will help sales and put more momentum behind the Creme Egg range."
Susan Nash, trade communications manager at Mondelez International, recommends adapting your range as the season progresses, bringing in sharing products from this month to March and gifting products and shell eggs from April, to meet the changing consumer need and to maximise sales.
Out of the top 10 shell eggs, eight are Mondelez, according to the firm. In 2018 Mondelez claims to have driven value growth of £10m year on year, and holds a 43% market share of shell eggs.
Last year the brand's plush toy packs added £6m to the category. For 2019 Mondelez is launching the Cadbury Easter Bunny plush toy egg pack (rrp £6.99). "We've had good feedback on the bunny – it's cute and unisex and gaining parents' approval," says Nash.
With eight weeks of trading to go until the big Easter weekend, Mars Wrigley Confectionery UK's Shah is urging retailers to remember that demand for gifting products peaks at the end of the season.
He says: "Consumers often leave it to the last minute to buy their Easter chocolate gifts. In fact, 50% of sales occur in the final three weeks, making it particularly important for retailers to remain stocked up on gifting chocolate as the season draws to a close (Nielsen Scantrack Countback Weeks to Easter Sunday).
"Retailers should be aware that shopper decisions are based on whether a product is from a recognised brand, whether it is in either a favourite or premium format, whether the price is right, and how special the packaging appears."
Mars Wrigley Confectionery is hoping its new M&M's Eggs tick a few of those boxes. With a crunchy speckled shell and milk chocolate filling, M&M's Eggs are a limited edition treat and come in packs designed for sharing.
The launch of M&M's Eggs will be backed by advertising on Facebook and Instagram.
Mondelez is aiming to tap into demand for premium eggs with the Cadbury's Inclusion range, which it says added £2m to the shell egg category in 2018. The company is hoping to increase this growth this year with a new Crunchie Inclusions egg (rrp £12).
Gaynor appeals to all budgets by stocking a mix of shell eggs at different price points. She explains: "We try to do all sorts of eggs, from the £1 Buttons ones to the larger £10 gifting eggs. Most are from Cadbury, but we try to cover all bases by doing £5 hampers with a selection of wrapped eggs that people can buy as gifts.
"We are also holding a colouring contest for the children, with prizes for the best pictures. It is a nice way to bring the community together and encourage people to stay in the store for longer. None of the bigger stores around us do anything like it."
Harry is also engaging with the community and getting shoppers excited for the Easter season by inviting them to take part in a bunny hunt. He explains: "Whereas most stores like to hold an egg hunt, we like to do something a bit different and hold a bunny hunt where customers have to find a bunny around the store and can win eggs along the way."
Ferrero unveils treats for all pockets
Ferrero has a raft of innovation to appeal to a wide range of consumers this Easter.
The brand's Thorntons range is being bolstered by three new luxury eggs. The premium eggs come in white chocolate & raspberry; milk chocolate, almond & hazelnut; and dark chocolate & orange.
Also at the luxury end, the 212.5g and 275g Ferrero Rocher eggs have received a packaging makeover to provide greater standout on shelf. Both eggs saw sales increase by 70% year on year in 2018 (Nielsen, Easter Confectionery, luxury eggs S2 17/18, 17 wks to 28 April 2018), with the larger egg ranking third overall in the luxury eggs category (Nielsen).
For shoppers seeking more luxury, the Ferrero Rocher Hazelnut or Cocoa mini eggs (100g) aim to capitalise on the growing popularity of smaller egg formats, with the launch being supported by nationwide sampling.
Extending the brand's range of novelties is the new Ferrero Rocher Squirrel. The 90g product will be joined by new bunny figures from Thorntons. Two new 200g bunny products are being launched in milk or white chocolate.
For Kinder, two new 220g Surprise eggs (Teenage Mutant Ninja Turtles and Powerpuff Girls) are being launched after the popularity of the brand's 100g pack last year, where value sales grew by 21% and it was the number one-performing sku in the kids' confectionery category (Nielsen Scantrack data to 31 March 2018).
The Ferrero Rocher range and Kinder portfolio will both be supported by a media campaign throughout the spring.
Merchandising
During an important trading period like Easter, it pays for retailers to invest some time in getting their seasonal offering to stand out from the crowd. Ensuring that shell eggs have a prominent position in store is vital, according to Nash. "When you put them out, you want people to see them so that they know you can be used as a destination for Easter gifts. There's no point in hiding them."
Dedicated Easter displays work best for Harry and help him create some in-store theatre. He is already busy preparing his store for the Easter festivities, with a large offering in one place. He says: "Making sure that we have all our Easter products together, preferably on a gondola end or prominent place in store, is a really good way to bring customers in.
"It means people can find everything they want in one place and don't have to go somewhere else. If shoppers are on an Easter shopping mission then they probably don't have time to waste, so we need to make our range as convenient for them to shop as possible. We have lots of special POS and shelving put in so that we create a lot of impact in-store, alongside all our other seasonal offers."
Ferrero UK & Ireland customer development director Levi Boorer recommends cross-category merchandising to make the most of the season. "With the coming together of friends and family for the occasion, there is a natural place for chocolate gifting alongside wine, flowers and gift cards," he says.
"Convenience stores are in a great position to capitalise on those last-minute panic purchases and can inspire with creative cross-category merchandising close to the till."
Make Easter sales sweet with Swizzels
Swizzels has expanded its Easter range with a number of new lines this year, including the latest addition to its Squashies range: DrumChick.
The orange & pineapple flavour chick-shaped product is available now in 160g bags (rrp £1). It is designed to drive impulse sales of themed sharing bags.
Packs feature a competition for consumers to 'Guess the Chick Flick' from an on-pack image and be in with a chance of winning DrumChick movie hampers. The competition will be supported across Swizzels' social media channels.
Also new for 2019 is Swizzels' Easter Mix: a seasonal pouch filled with a selection of 40 sweets.
The product comes with a handle and includes Squashies, Love Hearts and Refreshers.
The collection of individually-wrapped sweets is targeted at parents and kids wanting to create their own Easter hunt (rrp £5).
Furthermore, Swizzels is also bringing back its 170g Spring Selection bag. 
The product contains a variety of sweets from the brand's portfolio, with a lower price point of £1.
Swizzels sales director Mark Walker says: ''Easter is a key sales period for confectionery, with Easter week being the number one week in the total confectionery calendar (IRI Total Market Value Data 52 w/e 4 November 2018).
"Sharing occasions, gifting and Easter hunts are key sales opportunities for retailers, so getting the right products displayed well is key to ensuring that retailers do well over the Easter period."
More than chocolate
It's not only chocolate that Harry uses to boost basket sales at Easter. He's keen to attract customers who are planning a spring gathering with friends and family.
He says: "We have a party section in our store that gets an overhaul with ceiling decorations and barkers at Easter time. It's about five to six metres long and is something we are looking to expand over the next few months.
"We can use the area for promotions on large packs of soft drinks, which always see an uplift in sales at Easter. It always makes sense to display these with all the Easter-themed confectionery lines for maximum effect."
Amy Burgess, senior trade communications manager at Coca-Cola European Partners (CCEP), believes soft drinks at Easter provide retailers with a great opportunity to go after the family market.
She says: "Easter is a key time for socialising at home and celebrating the long bank holiday with family and friends. Whatever the reason for the gathering, it's likely that an accompanying drink will be an essential purchase for most consumers over Easter."
What's more, the impulsive nature of many such events will mean that plenty of consumers will head to their local stores, as opposed to buying items on a planned supermarket shop.
"With many people planning impromptu get-togethers over the long Easter weekend, it's likely that they will turn to their local convenience store to stock up at the last minute, so it's important for retailers to focus on getting their range right to make the most of the opportunity," Burgess asserts.
"Consumers are demanding choice, too, so retailers should begin considering their ranges for Easter now, and stock a wide range of soft drinks variants to help make the most of the opportunity that the bank holiday presents."
Wilson Rea, owner of Keystore More in Lanarkshire, is stocking up with plenty of soft drinks to appeal to those holding a big Easter gathering. He thinks the low-sugar lines will be particularly popular this year as shoppers turn away from the sweet stuff and look for more healthy options.
He says: "I'm trying to keep away from as many of the high-sugar lines as possible and instead ordering in lots of bottled water and the zero-sugar versions of all the carbonated drinks.
"We get a lot of parents coming to the store and, from what we've been seeing so far, I think they will buy more healthy options this Easter. We've ordered fewer Easter eggs because the trend seems to be that people are moving away from having too much confectionery."
Haribo invites shoppers to 'Hunt the Double Yolker'
Haribo has unveiled a new seasonal campaign for Easter and is launching limited-edition Double Yolker bags of Starmix.
Shoppers who find one of 20 random Double Yolkers that have joined the five regular sweets in packs of Haribo Starmix will win a holiday with UK Forest Holidays.
Haribo trade marketing manager Claire James explains: "Hunt the Double Yolker is Haribo's biggest ever seasonal campaign, developed to drive excitement and sales as we count down to the Easter occasion.
"As part of the campaign, Starmix will retain the much-loved pieces that are found in each bag – including the egg – but 20 packs will also feature a lucky Double Yolker that has been hand-crafted by our team. Those who discover a winning piece will receive a fabulous UK family holiday."
She adds: "Hunt the Double Yolker complements our seasonal offering, which caters for those customers looking for a tasty alternative to chocolate and reinforces our association to traditional Easter hunting in a distinctly Haribo way."
The special Starmix Double Yolker packs are rolling out to stores from this month and available in a range of sharing formats, including £1 pricemarked packs and a 70g bag retailing at 50p.
The 'Hunt the Double Yolker' campaign will run until 21 April and is being supported by in-store activation. Shoppers have until 31 May to claim their prize.
Spring specials
Instead of filling his store with wall to wall chocolate, Wilson is planning to create his own offers and excite shoppers with a front of store display decked with spring imagery. He says: "Seasonal events like Easter are all about in-store theatre. It's often more important than the types of products you stock.
"For example, we sell hot-cross buns all year round, but put them in a dedicated Easter display, or include them in a special multi-buy promotion, and they will fly."
Gaynor doesn't want to miss out on any Easter trade. She is planning to group essential items such as seasonal gifts, sharing snacks and soft drinks around the Hillcroft store's till-point, to encourage shoppers to make purchases on impulse.
She adds: "We often find that people come into our store last minute so it make sense for us to display everything around the till to prepare for the Easter rush.
"We want to make it so that customers in a hurry can find everything they need, which also means we won't waste an opportunity to get some extra sales."