Get the lowdown on water, squash and milk drinks in the convenience channel.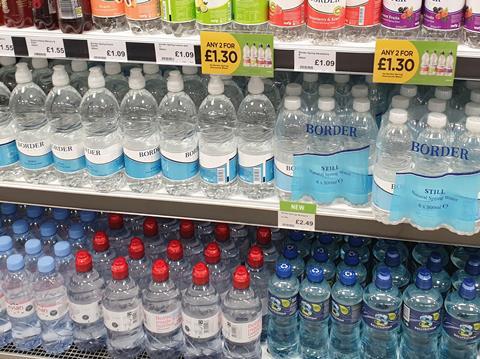 1. Plain water sales dropped 27% in convenience in 2020, but that doesn't mean 2021 will be a washout
Plain water is down -£58.7m (-27%) in convenience (IRI Marketplace, Total Convenience, Total Soft Drinks Value/Volume, 52 weeks to 27th December 2020 vs YA), claims Britvic, while Water Plus is down -£33.9m (28.9%).
Clearly, much of this drop was caused by lockdown reducing on the go occasions. The growth in water refill stations is also draining bottled water sales as people turn to more sustainable solutions, notes Britvic. According to Water UK, there are now over 30,000 Refill Stations, up from 1,500 in 2018.
Nestlé Waters UK, which owns Buxton Mineral Water and Nestlé Pure Life brands, notes that on-the-go plain water formats have lost considerable market share. Before the pandemic, 74% of total plain water value sales came from on-the-go formats (IRI Market Advantage, Water database, Val Sh%, MAT 2019, Convenience exc Major Mults). Now 63% of total plain water value sales come from on-the-go formats (IRI MAT 3 April 2021), claims the firm. However, head of market Warren Plaskett is positive about the future. "It's important to note that on-the-go consumption is still the main shopper mission in convenience retail and we're confident that on-the-go formats will recover as restrictions ease."
In fact, it is already performing well in some c-stores. Atul Sodha of Londis Harefield in Middlesex claims that plain water is a good seller and that the pandemic didn't have any negative impact on on-the-go sales. "They always do well at this time of year, but waters are generally good sellers anyway," says Atul. "Last year wasn't much different to other years. If anything we sold more last year. Our sales over the past two years are the same. Evian is our bestseller."
Dennis Williams of Broadway Convenience Store in Oxgangs near Edinburgh also reports strong sales throughout the past year. "Water's water," he states matter-of-factly. "A lot of people like bottled water. Our best selling waters are Evian, Highland Spring and Volvic in 750ml bottles."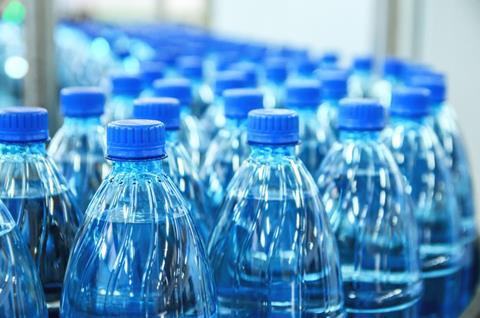 2. Take home formats now account for over a third of plain water sales in convenience
Larger pack formats have increased their share in convenience as on-the-go formats dwindled. With Nestlé Waters UK noting that on-the-go formats account for 63% of plain water sales, take home formats therefore make up the remaining 37%.
"As the nation travelled less and stayed home more during the pandemic, [total] on-the-go consumption largely shifted to take-home occasions, resulting in a notable growth in larger 1.5L and multipack formats," states Plaskett.
"Multipacks outperformed the bottled water category by +2.2% in 2020 and now account for almost half of total plain water category," he says. "With this new era of flexi-working and increased working from home, it is forecast that a good proportion of this growth is set to be retained even after lockdown restrictions ease." The firm's new 8x50cl packs, with bottles made from 100% rPET and encased in film made from 50% rPE, will be rolled out in the convenience channel in September.
Atul noted strong sales of take home formats as people spend more time at home. "Our 1.5l bottles they picked last year and are still massively up," he says. "We do a 5l too because we have a canal near us and people on the boats buy it - it's about catering to your needs and demographic."
ADVERTISEMENT
Shake Up Your Drinks Sales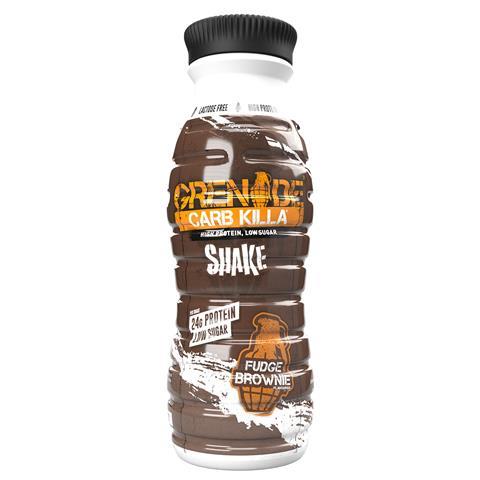 Grenade Carb Killa is a high protein, low sugar shake, full of flavour that's deliciously smooth and creamy. With more and more consumers seeking healthier options of what they eat and drink, it's important your drinks range reflects this shift in buying behaviour. Dairy drinks which are high sugar and high in calories dominate your chiller space and limits the choice for customers looking for a healthy, functional option. Offering Grenade Carb Killa from your chiller will give healthier snackers the perfect choice with low sugar and less than 211 calories per shake.
Available in Fudge Brownie, White Chocolate, Cookies & Cream, Strawberries & Cream and Chocolate Mint flavours. RRP £2.49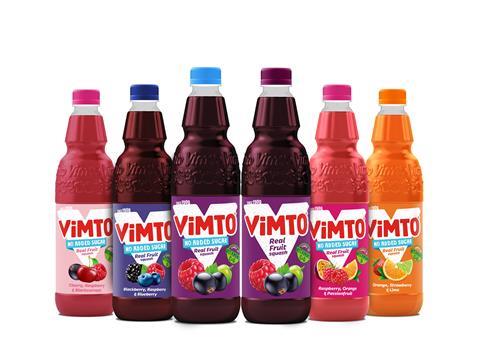 3. Squash sales have grown 25.8% in indies & symbols as in-home hydration soars
Squash sales have experienced 25.8% growth in the independent and symbol channel (EXT2 IRI, Symbols & Independents, GB, latest 52 week data ending 22.11.20), claims Suntory Beverage & Food GB&I. Additionally, the firm states that raspberry flavours grew 10% in 2020 (Kantar Worldpanel May 2020, IRI MPF 52weeks to 24.5.20)  and were 61% incremental to the soft drink category (ibid). Ribena launched a Raspberry & Rhubarb squash in 600ml bottles last summer.
Compared to 2019, 65% more people are buying into the squash category in independent and symbol stores (Kantar Penetration % 52 wks to 01.11.20), claims Britvic. The firm says the squash category is "a hot area" for convenience retailers, worth £44m within convenience and growing at 4.6% year-on-year (IRI Convenience, Value Sales £, 52wks to 25.10.2020). Robinsons accounts for just over half (50.5%) of all squash sales in convenience (IRI Convenience, Squash, Value £, 52 wks to 25.04.21). Britvic's annual Soft Drinks Review claims that Robinsons was the biggest growth contributor in 2020, adding that Vimto also put in a good performance, outperforming the category.
Healthy hydration has quickly become a prominent trend and currently accounts for 52% of all soft drink servings (Kantar, WorldPanelOnline, MAT 27.12.20), according to Nichols. The group claims that Vimto is the number two squash brand and the fastest growing brand in the UK, having increased in sales by 19% since March 2020 (Nielsen, Total Coverage, MAT 24.04.21). Vimto's core squash range is now fortified with vitamins C and D.
Capri-Sun has also taken a vit hit with the launch of its Multivitamin Squash. Simon Harrison, vice president, commercial development at CCEP GB, says: "Squash is a large and growing segment within soft drinks and as well as accounting for 25% of drinks occasions among children [Kantar I Worldpanel Division I Usage Panel I IH/CO I 52 w/e 23 Feb 2020], it appeals to adults too."
Due to availability issues, Atul began stocking a number of new ambient take home soft drinks lines last year. Certain lines performed particularly well during lockdown. "Elderflower cordial from Bottlegreen did really well, but I've got back to my core range now of Robinsons and Vimto."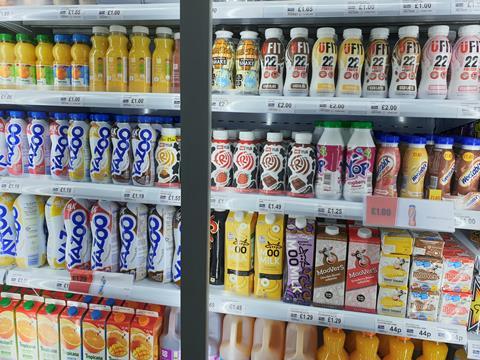 4. Flavoured milk sales within convenience account for 41% of total flavoured milk sales
With 11.9 million households buying into the milk drinks category, household penetration is at a record high, up 4.2% YoY (Kantar Worldpanel 21st Feb 2021, 52 wk data), states Mars Chocolate Drinks & Treats (MCD&T). "Across the UK, the total flavoured milk category is worth £389m YoY [IRI 52 w/e 20th Mar 2021, Defined Flavoured Milks, Value Sales]," says general manager Michelle Frost. "Within convenience flavoured milk sales total £161m, accounting for 41% of total flavoured milk sales (ibid)." The firm advises retailers to prominently display "category champions" like Mars Milk in chillers, ready to consume on the move.
Meanwhile, MCD&T claims that non-dairy drinks have also been a good seller for c-stores. "Within convenience, the category shows 35% growth and a value of £60m [IRI 52 w/e 20th Mar 2021, Dairy Alternatives, Value Sales]," says Frost. Sales of the firm's vegan drinks range, which includes Galaxy, Bounty and Mars lines, are up 59%, totalling £459,000 (IRI 52 w/e 20th Mar 2021).
Flavoured milk drinks are a good line for Atul. "Delamere dairy flavoured milk in 500ml glass bottles fly for us," he says.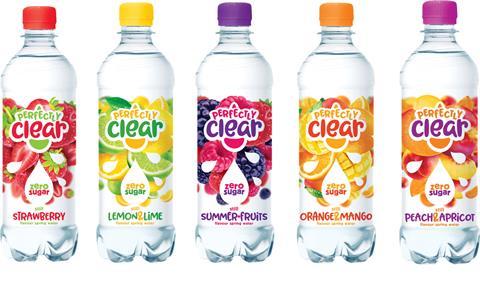 5. Flavoured water grew 78% in convenience last year
Flavoured water has seen strong growth, according to Clearly Drinks. "The convenience channel has significantly outperformed the market growing +78% YOY [ Kantarworldpanel 52 w/e 27 Dec 20]," says head of marketing Susanne Wright. She notes that flavoured water appeals to those looking to lead healthier lifestyles. "Post pandemic we expect health trends to re-emerge with shoppers looking to move away from drinks high in sugar and migrating to healthier alternatives. As a result, we expect low or zero sugar drinks to experience significant growth. Flavoured water particularly taps into this trend, offering healthy hydration but without the compromise on taste. We therefore expect to see health and wellbeing needs resurface as habits shift back to healthier drinking lifestyles and pre pandemic trends."
Flavoured water soaked up sales, according to AG Barr, which claims that the sub-category is a winner for c-stores. "Flavoured sparkling water delivers 50% more value through retailers' tills so retailers need to ensure they have the right balance of products in their stores to meet shopper needs and maximise their sales [IRI Marketplace, Value Sales, Key brands, 12 wks to 27.12.20, GB Symbols & Independents]," says head of marketing Adrian Troy. The firm claims that Rubicon Spring is the UK's no.1 branded sparkling flavoured water (IRI Marketplace, Value Sales, MAT to 27.12.20, Total Coverage) and it has high hopes for its new Pineapple Passion variant.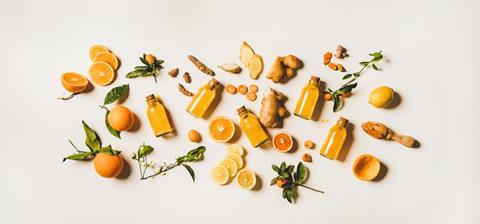 6. Functional wellness drinks had a shaky 2020, but present a £27m opportunity for c-stores
Functional wellness drinks dipped 17.2% last year, according to the Britvic Soft Drinks Review. However, the firm is confident that this can be turned around in 2021, claiming that the segment offers an added £27.2m opportunity for convenience stores. Britvic's head of category management, convenience, Reena Bilakhia, urges retailers - and rural stores in particular - to review their ranges and adapt to their new post-lockdown customers. "If you go to a convenience store near the London Eye, for example, you'll see a range of different drinks, a wider expanse that meets those functional wellness needs, it's a real broad church. Those people are now at home on their laptops, so I guess the key thing is - the need is still there, but is it being met? That type of proposition does really well in metro areas, but the opportunity is there wherever there is a need and if people are living a more transient life then the drinks need to shift."
Clearly Drinks' Wright agrees that functional is in demand. "Shoppers are increasingly looking for added value or 'plus' offerings, which is driving growth of the functional water market (+42.6% YOY). Functional drinks with added vitamins offer a wide range of health benefits over and above energy, appealing to shoppers who care about health and wellness." Perfectly Clear relaunched in 2020 with a new TV campaign and will be back on TV in summer 2021.
Ambient drinks with added benefits are also benefiting from consumers' renewed interest in health, according to Ocean Spray. "Since March 2020, consumers have looked for health-boosting solutions from trusted brands and increasingly in the ambient long-life aisle," says Caroline Bethell, Ocean Spray md for Europe. "We have witnessed once-in-a-decade demand for our cranberry-based juices and soft drinks. Ocean Spray is experiencing brand growth of +13.2% in the UK, with record sales of ambient products, including in convenience. This would suggest that our products are meeting the needs of consumers who are looking for healthier choices - for example, immunity support and high in vitamin C - particularly during the pandemic." The firm recently launched a Feeling Good Every Day campaign targeting healthy lifestyle-conscious females 45+.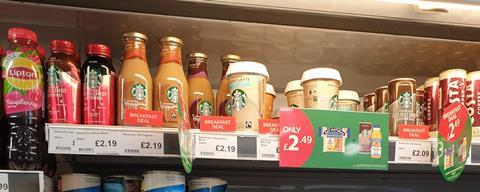 7. Iced drinks rocketed 49% in symbols and indies last year
The iced drinks market is worth £25.6m and is growing at 49% YOY ( (IRI Marketplace Data Symbols and Independents 52 weeks volume sales to 29th November 2020), according to Boost Drinks. The company added to its iced offering in March with a £1 PMP Caramel Latte. The firm states that Caramel Latte Iced Coffee is the fastest-growing and second-largest flavour segment in the iced coffee category, with a 21% market share.
The Chilled Coffee category has been particularly resilient through this extraordinary period and has benefited from over-indexing in its retail channel presence, claims Arla. "In fact, Chilled Coffee continues to drive category growth and is now worth £167.6m, up 19.7% MAT [Nielsen Total Coverage MAT to 27.03.21]," says Adam Hacking, head of beverages, at Arla. "At a value of £85m and growing at 30% MAT [ibid], Starbucks saw sales increase by £20m over the last year, making it one of the wider Soft Drinks category's most successful brands. It is also the largest iced coffee brand, responsible for 50.7% of all segment sales [ibid]. Throughout 2020, Starbucks added £20m additional value to the category alone, which is more incremental value than all other iced coffee brands combined, across all time measures." The firm recommends that retailers stock a range of different RTDs in order to appeal to different consumers. For example, the Starbucks Frappuccino range is popular with Gen Z and has experienced the highest level of growth at 53.8% (Nielsen Total Coverage MAT to 26/12/20).
Coca-Cola Europacific Partners (CCEP) adds that Costa Coffee RTD has doubled in size over the past twelve months (Nielsen (Home Channel) Value MAT total GB to 27.03.21), growing ahead of the segment (ibid) and adding almost £4m to the segment in 2020 (ibid). "In fact, more than half of Costa Coffee RTD shoppers are new to RTD Coffee which is helping to drive additional sales for retailers," says senior trade communications manager Amy Burgess.
Iced coffee has taken off at Broadway Convenience Store following its refit in September. "We sell a lot of iced coffee," says Dennis. "That's had a massive uplift. It never used to sell, but since the refit we put new chillers in with doors. It's the presentation - people shop with their eyes."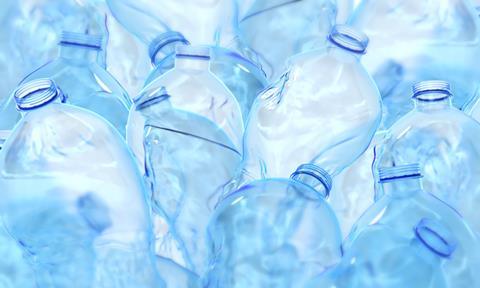 8. Sustainability has become more important to consumers since the pandemic
Consumers' eco concerns are growing, with recent Kantar research showing that sustainability had become more important to people in 2020, and the Britvic Soft Drinks Review stating that six in 10 people are trying to reduce their plastic consumption.
However, neither Atul or Dennis feel that sustainability concerns come into the equation when consumers pop in for a water. "I think sustainability is at the forefront of everyone's mind, but needs must," says Atul. "Bottled water is an impulse purchase - they just buy what they want." He has tried selling canned water, but it wasn't a hit. "What didn't sell as well for us is the CanO Water - I think the novelty wore off, people prefer bottles."
While consumers may not be voicing their concerns directly with convenience retailers, soft drinks' sustainability credentials may well come further to the fore in the future, claims Britvic, which aims to use rPET (recycled polyethylene terephthalate) across its range by the end of 2022. "For a convenience store, as long as it [sustainable soft drinks packaging] doesn't change a store's infrastructure, they're just getting the benefit of an extra selling point for their consumers," says Bilakhia. "But then if they wanted to sell up on that, they could say '100% of our soft drinks range is rPET' and it could trigger one of those consumers who is more sustainability-aligned to come in the store and say 'that's great, this is a USP for this store, what they're doing is in line with my values.' That might become more important as we move through the times based on the longer term trends."
CCEP claims that consumer awareness of the issue is at an all time high. "Dedicating space in store to products with the strongest sustainability credentials is becoming more important – especially for a young adult audience," says Burgess. "It's the right thing to do for the planet, and it's an increasingly important factor in consumers' buying decisions, even more so post-Covid." In early 2020, the Glaceau Smartwater range – including 600ml and 850ml packs – moved into bottles made from 100% rPET plastic.
Clearly Drinks' Wright says: "Consumers are seriously taking note of their impact on the environment through their purchasing decisions. Our carbon footprint is one of the lowest in the industry at 0.14kg per litre." The firm recently launched a Northumbria Spring, a canned format, to tap into the trend.
Shoppers are increasingly opting for more sustainable options across all areas of their lives, and that includes bottled water, says Nestlé Waters UK's Plaskett. "Within the convenience sector … sales of bottled water made from greener packaging such as recycled rPET, are a must-stock, as consumers want to feel like they're making the most conscious choice available to them." Buxton bottles are made from other bottles and contain 15% less plastic than the leading branded competitors, he claims.

Sarah is Deputy Editor for conveniencestore.co.uk.