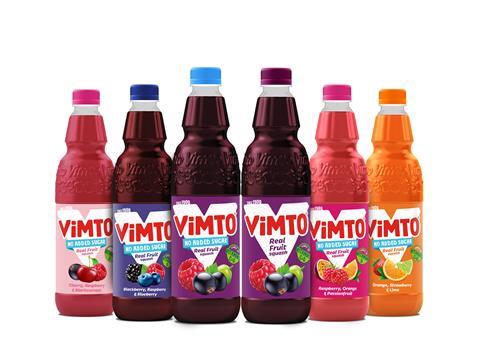 Nichols has welcomed blackberry, raspberry and blueberry to the Vimto squash lineup, as well as fortifying the full range with Vitamin D and becoming the only squash brand to offer both Vitamin C & D liquid fortification. The firm hopes that the changes mean the brand is "helping parents say yes to squash".
The fastest growing squash brand in the UK [Nielsen Value Sales, Total Coverage, MAT 27.02.21], Vimto is "reframing the squash category", celebrating both flavour and functional health benefits, providing consumers with additional reasons to shop the category and driving sustainable incremental long-term growth.
Over the past ten years the squash category had become stagnant, however with an increase in tap water consumption and in home occasions, recent value sales of squash have increased by 15.1% year on year [ibid]. Coupled with the growing trend towards Healthy Hydration, the 2nd biggest need state at £2.2bn [Nielsen, Total Coverage, MAT 23.03.19], this latest innovation from Vimto is well placed to cater to these consumer consumption trends, claims the firm.
Now with guidance from Public Health England endorsing a daily supplement of Vitamin D, particularly for children, the fortification of Vitamin D into the core Vimto Squash range aims to make healthier choices easier, especially for parents.
Becky Unwin, senior brand manager, Vimto, said: "As part of our ongoing commitment to provide consumers with healthier choices, we believe vitamin fortification is more important than ever. Our innovation team have reimagined our core squash portfolio to ensure that not only do we offer those all-important fortified vitamins but also on-trend, super fruit, flavours. The inclusion of health credentials should never mean having to compromise on the flavour experience, so we are thrilled to relaunch our core squash range in this way.
"With 90% saying they would purchase our new offering, we couldn't be happier with how the new design and fortified recipe performed during consumer testing. We place a huge amount of importance on ensuring that any new Vimto variant serves to fill a gap in the market, whether that be from a category, flavour or benefits perspective, and we believe our new squash range does exactly that."