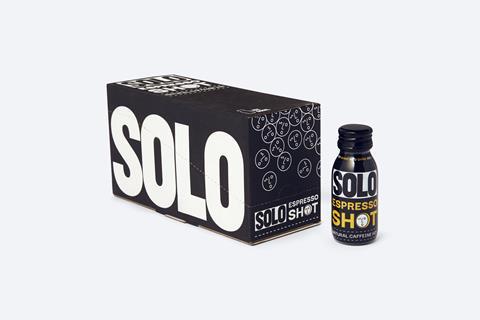 Solo Coffee has released a "coffee shop quality" espresso shot. The Solo Espresso Shot is made from coffee concentrate, and each shot contains 127mg of caffeine, with no sugar or artificial additives. The product is designed to be positioned beside energy drinks and chilled coffees in fridges as a functional product for those that need an energy kick. A single 60ml shot has an rrp of £1.65, while a box of 10 shots retails at £16.50.
Co-founder and head of marketing, Theo Garcia, said: "We have always wanted to make a product for retail and when the idea of the espresso shot presented itself, it felt so obvious to us that we just had to do it. For us, coffee is about functionality. Yes, we are obsessed with the coffee itself, our true love lies in what the coffee allows us to do. This is why we want to make great coffee more accessible. By making a shot of espresso readily available in shot format, we have categorically made great coffee much more accessible."
For wholesale enquiries contact: sales@solocoffee.co.uk.