Flavoured water brand Perfectly Clear is set to hit TV screens on 1 June as part of a new prime-time campaign.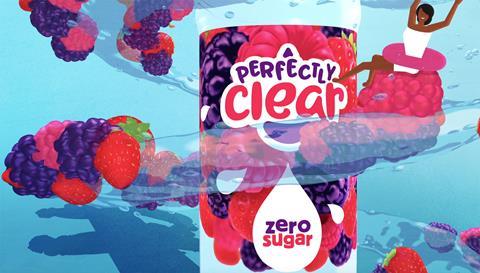 The new advert features a Perfectly Clear bottle which is transformed into a fruit-filled waterslide, designed to reflect the "refreshing and exciting" experience of drinking a bottle of Perfectly Clear.
It follows the brand's relaunch in February 2020 with a new distinct visual identity and "new and improved," favourite flavours such summer fruits, strawberry and lemon and lime.
The range, which also contains zero sugar, also includes the brand-new flavours: orange and mango and peach and apricot.
Bottles are sold in 330ml, 500ml and 1.5 litre formats with rrps of 45p, 79p and 95p respectively.
Clearly Drinks head of marketing Susanne Wright said: "We are committed to driving the growth of the flavoured water category in the UK and further cementing Perfectly Clear as an established brand in the flavoured water market.
"We are looking forward to our TV ad bursting onto screens this June, to drive awareness of our new, fruiter product with families and drive the flavoured water category as a whole.
"Our exciting national TV ad will be supported by an integrated marketing campaign rolled out from June including online advertising, influencer campaigns and national and regional PR."