Ribena is to launch a new Raspberry & Rhubarb variant into the wholesale channel.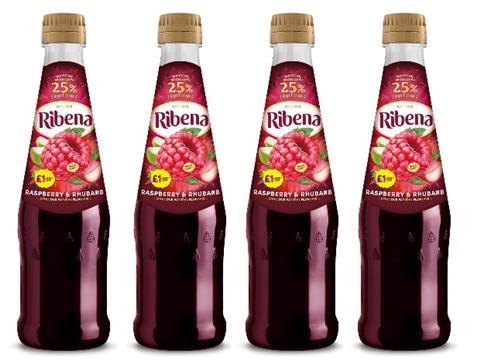 From the end of July, Ribena Raspberry & Rhubarb will be available in a 600ml £1.50 pricemarked pack, along with new lower-priced £1.50 Ribena Blackcurrant 600ml. Along with Ribena Blackcurrant 600ml, Ribena Raspberry & Rhubarb is available in cases of 6, to help retailers manage their range and encourage trial of new flavours, as well as helping to keep their stock room clearer.
Head of brand for Ribena at Lucozade Ribena Suntory Charlotte Flook said: "Squash has been a real hit within independent retail this year as consumers look for tasty ways to stay hydrated at home. We wanted to give convenience retailers the opportunity to attract and retain even more shoppers with a brand-new great-tasting flavour and Ribena Raspberry & Rhubarb is set to do just that."
"With 74% of total soft drink sales coming from price-marked packs, we know how important it is to offer a delicious and competitively priced squash range for independent retailers and their customers."
According to Kantar data, squash sales in the independent and symbol channel are nearly double what they were this time last year, thanks to more consumers working from home, spending time indoors and in the garden and 'staycationing' this summer.