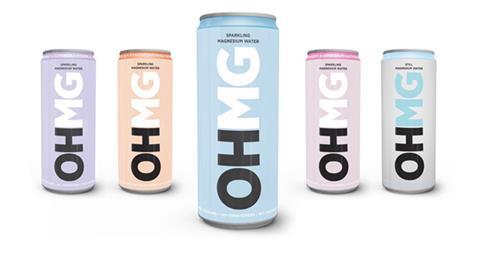 Drinks brand OHMG has unveiled a range of still and sparkling waters that aim to reduce anxiety and aid relaxation by providing consumers with magnesium-enriched drinks.
The range is made with pure water that has been naturally infused with a bioavailable magnesium, natural fruit flavours and extracts; along with functional botanicals, that help reduce anxiety, tiredness and fatigue and contribute to normal psychological function. A single can has an rrp of £1.99, a trial pack has an rrp of £5.85 and a pack of 12 has an rrp of £23.40.
Stuart Walsh, co-founder of OHMG Brands said: "The relaxing drinks category is growing fast, predominantly led by CBD Drinks. We're going in a completely different direction by using a high quality, bioavailable magnesium as it's an incredibly important nutrient that plays a role in more than 300+ functions in our body. It regulates the nervous system, improves cognitive/psychological balance as well as contributing to energy-yielding metabolism. Magnesium is known as the anti-stress mineral that helps reduce tiredness and fatigue, I think we could all do with some of that right now!"
The new range, currently available in the UK, includes a plain still and sparkling RSP is £1.99 per can, £5.85 for a trial pack and £23.40 for a pack of 12. magnesium water, plus three exciting flavour combinations including Raspberry & Lemon Balm + L-Theanine; Peach & Rosemary + Ashwagandha; and Blackcurrant & Echinacea + Vitamin C.
Walsh added: "As a start-up, we're incredibly proud to be able to bring a much-needed premium product to market that we hope our customers will not only love, but actually 'feel' the difference too."
OHMG Magnesium Water features zero sugars, zero sweeteners and zero calories, each drink comes in a 330ml recyclable can and contains 15% of the recommended daily allowance (56 mg) of Magnesium - nearly as much as an avocado.
The brand has secured £250,000 of investment for the launch stage.