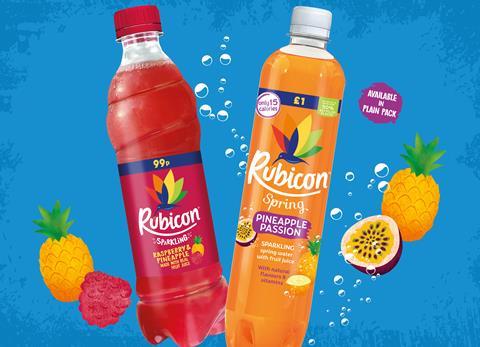 Rubicon is to expand its range with launch of two new fruity flavours.
The new Rubicon Raspberry & Pineapple Sparkling and Rubicon Spring Pineapple Passion are available this month (April). Rubicon Sparkling Raspberry & Pineapple is available in 330ml (PMP 69p), 500ml (PMP 99p) and 2L (PMP £1.49) while Rubicon Spring Pineapple Passion comes in 500ml (Plain Pack & PMP £1).
Marketing director at A.G. Barr Adrian Troy said: "Taste remains the number one motivation for shoppers to choose a soft drink, and traditional flavours alone aren't meeting all consumer needs anymore, new flavour combinations are driving the growth.
"We're confident that our two new tropical Rubicon products will provide incremental sales opportunities for retailers, particularly as we head into the peak summer sales period where Rubicon sales more than double (IRI).
"Shoppers are looking for a wider range of flavours in the Soft Drinks category, our two new Rubicon products meet that need perfectly. Both have high concept appeal with our core target audience of 16-34 year olds, providing retailers with a huge opportunity to engage shoppers with interesting flavours that create excitement and boost their soft drinks sales."
The launches will be supported by a communications investment strategy as part of the brand's 'MAKE THE UNBORING CHOICE' campaign that launched in 2020.
Rubicon Spring will be part of a targeted sampling campaign over the summer months alongside a national digital campaign, whilst Rubicon Sparkling will benefit from a national OOH and digital campaign as well as social media and shopper marketing activity for both lines.