A host of festive npd and plenty of gold-star premium lines can make the Christmas confectionery category a gift for canny retailers.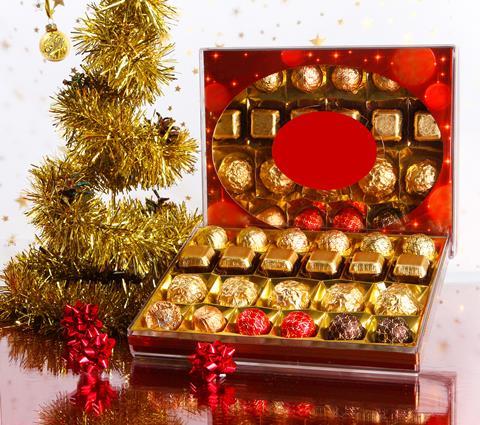 When it comes to the sweet stuff Christmas 2018 was a jolly affair, with shoppers spending a record-breaking £937m on confectionery (Kantar: Total Grocery 12 w/e 30 December 2018).
Mondelez International makes no secret of its expectations for 2019. "This year is once more set to bring retailers their biggest ever seasonal sales," predicts trade communications manager Susan Nash.
Premier Victoria Dock in Hull certainly saw its fair share of festive sales in 2018. "Christmas confectionery sales were good last year," reports Kuldeep Punian, who runs the store with husband Joe.
She used a Special Occasions zone at the back of the store to create a Christmas display centred around confectionery to get shoppers excited about the season. "We had [T24] Ferrero Rocher and Lindor boxes in our Occasions section and also at the end-of-aisle section," she says.
Ferrero customer development director Levi Boorer claims that the key to Christmas success is to ensure retailers "focus on the core range first and get that right".
The T24 (300g) is in fact Ferrero's top-selling convenience line, racking up sales of £2.8m, closely followed by the T16 (200g) with sales of £2.3m and T15 (172g) with sales of £1.9m (Nielsen Convenience Channel 18 weeks to 29 December 2018 vs YA). Boorer also highlights the 125g Grand Rocher as being "relevant for convenience", and Thorntons Classics as a "good bet" following its relaunch (see p36).
Elsewhere in Kuldeep's store, Milky Bar and Smarties Tubes sold well, which will come as no surprise to Nestlé, which claims they are the "ultimate traditional stocking filler", making them "must stocks for convenience retailers".
Sales of this category are worth £27m and grew 7% in 2018, with the Nestlé range up 17% and driving the growth (IRI Giant Tube Value £ Sales 20 w/e 30 December 2018). This year the giant tubes range will see the addition of two new launches: Rowntree's Randoms Giant Tube and Rowntree's Randoms Squish'ems Giant Tube, both priced at £1.38.
Another top performer at Premier Victoria Dock was Mars' festive pièce de résistance: Maltesers Reindeer. "The Reindeer sold really well in our queuing system," says Kuldeep.
For the second consecutive year, Maltesers Reindeer and Mini-Reindeer small share bags have remained the number one and number two best-selling confectionery treats at Christmas (Nielsen Total Coverage 21 weeks w/e 29 December 2019).
This year the Reindeer has competition in the treat department from the 29g Thorntons Cheeky Elf (rrp 75p) and the 30g Cadbury Dairy Milk (CDM) orange Snowman (rrp 65p). Another new impulse line, which should have made it to your store by now, is CDM Little Robins, which is available in original and Daim flavours (rrp £1.49). Mondelez has also released a 120g CDM Winter Gingerbread Edition (rrp £1.49), following the success of its Winter Wonderland tablet.
"For convenience the Little Robins are a big line, and the Winter Gingerbread Edition and Winter Wonderland is a steady seller," notes Nash.
Dave Hiscutt, who manages Londis Westham Road in Weymouth, Dorset, has already found the latter to be a strong seller.
"Any festive Cadbury NPD at this time of year does well for us and the impulse bars are perfect for our type of c-store," he says. "Cadbury Wonderland bars have been an early hit. We had 300 bars delivered at the end of August, which [owner] Steve [Bassett] said might be a bit much, but we got through most of it within a few days.
"The thing is, most of the people who come into the store and say 'Oh no, it's not Christmas yet!" are the ones walking out the door with two or three bars. Even at the end of the summer and start of autumn, we've found that people are happy to buy Christmas-branded products.
"Christmas shopping starts earlier and earlier every year and most people are going to buy the chocolate to have now rather than wait until December. "
A galaxy of truffle choices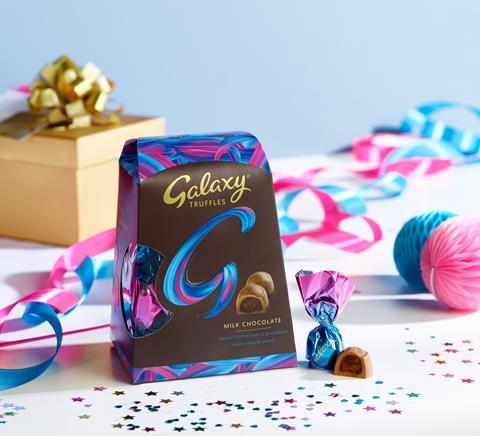 Premium npd played a starring role in confectionery's sparkling value sales in 2018, and Mars Wrigley UK believes lines such as Maltesers Truffles had a lot to do with the success.
The company is expecting big things from Maltesers Truffles again this year, but is adding to the truffles choice.
Mars Wrigley UK celebrate portfolio director Emma Thornton says: "To drive further category growth this year and to continue to bring younger adult shoppers into the boxed chocolate category, we will be expanding the current boxed truffle offering in time for Christmas."
Responding to consumer demand for the return of Galaxy Truffles (which used to feature in the Celebrations assortment) the new Galaxy Truffles boxed chocolates contain the familiar richness and texture of Galaxy, with a new velvety centre to create a different and more indulgent taste sensation.
Galaxy Truffles are available in 206g (rrp £4.99) and 309g (rrp £7.49) formats.
In addition, Mars is introducing Maltesers Truffles Ultimate Gift Boxes, which are designed for dinner party occasions. With 31% of Brits citing luxurious packaging as something they'd pay more for (Mintel Chocolate Confectionery – UK – May 2019), this premium offering aims to impress with a new rectangular box design inspired by the champagne category. The box contains 50 truffles (rrp £10.99).
Time for tubs
The festivities also started early at Mulkern's Eurospar in Newry. "Christmas confectionery is doing really well – it's up 20% year on year," says store manager Thomas Magennis. "We've had tubs of Celebrations, Quality Street, Heroes and Roses since mid-September."
He agrees with Dave that, despite their initial reservations that they are on display too early, customers can't resist seasonal sweets. "Customers come looking at me sideways when they see all the Christmas stock out early," he grins. "People kid themselves they'll be organised and buy sweets for Christmas, but by the end of the week they're out of sweets and they come back and buy more."
However, he has reduced his order of tubs significantly this year, because he claims they aren't giving customers enough value for money. "I ordered a full container last year, but only six pallets this year," he says. "Last year [Roses and Heroes] tubs were 660g, now they're down to 600g, but the price isn't moving down."
Rikesh Patel of Buggsi's Nisa in Bramley Road, North Kensington, London, also finds tubs challenging.
"We stock Celebrations and Roses," he says. "We sell them at £5, but half the time it's a negative margin. I don't order huge amounts because customers tend to go to the big stores. Asda does them at £3.50 each. I can't even buy them for that price."
But despite pricing issues, both Thomas and Rikesh claim that tubs are an essential part of the Christmas package. "The tubs are just there to grab people in – we stack them up near the window," says Rikesh. "They're good footfall drivers."
Thomas echoes this sentiment. "Tubs are still important," he claims. "When you see tubs merchandised, you know Christmas is coming. We have a pallet of each in a row of four."
Nestlé points out that the twistwrap category is "critical to seasonal confectionery", noting that two out of every three shoppers buy into the category, and it is growing in value by 2.7% (Kantar World Panel Christmas Confectionery 20 w/e 29 December/IRI 20 w/e 29 December 2018).
The company claims that Quality Street drove two-thirds of this growth in 2018, with the brand up 11.7%, and attracting 1.1 million new shoppers of all ages.
This Christmas Quality Street has a new look, which Nestlé hopes will drive reappraisal. The design features an array of colours, reflecting the vibrant colours of the sweets inside, and resulting in a strong standout on shelf. In addition, a new sweet has joined the mix in the shape of the limited-edition Chocolate Caramel Brownie, which the company claims has proven popular with younger consumers. The balance of sweets has also been realigned to consumers' changing tastes to feature more chocolatey sweets.
A £3m media campaign will support the brand this season, focusing on the digital channels which performed well in 2018.
Nestlé advises convenience retailers to focus on the 650g Quality Street tub (rrp £7.74) and the 240g carton (rrp £2.99).
Thorntons Classics moves with the times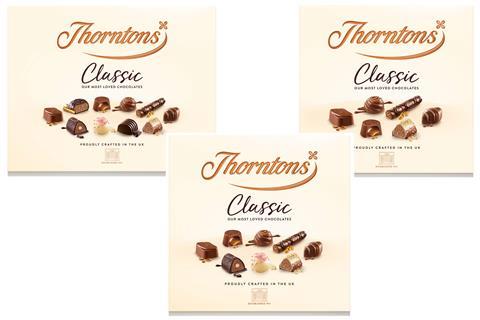 There's a buzz in the boxed chocolate category this season as Thornton's Classics has received an overhaul with a new look and more appealing flavours.
The chocolate assortment has been re-engineered to correlate with Britain's top 10 confectionery flavours, with the likes of Turkish delight and coffee being ditched in favour of strawberries & cream, triple chocolate and dark butterscotch.
The product has also switched from a double layer tray to a single layer tray. A 150g box carries an rrp of £4, a 262g box is £6.50, and a 449g box is £10.
Ferrero has every confidence in the new-look chocs, with Levi Boorer, customer development director for Ferrero UK & Ireland, stating his desire to "reclaim the number one position".
In addition, the Thorntons Continental chocolate box has received a makeover with six new chocolates now featuring, including Spanish torres and Italian panforte (rrp £9.68/273g).
The company is also premiumising the Thorntons Continental advent calendar with the addition of a chocolate bar for the 25th door celebrating Christmas Day (rrp £11/311g).
All-round appeal
Last year Premier Victoria Dock sold large cartons of Celebrations, Roses and Heroes at £2.99 on promotion and 300g Quality Street half-price at £2. "We always stock Celebrations, Heroes, Quality Street and Roses boxes," says Kuldeep. "Last year, after Christmas, I thought we wouldn't sell any, but people were asking for them for birthdays so we know we can still sell them."
Nash agrees that stocking year-round lines like Roses can help to avoid too much festive wastage. She claims that this can be used to retailers' advantage when experimenting with higher priced lines, such as tins. "This is a time when stores can go up in terms of value products," she says. "You can spread the risk by doing some generic lines – a Heroes tin is going to last beyond the season, a Roses tin can go straight into Mother's Day."
She actively encourages convenience retailers to give premium confectionery a chance this Christmas. "A lot of retailers are surprised when they do try the higher value product – it moves," says Nash. "Over the past couple of years I think it's a real step change, people [convenience retailers] are saying 'Yeah, I'll give it a go and I can sell something that's over £10'."
One line she suggests retailers could try is the new 360g Green & Black's Organics Advent Calendar (rrp £12.99). Tapping into the growing premium adult advent calendar opportunity, the pack features several of the brand's flavours in mini dark and milk bars. This new launch is expected to encourage shoppers looking to trade up and help tap into the growing demand for organic products.
Boorer is also of the opinion that convenience retailers can see success with premium lines. "I don't think it's beyond thinking that shoppers will buy premium products in convenience stores, because the perception of c-stores is that they are good value, good quality and worthy of buying gifts from," he says. "So there's absolutely no reason why bigger boxes of chocolate that have the right assortment and the relevant branding can't be successful in a small convenience outlet."
He explains that premium confectionery is worth £1.9m in convenience, up 5.5% year on year, far outstripping the overall market, which grew 1.9% (Ferrero, Thorntons, Lindt, Pladis, Monty Bojangles, Guylian Nielsen, Convenience Channel 18 weeks to 29 December 2018 vs YA).
"Last year winning retailers managed to trade consumers up with give-to-gift and give-to-share missions," he says. "Premium brands are growing almost three times faster and are responsible for 76% of the total category growth in convenience (£1.9m of premium growth out of £2.5m total category growth). They should focus on main gift (boxed chocolate), but also complement it with self-treat (up 9.2% premium vs 4.8% total) and advent calendars (up 8% premium vs -8.7% total)."
Nilesh Laksa, at Londis Barnes in London, stocks only premium confectionery. "We are in an upmarket area and people want something special," he says. "The big boys are selling chocolate for £5 or £6, there's no point in competing."
Instead, he opts for specialist premium brands. "We get Baci in for Christmas," he says. "It is about £16.99 for a 250g box. It doesn't have Christmas logos so it's a safer product. We also source chocolate from House of Sarunds – that way you are not competing with anyone else. The minimum margin we get is 40%."
Thomas is also after premium confectionery sales. "We're trying to capture the premium shopper," he says. "We've gone with a lot of Lindt and bespoke Christmas tins and gift packs. We've set £12, £14 and £15 price points. We got great mileage out of it last year, and there are decent margins."
As well as selling individual products, the store sells bespoke Mulkern's hampers with confectionery and premium groceries. "People want to be able to buy a decent gift, something that has taken more effort. That's one of the great things about being an independent, the beauty of having the extra flexibility."
March of the penguins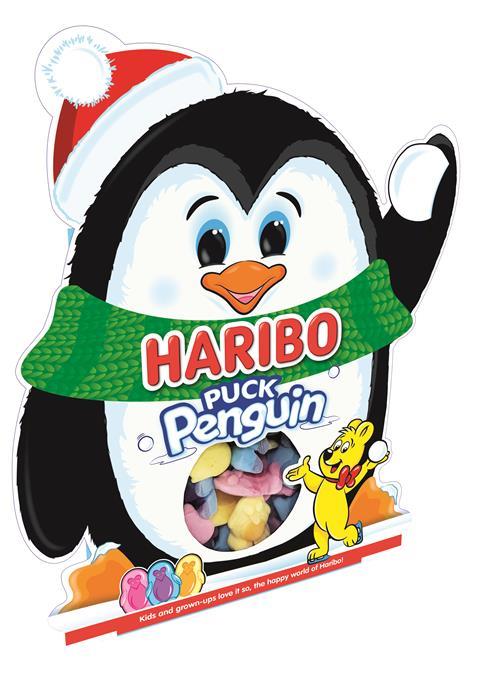 There is a huge opportunity to drive excitement in the novelties category, which has been stagnant in recent years due to a lack of innovation, claims Nestlé.
In 2018 it was worth £74m, just £1m more than five years earlier (IRI Christmas novelties sector – 20 w/e Christmas 2013 vs Christmas 2018).
This year Nestlé is hoping to shake it up with Smarties Penguins, which will be supported by a £600,000 digital media campaign.
Five new characters – Cool (blue); Cute (pink); Smart (green); Happy (yellow); and Silly (orange) – feature mini Smarties and benefit from a new, creamier and richer chocolate recipe for Smarties.
The penguins will be available in a range of sizes. There's an impulse version, which is 99kcals, available both as a single (rrp 65p) and a multipack of four (rrp £2), with each pack perforated for portion control.
Next there is a small novelty size penguin at 50g (rrp £1.49) and a 94g full chocolate figure (rrp £2.49).
Then there are the 175g penguins, complete with real detachable bow ties (rrp £3.99), and a gifting pack which includes a 94g penguin plus three 18.5g baby penguins (rrp £3.99).
And if that wasn't enough black and white bird action for you, then look no further than Haribo's Puck Penguin (rrp £2), who joins the firm's gifting range this year with his pal Pip Polar Bear. Pip Polar Bear (rrp £2) is packed with polar bear- and paw-shaped jelly pieces, while Puck Penguin contains jelly and foam sweets.