Nestlé Confectionery is aiming to bring some innovation to the Easter novelties category with a major seasonal product launch from its family brand Smarties.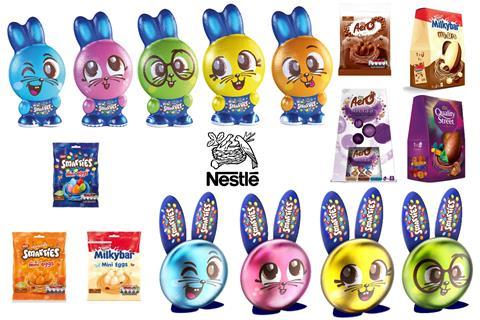 Smarties Bunnies will be available to order from 16 December 2019 in the following variants: Cool (blue), Cute (pink), Smart (green), Happy (yellow) and Silly (orange).
Each bunny comprises of a chocolate shell with mini Smarties inside. They will come in a range of formats, including: impulse singles (18.5g / rrp 65p), impulse multipacks (rrp £2 each), small novelty packs (50g / rrp £1.49) and medium novelty packs (94g / rrp £2.49). Smarties Bunnies will also be sold as part of a family gift pack, containing one 94g bunny and three 18.5g impulse bunnies (rrp £3.99).
In addition, Nestlé Confectionery is bolstering its Easter eggs line-up for early next year with the rollout of Aero Milk Chocolate Mini Eggs (rrp £1). Consisting of a milk chocolate shell and Aero's classic centre, the eggs will sit alongside Smarties Mini Eggs and Milybar Mini Eggs.
For those who like giant eggs, the Milkybar Mix Ups Giant Egg (rrp £7.49) will also be making its debut in 2020. The egg comes with a Mix Ups 95g sharing bag, containing Milybar white chocolate buttons with a cocoa filling and milk chocolate buttons with a milkybar filling.
Also new for next spring is the Aero Bliss Premium Egg (rrp £10). This egg comes with a box of Aero Bliss chocolates, offering a selection of individually wrapped, milk chocolates filled with a cocoa, salted caramel or praline aerated centre and crispy pieces.
Nestlé recommends that convenience retailers stock up on its existing range of Easter products, which includes the Milkybar small egg (rrp £1.73) as well as medium and large eggs from Kitkat Chunky and Smarties (rrp £2.92 and rrp £5.41 respectively), to complement the new launches.