Luxury Irish Chocolatier Lily O'Brien's has invested in an out-of-home campaign for Christmas, building on the success of the brand's 'Share Wisely' ad platform.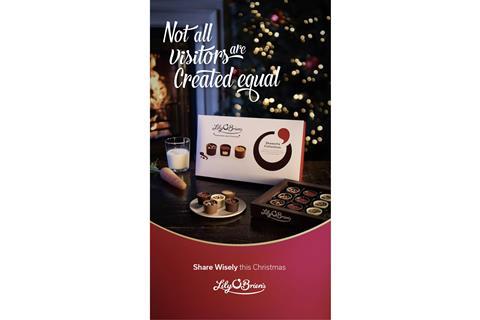 Running across digital screens nationwide, the festive creative showcases Lily O'Brien's desserts collection through a classic Christmas Eve scene set for Santa Claus.
Lily's desserts range comprises 18 chocolates, inspired by the world's best loved dessert recipes. Designed to offer shoppers some after-dinner indulgence during the yuletide celebrations, the 230g collection box (rrp £7) is available to independent retailers now.
Evelyn McLoughlin, marketing manager for Lily O' Brien's, said: "Christmas is the perfect time of year to show those nearest and dearest just how much you care. Our desserts collection is the perfect boxed chocolate range for any festive occasion and the range of recipes, ensures there's something for everyone to enjoy this Christmas – not just Santa."
The digital 'Share Wisely' campaign will appear on 500 digital screens across the UK and will be supported by digital advertising, through social media and PR channels.