Your store is most likely filled with festive fodder right now, but with Creme Egg season fast approaching, it's time to get organised.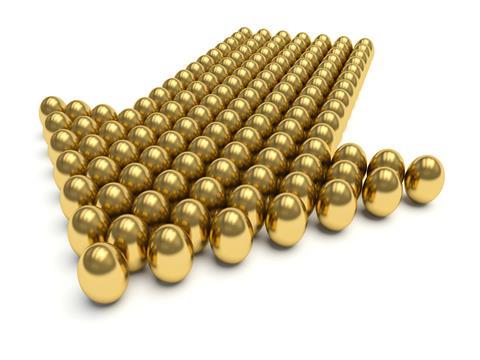 Tick tock it's nearly Creme Egg o'clock! According to Mondelez International, retailers need to get a "fast start" on Easter and get treat lines out on shelf in January. "84% of shoppers who buy early say they intend to buy again – meaning stores that promote the season early can drive sales with returning customers," says Delia Lendais-Metral, brand manager for Easter at Mondelez International.
"Before 14 February, 82% [Nielsen total market excluding discounters unit sales] of Easter sales come from Mini Eggs and self-eat treats such as Creme Egg or Oreo Egg," she says. "31% said they bought into Cadbury Creme Egg to share with family before Easter, while 37% said they bought Cadbury Creme Egg to eat before Easter for themselves (Kantar Worldpanel bespoke Easter Project 2019)."
Deep Patel of Meet and Deep News, Twickenham, London, is on the ball. "We can't compete on Easter eggs, but we get Creme Eggs and the Galaxy treat eggs and sell three for a set amount. We get Creme Eggs in in January," he says. "We get stick from customers, but we repeat what Cadbury says that it's the fastest selling confectionery line from January to April."
He's not wrong – Creme Egg was the number one branded countline in the first three months of 2019, helping make the brand worth £57m (Nielsen 17 weeks data until w/e 20.04.2019).
But by some store's standards, January is relatively late to get in on the action. "I've packed Creme Eggs in my daughter's stocking before now because they've come in on Christmas Eve," says Rachael Hockmeyer, who owns Hockmeyer's Garage in Sleaford, Lincolnshire. "People go nuts for Creme Eggs. I've ordered seven hods. We put them out as soon as we can.
"They are due to come on 9 December, so it'll be even earlier this time. If Maltesers Reindeer are still there, we want to get rid of them first, but if the supermarkets have put out the Creme Eggs then we have to put them out. These days you have to display it so much earlier than in the past because the supermarkets get everything out so early. If you don't, you've had it."
Treat time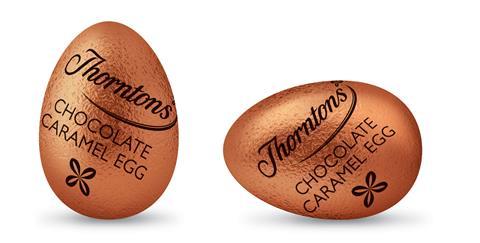 This year will see the introduction of two new Thorntons treat products: the Thorntons bunny self-treat (29g, rrp 75p) and Thorntons Chocolate caramel egg (36g, rrp 75p). Both milk chocolate products feature a smooth centre.
They're out in December in Spar Leuchars and Spar Ceres in Fife, Scotland, too.
"We buy five hods of Creme Eggs straight off and three or four hods of Mini Eggs," says owner John Mitchell. "We put them out once the Christmas confectionery starts to run down and in the new year we'll flood the floor with it. Creme Eggs are sold at three for £1.09 and Mini Eggs are £1. The cash margin's tight, but it moves the stock. It's for volume - you can sell 200 in a week.
"We have them on the counter so it's an add-on sale. No one is picking up an egg and putting back the chocolate bar they've already picked up. The problem is we run out of product too early. We can get more Creme Eggs, not through our wholesaler, but elsewhere, but we can't get more Mini Eggs."
Display is key early on in the Easter season, concurs Lendais-Metral. "Items in secondary locations (by counters, display units, or gondola ends, for example) account for 56% of sales [Snackchat Easter survey 2019. Kantar World Panel Easter survey]," she says.
Londis Oaktree Road in Southampton also takes full advantage of early season opportunities and secondary displays. "We put Creme Egg and Mini Eggs on the counter and in their own stands," says manager Jodi Pritchard, who had the latter on display in mid-December last year. "Creme Eggs are the biggest seller, they're one of our fastest-selling countlines. We have displays on the till points to get a bit of traction."
Once her original order has sold through, she is hoping to be able to make an Easter top-up purchase. "This Christmas for the first time we had our pre-sale quite early and then there was the option to do a free order, so we're hoping it will be the same for Easter," she says.
"With Malteser Bunny and Creme Egg we offer them for three for £1 and we have bags of Mini Eggs at £1 each for the whole of Easter."
Mars Wrigley states that Malteser Bunny has the second highest amount of "self eat buyers" and 350,000 unique shoppers in supermarkets [Nielsen Homescan survey Jan 2019 and Nielsen Scantrack w/e 16.02.19 grocery mults]. In 2020 the brand will be supported by a light-hearted advertising campaign featuring the Bunnies escaping the factory and a plea to the nation to 'See them, catch them, eat them'.
Before we get too carried away with Easter though, there's still Valentine's Day and Mother's Day to prepare for. "We dedicate a promotional end to seasonal events and we'll have deals highlighted in their usual category area too," says Jodi. "We have promotions across January and February on four-weekly rotations. A bottle of wine and chocolates – either Cadbury Milk Tray or Thorntons – for a set price. The Lindt small boxes are popular too.
"It's very last minute on Valentine's Day," she notes.
It's for this reason John plays it safe. "We don't go all out on Valentine's or Mother's Day," he says. "They're too short a sales period."
However, he doesn't want to miss out altogether. "When Valentine's Day products come in, one of the 3m seasonal displays is done at the tail end of January," he says. "You've got three days to sell it or you're stuck with it. There's the night before, the day itself, and maybe the day after. We have boxed chocolate, such as Thornton's Classics and Continental, the Toblerone 'In love' bar, and CJ Lang promoted lines."
Promoting the Creme Egg eating experience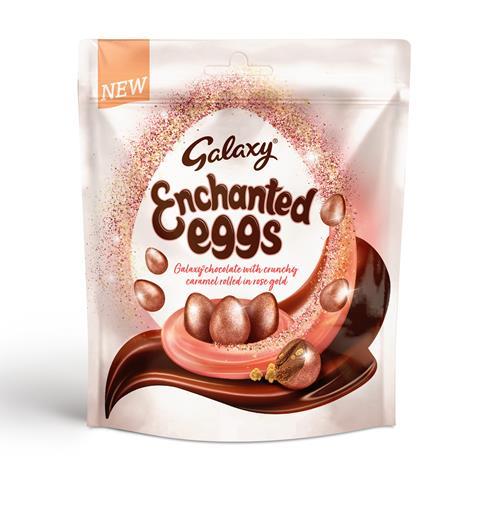 Mondelez International is interacting with consumers in a different way this year with Cadbury Creme Egg's new content platform and campaign hub, which will host content purposely produced to elevate the Creme Egg eating experience.
Retailers can also give their shoppers the chance to win up to £10,000 or hundreds of entertainment vouchers by purchasing a single Creme Egg.
To be in with a winning chance, shoppers buy a Cadbury Creme Egg then head online to CremeEggEATerta-inment.com and snap a picture. The campaign will be supported by in-store activation.
To be in with a chance to instantly win a prize, shoppers simply need to buy a Cadbury Creme Egg, then head online to CremeEggEATertainment.com and snap a picture. The new campaign will be supported by in-store activation and out of home activity to drive excitement through the Easter season.
Shoppers can also win prizes if they help contain Mars Wrigley's Malteser Bunny breakout. In late January, people across the nation will be taking part in Snapchat's first branded augmented reality scavenger hunt, where the best Bunny catchers can win cash prizes of up to £5,000.
Meanwhile, new Galaxy Enchanted Eggs (rrp £1.29), a refreshed take on the classic Galaxy Golden Eggs, are set to shine on Instagram. The on-trend rose-gold mini eggs will be supported by an innovative marketing campaign involving Facebook and Instagram.
In contrast, Hockmeyer's Garage is all heart come 14 February. "We make a huge fuss over Valentine's Day," says Rachael. "We're a petrol site, we're selling to men. They aren't always the most organised and we cater for them! We do prosecco and chocolate hampers; fluffy teddies with hearts in hampers with chocolates, giftwrapped with great big pull bows. If it doesn't look like you've bought it from a petrol station, it will go down well! We sell lots of those and premium chocolates like Thorntons.
"Most people live with the person they're giving a Valentine's gift to and have nowhere to put it, and men often don't think about it until the day before."
Ferrero agrees that Valentine's is a last-minute affair. "Retailers should be mindful that Valentine's Day is quite last minute and therefore being big and bold a week before the occasion is likely to yield success," says customer development director Levi Boorer.
"Mother's Day however is far more planned; we'd therefore recommend retailers to start stocking up with the right range a couple of weeks in advance, at least," he adds.
"Retailers should capitalise on the three key spring occasions and cater for them individually, tailoring their approach when merchandising in-store. For example, providing a cross-category promotion such as the Ferrero Rocher, wine and flowers for Mother's Day will not only increase basket spend for retailers, but will offer shoppers the chance to purchase multiple items, in a convenient way."
Other lines that may be worth your consideration are Mars Wrigley's' Truffles. "Maltesers Truffles was the number one NPD at both Valentines and Mother's Day last year with an impressive £2.2m CSV," says Jo Sinisgalli, gifting senior brand manager.
The company has high hopes for Galaxy Truffles as they make their Valentine's and Mother's Day debuts, available in two formats – 206g (rrp £4.99) and 329g (rrp £7.49).
The Maltesers line is a hit for Rachael. "The Maltesers Truffles and Matchmakers sell quite well for both occasions giftwrapped with a bottle of wine," she says. "I'll have Echo Falls with Maltesers Truffles for £10, and Prosecco with Thorntons Classics for £12.99."
Ferrero's Boorer adds: "Seasonal lines are frequently purchased alongside typical gifting products. Successful retailers will capitalise on this opportunity by knowing the shopper, occasions and activating accordingly."
Whether you go all out with hampers and ribbons, or simply opt to display complementary products beside each other, ensuring you have a plan in place could mean you have early Easter and Spring Occasions all wrapped up.
Ferrero gets boxing clever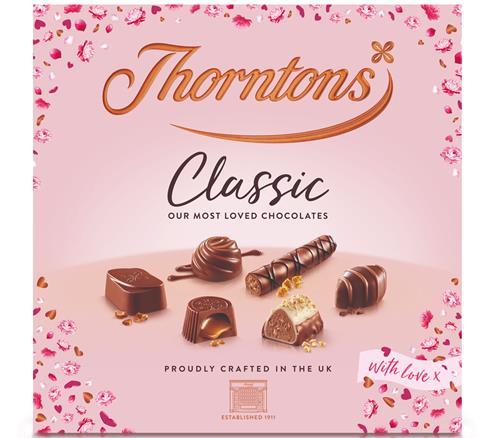 As an extension of its recent Classics makeover, Thorntons has given its boxed chocolates a Spring twist with a new packaging update available throughout the season to encourage shoppers to gift an extra special box of chocolates.
With over 6.8 million shoppers at Valentine's Day (2.0% more than 2019 – Kantar Worldpanel), Thorntons is launching the Classic 'With Love' box.
Customer development director Levi Boorer reminds retailers to prioritise core range, which in Ferrero's case is Ferrero Rocher and Collection and Thorntons Classics and Continental boxes.
"We'd always recommend that retailers focus on the core range first and foremost, as shoppers trust and recognise the well-known brands for their quality," he says. "Our Ferrero Rocher brand was the number one SKU in value sales and value rate of sale at Mother's Day in 2019 for instance [Nielsen Boxed Chocolate, Classic Boxed Chocolate, 3w to Valentine's Day, 3w to Mother's Day, 3w to Easter and MAT to May 18, 2019]."