Ferrero's Pancakes Love Nutella campaign is returning as part of a £1.4m media and shopper investment for the brand in the build up to Pancake Day 2020.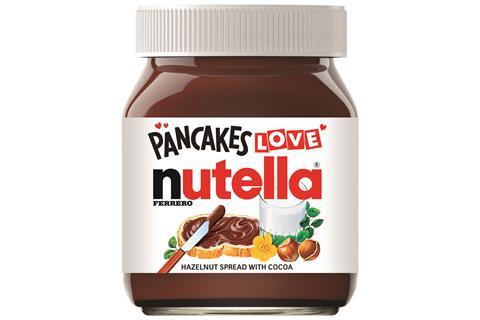 Retailers are being supported by merchansing advice, with more information available on Ferrero's yourperfectstore.co.uk website to help c-stores drive sales and prepare for Tuesday 25 February.
Pancake Day is celebrated by two thirds of shoppers (YouGov, 12 February 2018) so there is an opportunity for retailers to capitalise on the seasonal event, as well as demand for chocolate spreads.
For example, in the weeks leading up to Pancake Day, 19% of total Nutella sales take place on the day itself (Dunnhumby, 3 weeks to 05/05/2019).
Levi Boorer, customer development director at Ferrero, commented: "Nutella continues to enjoy a leading position in the spreads category (Nielsen, 2019), especially around Pancake Day when chocolate spread is one of the top three most enjoyed toppings (Kantar Worldpanel Plus, February 2018).
"With our returning campaign, we want to support retailers to make the most of Pancake Day by bringing Nutella to the forefront of shoppers' minds. We recommend retailers stock the 400g jar as a priority sku, making it widely available so shoppers have the opportunity to add it to their basket during the run up to Pancake Day".
Ferrero's top tips for Pancake Day success
It's important for retailers to keep their displays stocked up from early in the year and make the most of any last minute sales on the day itself
Installing a dedicated Pancake Day display is a good way to create theatre in-store and help shoppers engage with the occasion. Stock Nutella and other toppings alongside eggs, flour and mixes to make the section easy to shop
Ensure the date is firmly in shoppers' minds by promoting any offers relating to Pancake Day on social media and bring it up during conversations in store.