Budgens retailer Sid Sidhu has spotted a big opportunity from the forthcoming ban on menthol cigarettes in May.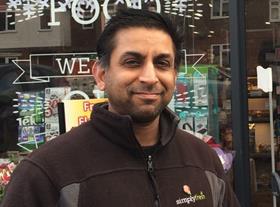 Our sales of vaping products have been soaring since the start of the year – fuelled by the large number of adult smokers who tell us that they were just waiting for Christmas to be over before trying to quit with the help of a vape.
We have also been really pushing the vape agenda hard since the start of the new year because of the impending ban on menthol cigarettes, which is set to come into force on 20 May.
I think the ban on menthol cigarettes, including capsules, will be a huge opportunity for vape, and certainly many of my customers agree that the ban will provide the impetus that many of them have been waiting for to quit.
As such we have already embarked on a schedule of promotional activity to make the most of the opportunity. We have recently put in two "testing stations" with hygiene caps where smokers thinking about making the switch can trial Aquavape's new kit and a range of flavours. The reaction so far has been incredible and I would say that about one in two people who trial the product say they would switch.
Up until now the store team and I have been running the trialling station, but from this month onwards Aquavape will also be sending in reps to help us on a regular basis and to explain the coming menthol ban to shoppers.
The ban is a huge deal, especially as so many smokers are still clueless about it. However, I believe that with a programme of activity, including the in-store vape trials, we have a real chance to turn this challenge into an opportunity. Retailers really need to be putting activity in place now. By May, the boat will have been missed.