Budgens retailer Sid Sidhu is impressed with the results of offering an online shopping service to local customers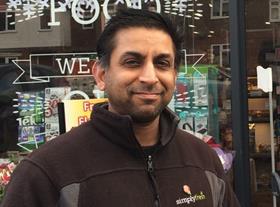 In a bid to respond to new lifestyle and shopping trends we last month signed up to the Snappy Shopper online shopping app which allows local people who have downloaded the app to place an order from our store which we will deliver to their door within an hour. There's no minimum delivery (although there is a £3 charge) and the order comes through to us on our in-store tablet as soon as shoppers have made their payment via the app.
At the moment we are keeping restricting the service to local Kenilworth and a couple of surrounding villages, plus Warwick University. We've launched with about three-quarters of the full store range and so far it's been a great success (we even had a full weekly shop order of £173 in the first week, £80 of which was fresh produce). However, next week I'm expecting it to enter a whole new league when we add our full vaping and tobacco alternatives range to the service as well.
We currently have a minimum of four people on shift so there is always someone in the store who is on hand to make a delivery and so far we are seeing spikes on Fridays, Saturdays and Sundays, although last week we made seven deliveries on a Tuesday.
The other thing that we have noticed is that the deliveries have a value of three times more than our average basket spend.
We'll be promoting the service in the local papers and via our social media where it's already generating real interest. I'm sure that the current coronavirus situation will also prompt a rise in demand and we might need to review how we run the service in light of that.