Convenience store home delivery platform Snappy Shopper and Spar wholesaler AF Blakemore have agreed a new partnership which will allow up to 250 company and independently-owned Spar stores offer the service to shoppers.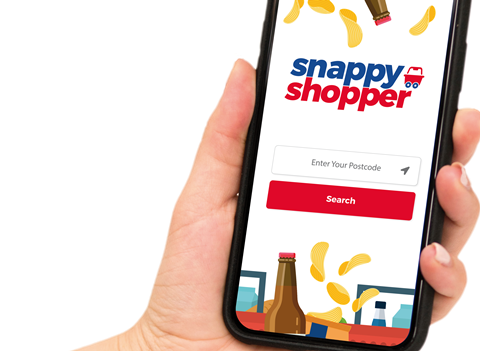 The deal is Snappy Shopper's "most significant" to date and follows successful trials in the Wrexham area.
Chief executive Mark Steven added: "This is our most significant development to date and a clear sign that home delivery in the convenience retail arena is growing.
"AF Blakemore is one of the biggest wholesale and retail businesses in the UK and we're delighted to be partnering with them."
The mobile app and web-based convenience store home delivery platform is driving incremental new sales for its top stores in excess of £10,000 per week, with its best-performing store having achieved £39,800 in a single week from home delivery during the Covid-19 crisis, Steven said.
"Our model, designed and built specifically for the convenience store market, is based entirely on working with retailers to drive incremental new sales into their businesses which, in turn, assist retailers in supporting the needs of their communities – it's very much a game-changer for this important retail sector," he added.
AF Blakemore retail managing director Matt Teague said the deal would allow its stores to build on existing home delivery ordering channels.
"We are very pleased to partner with Snappy Shopper. As a convenience store operator we have an important role to play in local communities, particularly in the current climate ensuring that vulnerable customers who are unable to visit shops at this time still get their groceries.
"Our partnership with Snappy Shopper means that we can continue to build on the home delivery ordering channels we have available and give customers another easy way to receive daily essentials direct to their door, without waiting weeks for an online delivery," he added.
Initially launched and trialled in Dundee, Snappy Shopper is now available to convenience stores across the UK mainland.
The solution allows shoppers to order via the mobile app and the website, and have products delivered to their door in 30-60 minutes.
However, due to current increased demand during Covid-19, some orders are being delivered outside this timeframe, Snappy Shopper said.
Average basket spend has risen from £21.52 to £32.49 during the coronavirus pandemic.
"The app automatically highlights participating stores in the shopper's local area and allows them to order and pay via card or cash.
"The platform also provides the retailer with customer insights that can be used to drive sales while built-in functionality allows stores to target customers with special offers via push notifications," Steven added.
Blakemore Retail has also developed its own online ordering and delivery platform.
To place an order, customers log in or register at www.afbspar.co.uk, select their nearest store and start shopping. Once their order has been placed, their chosen store will give them a call, take payment over the phone and arrange a convenient delivery slot. Stores are aiming for same-day delivery, although due to high demand they may on occasion not be able to fulfil orders until the next day.
Customers are able to view a range of circa 1,100 products across all categories, including fruit and vegetables, bread, meat, dairy, drinks, snacks, alcohol, tobacco and household goods. There is a £3 delivery charge on orders, but it is free to key workers, NHS staff and vulnerable customers who are self-isolating.
The service is available to customers within two miles of around 80 participating Blakemore Retail stores in England and Wales. The new platform will not be used by stores registered on the Snappy Shopper app, as this is a separate initiative.