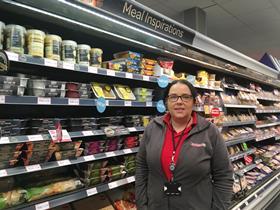 The best part of my role at Eurospar Ardglass is without a doubt all of the community work that I run on behalf of the store. There's a lot of it and in the past couple of months alone I've organised a bake sale for our local dance group, which raised £800; two colouring competitions for the local schools; and I am currently organising an in-store 12-hour sponsored cycle to raise money for a local repatriation trust. However, the biggest highlight has been getting to know local lad Ryan, aka 'The Baker Boy.'
Ryan, who has Down's Syndrome, runs Ryan's Cookie Box, a truly successful bake stall from his family home. Each day Ryan bakes a new and wonderful batch of sweet treats which he leaves in an 'honesty box' at the end of the driveway. Baking is a passion for Ryan and the money raised by the sales of his bakes are donated to a different charity each month.
It's a fabulous local initiative so I was devastated to learn that his box was recently robbed and all the bakes and monetary donations stolen. After driving round to meet Ryan and his mum, I invited them down to the store, armed him with a trolley and told him to buy whatever he needed to replenish his baking supplies.
You should have seen the smile on his face as he filled it with £50-worth of flour, butter, Rice Krispies and chocolate galore, plus a few extra Easter eggs that I added in, just for him!
It was such a simple thing for us as a store to do, but it meant the world to Ryan. I didn't do it for the publicity, I just wanted to help a lovely local boy and I'm so privileged that in this job I'm in a position to do that.