Amish Shingadia of Londis Caterways in Horsham, West Sussex, explains how he is managing in these testing times.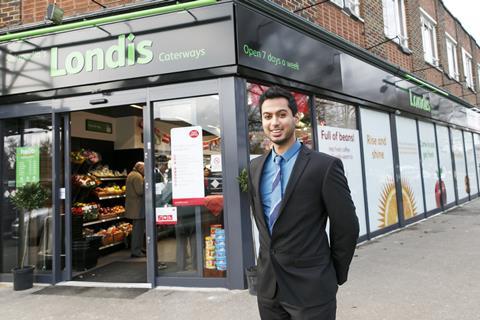 HOW ARE YOU DOING?
The week before last sales were up 100-110% year-on-year. Sales are slower this past week, but significantly up - about 50% on average. I think it will stay at this level. There are queues of two hours to get into supermarkets because they are doing social distancing, so people are coming to other stores to avoid it. Alcohol sales have significantly increased with pubs and restaurants closing.
One thing I am concerned about is that in retailers' WhatsApp groups they're focusing on money and working lots of hours and they will become worn out and then can get ill. They may be working an extra 10-15 hours a week and it will hit them.
HOW ARE YOUR STAFF?
A couple of staff are very anxious, but they understand they have a responsibility to the community. When we talk to staff you have to try and smooth out the facts a little bit. In the press they are scaremongering because they are trying to get people to stay at home. I try to tell them to wash their hands and they should be ok.
WHAT HYGIENE MEASURES ARE YOU TAKING?
We've put in hygiene rotas, staff are wearing gloves and are washing hands every hour.
Every hour we are using a sterilising spray on the door handles, counters and baskets.
WHAT SOCIAL DISTANCING MEASURES ARE YOU TAKING?
People are more socially aware now, even avoiding us now and packing their own bags, 85% of our transactions are using card payments.
We've started closing the store for an hour when our deliveries arrive to put it away safely and quickly. Some of our staff are students, they're free because school and college is postponed, so they're able to come and help with deliveries to get it out on shelf quickly. We're not losing any sales. We closed on Saturday for an hour. We had 70 people outside store. People were all positive, they knew stock would be inside, so they were happy to wait.
We 've put in social distancing strips throughout the store.
We've designed a queueing system too so people can shop and queue safely. It's crucial, I can't imagine not doing it. People kind of forget when they come in the shop and this reminds them.
We've put up signs to say keep your distance and use cards when possible.
HOW ELSE ARE YOU HELPING YOUR COMMUNITY?
We've done a few deliveries already and we're hoping to go live with home delivery next Tuesday. We've got in touch with local volunteer groups. They'll be in store form 10-12 and take payments over the phone and then carry out the deliveries on the same day. We'll start with a half mile radius and then increase to a mile. We'll have a list of the top 50 bestsellers – breakfast food, lunch etc. A lot of people have lost their jobs at the moment or are on leave and they want to help.