With their garage workshop and coffee shop closed, but store sales soaring, Christian Slingsby and wife Rachael are going all out to keep Hockmeyer Motors (Spar), Sleaford ticking over.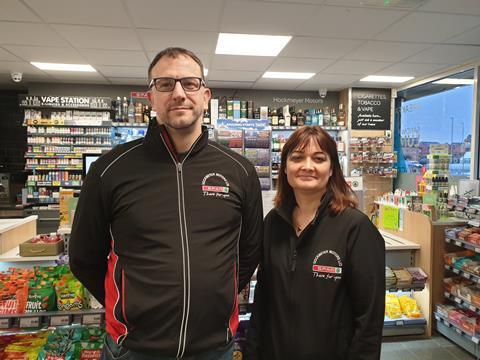 HOW ARE YOU DOING?
We managed a day off on Sunday - our first in four weeks! Initially it was just such an unusual situation. We've shut the coffee shop. One staff member has been called up by the army, one has been furloughed as they're unwell and we've dragged the rest into the store.
Petrol sales are down, but the store is 42% up and last month the same. We're feeling a little more confident than at the beginning that we'll survive, but who knows. If we go into an even tighter lockdown that will affect things even more than now. Yeah, the shop's doing well, but it's just about propping everything else up.
HOW ARE YOUR STAFF?
It was scary for a week or so, when it first kicked off everyones stress levels were so high and the appalling job that the press have done with scaremongering rather than telling people what to do didn't help. Now that they've had a chance to let it sink in, the staff have been really good.
WHAT HYGIENE MEASURES HAVE YOU PUT IN PLACE?
We have an hourly cleaning rota - all the handles, counter, pumps, toilet.
We're also closing an hour early at night to stock up and do a deep clean.
We have signs up asking people to pay by contactless where possible.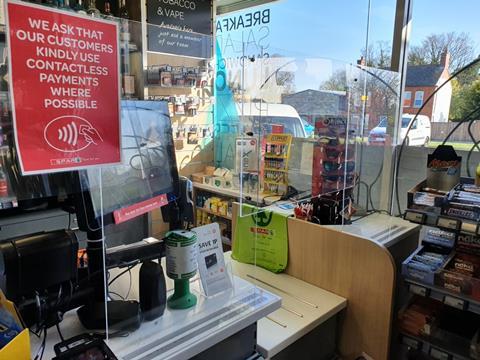 WHAT SOCIAL DISTANCING MEASURES HAVE YOU PUT IN PLACE?
We have a protective screen up at the counter. Blakemore have offered face shields, but staff said: "I'm not wearing that - they're ugly and cumbersome." We've said we'll order it, but they're happy with what we've done.
We've got floor markings - print-off, laminated on floor from very early on. About 96% of people of people follow it, but you always get a few arseholes.
We've tried to ban customers over 70 - we tell them to just phone us - some people are coming in for scratch cards, or just a Costa coffee. The difficult bit is keeping customers away from staff - they tend to keep away from each other more than the staff. We're all paying do-si-do in the store - it can be like a Benny Hill sketch with them walking towards you asking a question and you walking away. It's just alien - it's not what we do as a human race.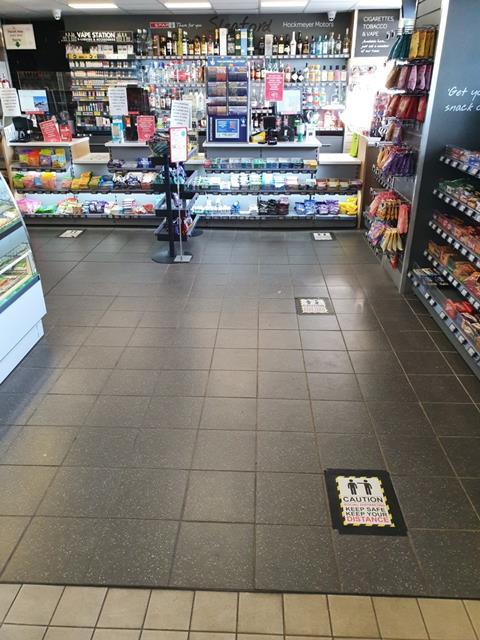 HOW ARE YOUR SUPPLIES?
Blakemore has been amazing. Yes, they've had issues, but so has everyone. Every day we get a list of what Blakemore are struggling with and then an update. They also update us with products they have they know we're desperate for. They are really, really, really the ones to be with.
Initially, with things like paracetamol they'd just automatically allocate stock to store as they got them in. That's now flowing again. They've managed to source sanitizer for staff. They've sourced big screens for us to put up, they're sending chilled bags and making signage up. From word go, Blakemore has have stepped up to the plate.
We have no flour, and a very limited supply of toilet roll. We found a local supplier for eggs. We used to sell 30 or 40 boxes of eggs a week. We're now getting through 300-400 boxes!
HOW'S YOUR NEW HOME DELIVERY SERVICE GOING?
We knew it was something we wanted to do from the word go. But it took a week before launch - we didn't know if we were coming or going. It's a lot more difficult than it sounds, steep learning curve isn't the way to word it. We had no idea of what the best way to run it is. Just getting our heads round the best way to deliver it - some staff don't know the area that well and we've had to draw up routes. It's been an experience, but one worth doing. Some people are so grateful that we're doing it.
WHAT ADVICE CAN YOU OFFER OTHER RETAILERS?
The only thing we've done all the way through is not to jump in feet first - everything we've done we've slept on it and dealt with it the next day. There are some major decisions we've had to make. In the heat of the moment you can make the wrong decision.