With only half his workforce remaining, and only half his deliveries arriving, Mitul Patel of Nisa Southend Victoria, Essex, is having to work twice as hard to fill the shelves and ensure hygiene levels are high.
HOW ARE YOU DOING?
Sometimes I get really stressed, but we have to cool down and work through it.
We're located by a train station and business is quiet because we don't have the commuters. But sometimes it gets really busy. The whole high street is closed, so we're the only place doing sandwiches. We have reduced our hours so we close at six instead of nine and open at seven instead of six.
HOW ARE YOUR STAFF?
It's quieter and the staff don't want to work. 50% of the staff are off because they want to quarantine themselves. We don't have a choice to tell them no - I still have to pay 20% of their wage, and the government pays the remaining 80%.
I have to motivate the remaining staff to be positive and keep smiling and try to give good service. Sometimes you get annoying customers who want four or five toilet rolls when we're only selling two at a time and you get frustrated comments. I say: "Come tomorrow and you can have two more!"
WHAT HYGIENE MEASURES HAVE YOU PUT IN PLACE?
Every staff member has a mask, gloves and we have sanitizer.
Every three hours we clean the shelves and one staff member is cleaning the shelves and floor all the time.
We're washing hands every half hour.
WHAT SOCIAL DISTANCING MEASURES HAVE YOU PUT IN PLACE?
I have a screen, but it isn't convenient. It was too difficult to serve customers - some people's contactless wasn't working. They needed to do chip and pin so it was complicated and it was annoying when there was a queue. Staff asked me to take it off. They couldn't scan everything as they were trying to scan it through the screen and couldn't.
We have put the signs asking people to stay two metres apart and we only allow four customers in the store at any time. You get one or two a day who don't want to stand outside, but mainly they're happy because if they go to a supermarket they have to wait in a long queue.
We've paid Nisa £26 for signage for the floor signage.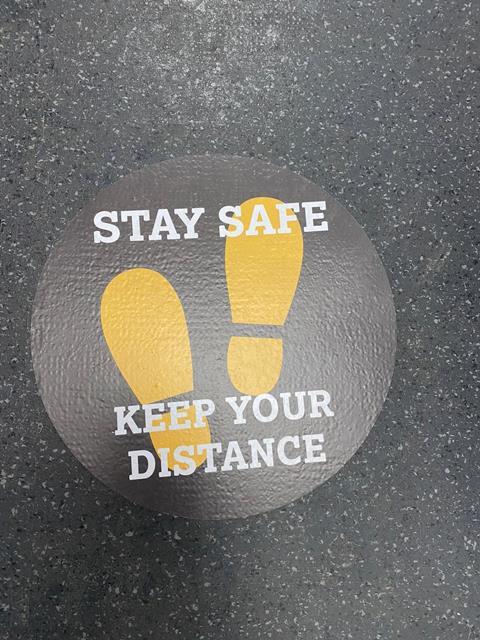 HOW ARE YOUR SUPPLIES?
I'm struggling to get the stock. You order 800 cases and get 200. Supplies have been on and off.
Three weeks ago there was nothing - no toilet roll, no kitchen roll, no eggs and two weeks ago it was still a nightmare. Now, eggs and bread are on allocation. Shelves are empty. Only 50-60% of groceries have come for the past four weeks. Customers are asking and you've promised them and you have to answer to them. Pasta hasn't come for six weeks. The Co-op stores have pasta and toilet rolls and eggs. I'm still waiting for this week's delivery.
I was struggling for three days with milk. Nisa was supposed to send it on Monday. They said I'd receive it yesterday, but I didn't get any milk or eggs. Now they say Friday.
The cash & carries are struggling as well. I've gone to three or four cash and carries trying to find products. The big job for me is inputting it into the system, printing the labels, and getting the pricing out.
HOW'S HOME DELIVERY GOING?
We've started doing home deliveries to the over 60s. The council approached me and said if you can do it it would be really helpful, so we said no problem, we've tried to help the community as much as possible. They call us to make an order. The next day we deliver what we can. We ask if they want a substitute or not, for example if they want Heinz baked beans, then we might substitute with Co-op. An hour before delivery we ring them and tell them the total and they pay cash or cheque on delivery.