Ronak Patel, owner of Budgens Arbury and a Nisa Local in Cambridgeshire has been working hard to find alternative supplies to keep shelves full.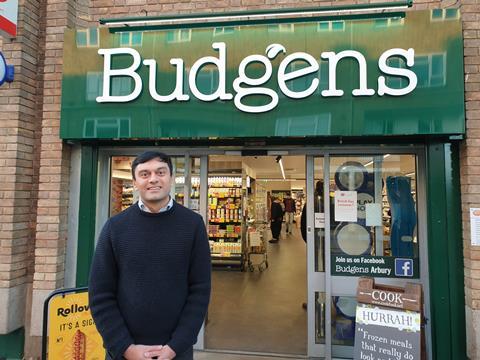 HOW ARE YOU DOING?
It's been challenging. Our average sales nearly doubled the other week, but this week it's quieter. I think people have stockpiled. They have enough and they've realised that they don't need to keep stocking up and they are maybe taking government notices more seriously and only going out when they need to.
I'm surviving on five hours sleep - trying to source different products, when I get home I have paperwork to do and when I check my emails there's new legislation or recommendations - it's moving so fast. Payroll is an issue because the company we use has restricted the amount of staff they have at any one day.
HOW HAVE YOUR SUPPLIES BEEN?
I'm only getting 60% of what we order. But being independent is good - we can source from elsewhere so we've managed to source from other suppliers.
I didn't know Country Choice did baked beans and ketchup - where catering has closed they had a vast supply. It was actually cheaper than buying it through Nisa. We got 10 cases of baked beans off them when Nisa restricted us to one case.
We're working with local bakeries in and around the area so we're sourcing bread from elsewhere.
HOW ARE YOUR STAFF?
We've had a few staff off already and a few vulnerable staff who have health conditions so they've been given a GP letter to say they need to isolate for 12 weeks. We're lucky in some ways - we have some staff who are at college and uni who can now work more hours.
Some staff are anxious, they have health conditions - we're trying to provide support in any way we can. But they understand that we're the hub of the community and we can make a difference.
The management staff are really, really good: thinking outside the box, challenging suppliers, I'm so pleased with them. We've given them bonuses.
We've given all staff a £50 voucher to shop for essentials in-store to see them through to the next pay day and to encourage them not to go to a supermarket.
WHAT HYGIENE MEASURES HAVE YOU PUT IN PLACE?
We wipe down trolleys and baskets after every use. The customer brings baskets to us - we pile them behind us and then we clean them before we put them out again.
We've put posters everywhere today asking customers to try to use cards where possible.
WHAT SOCIAL DISTANCING MEASURES HAVE YOU PUT IN PLACE?
We have 2m markings on the floor throughout store and post office. The elderly are the ones that are the most forgetful, they're not used to this. In the post office especially, they forget to stand behind the line and we have to politely remind them.
We're restricting how many people come into the store.
We're in the process of ordering counter screens this week because we believe it will last several more months so it's an investment to safeguard our staff and the future of the business. We're actively looking for screens, but it's hard because everyone is fully booked.
HOW ELSE ARE YOU HELPING YOUR COMMUNITY?
We're working on home deliveries at the moment. We've always done it for regulars who can't get out. We started to offer it to the wider public, but demand was too high and we didn't have all the products. It got out of hand so we had to scale it back. Now we're working with volunteers to service the vulnerable.