Amit Puntambekar of Ash's Shop in Fenstanton, Peterborough, tells us how he's getting on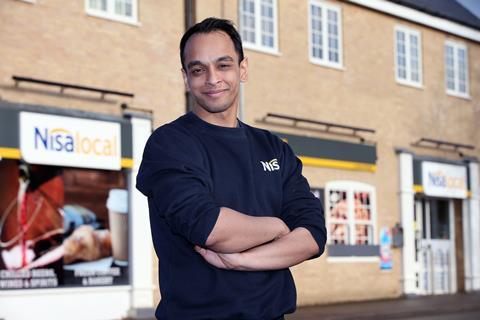 HOW ARE YOU DOING?
All the staff are running around like maniacs trying to get the basic job done. We've been trading 60-70% more than we normally would. I've noticed my temper is a lot shorter if I notice customers standing over staff while they put deliveries out. I don't want staff getting ill.
Yesterday we had seven or eight pallets come in. I did most of it and then passed out. It's crazy, you're running around trying to do so many things. Because you've never faced it before, you have to improvise, adapt, overcome.
HOW ARE YOUR STAFF?
Staff have been really good. After Boris Johnson announced the lockdown, they're nervous, you can see it in their body language. But they are positive and happy with the [hygiene]steps we're taking, otherwise, at least two would have stayed home.
I've had an older bloke, 69, who opens up for me who's put himself in self isolation. One of my morning staff had a headache and fever and went home for a week. An evening staff member has gone home and now Carole our supervisor is ill today, which is big loss for me. With people missing, my mum and dad are coming into the shop to help out, which I'm not happy with. I'm trying to weigh up what to do. We might have to run on reduced hours. I'm nervous about squeezing the hours down eg one staff said just do 10 til six (we currently work seven til nine) but I'm worried it will just put us under more pressure.
WHAT HYGIENE MEASURES ARE YOU TAKING?
We've given all staff gloves. We have a strict hand washing policy. We have sanitizer points in store for staff and customers and one out back for staff. When staff are switching between jobs - serving at till and then filling shelves - we've said wash hands after till, wash hands at start and end of shift.
We're trying to sanitize handles and baskets, but there isn't always time.
WHAT SOCIAL DISTANCING MEASURES ARE YOU TAKING?
We have social distancing at the checkout - we have tape marked out on the floor by tills and a perspex screen is now up. Before the screen, I'd put signs up and I'd said to staff to enforce it. My young staff were struggling with that - they don't have the confidence.
We've put up a lot of polite messages to remind people to keep 2m apart, but a lot of customers are doing what they normally do. When staff are doing deliveries they're still getting stopped by customers. The main problem in our sector is there's theory and practicality. The reality in a convenience store is very different. This [social distancing] goes against everything - the very nature of c-stores and why people shop with you.
HOW ELSE ARE YOU HELPING YOUR COMMUNITY?
We are running a free delivery service for those who are self-isolating or vulnerable during the covoid pandemic. I've created a WhatsApp group for people [volunteers] who have offered their help to do deliveries.