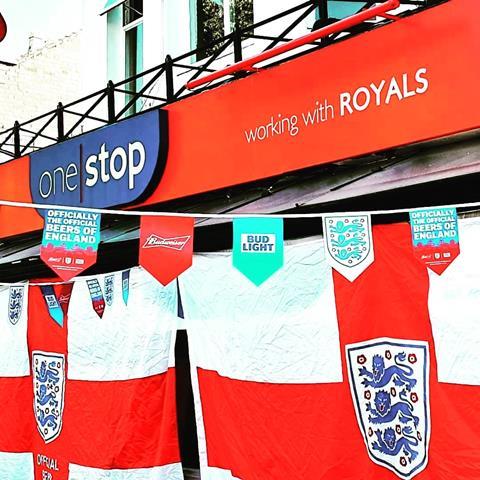 Convenience retailers who got behind Euro 2020 reaped the benefits, with sales soaring right up until the final whistle.
Alcohol sales quadrupled for Sunder Sandher, who owns One Stop Leamington in Warwickshire, which spent the tournament adorned in giant England flags. "We had all the flags and bunting outside the store and drivers honking their horns as they passed by. It was a great buzz!" he told Convenience Store. "Alcohol sales went four-fold and snacking crisps, nachos and Tango Ice Blast were fantastic sellers."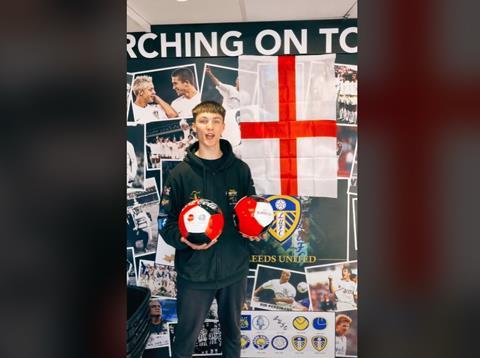 Turnover was up 10% at Premier Morley in Leeds heading into the last week of the tournament. "We saw a massive uplift in store and in deliveries," said owner Ajay Singh. "Usually on a weekend night we're open til 10pm and we hit about 60-80 deliveries. Our deliveries on the actual final hit 100 and we shut early to watch the game!"
Alcohol was a huge hit. "Normally a pallet would last a week," said Ajay. "But we did a full pallet of Budweiser and Stella multipacks between the semi-final and final."
Cocktails from the in-store bar and nachos from the cinema section were also popular with football fans.
He claims that the Euros created a great atmosphere both in-store and online. "We had customers posing with footballs in-store and we created funny TikToks," said Ajay.
"England lost, but to be honest we did really well," he said. "We can't complain as retailers - we were absolutely busy!"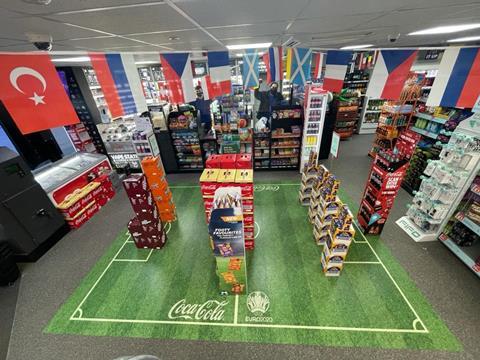 One Stop Mount Nod in Coventry was another star player. Sales received a welcome boost thanks to the store's unique in-store theatre, which saw the shopfloor turned into a football pitch with soft drinks and beer stacks creating a winning formation.
"Any England game on weekends we saw a big increase in sales," said owner Aman Uppal. But it was the products located within his Euros display that really scored. "I stuck with Euros partners brands," he said. "Coca-Cola gave me the pitch - it was the only one activated in a c-store. We sold more Coke Zero 24-packs at £7 than ever before. We've had that offer on before, but in this period we sold double what we have in the past. We also sold more Budweiser 20 packs and Carling 18-packs than we ever had."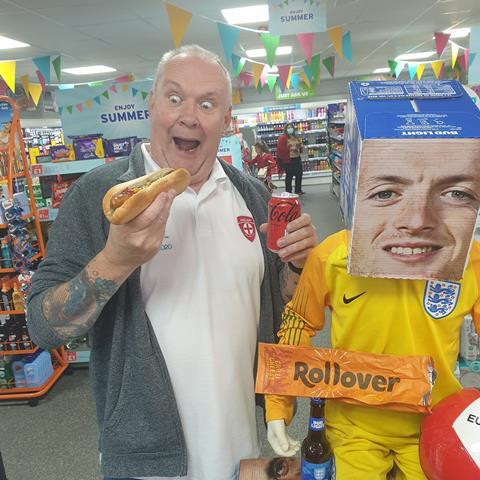 He also ran special match-exclusive offers. "We ran a half time snack deal on Rollover where customers were offered free Coca-Cola or Fanta [with hotdogs purchased] during Euro 2021 games and we did an offer on Pukka Pies," he said.
"Previously, we sold two Pukka Pies in frozen a week, but when we did the promotion we sold 17 in a day, purely down to that offer. We had our best sales ever - we won One Stop's best active seller competition for Pukka Pies. We were sent Pukka Pies balls and bottles, which we then gave away on the next round of games."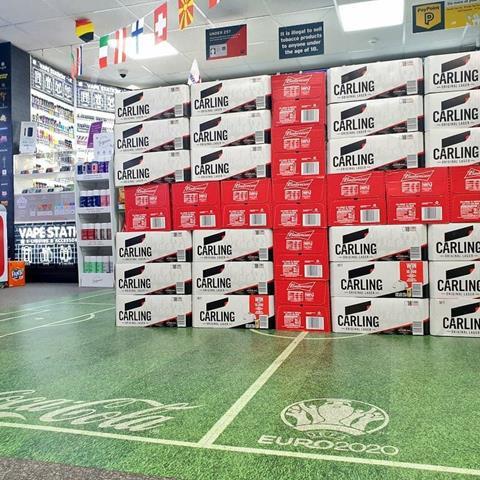 Following his Euros success, Aman claims that customers and suppliers are now eager to get involved with the next national event. "Now I'm busy sorting out [our plans for] the Olympics - every customer is asking what's next," he said. "As a result of the Euros [activity], suppliers are now asking 'how can we partner with you?'
For now, Aman doesn't want to give too much away, but he promises "it will bring a lot of colour to the store" and hopefully some extra sales too!

Sarah is senior features writer for conveniencestore.co.uk and The Grocer.