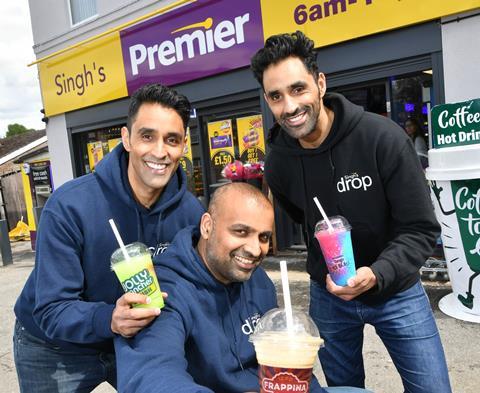 Premier has unveiled a new look for Singh's Teynham Road in Sheffield which has undergone an extensive makeover.
The store has been extended and now measures 1,750 square feet, repositioned into zones to reflect latest shopping patterns.
On the new look, Mandeep Singh said: "We couldn't be more pleased with the store – it's fantastic. We have created something that I'm really proud of and our shoppers reaction has been amazing.
Booker – retail sales director Martyn Parkinson said: "We are absolutely delighted with this store. It looks amazing and not only that, it is delivering more profit for Mandeep. These improvements are future proofing the business, so the store can continue to grow and build on these new elements and also capturing all the latest consumer trends.
"Sales are now at a stunning £56,000 a week. Margin has increased by 6% and footfall has increased by over 20% and still growing strongly. The store is now serving over 6,000 shoppers week in, week out and I'm proud that basket spend is averaging nearly £10."
Parkinson added that more retailers may follow this new look. "We have learnt a lot from this project and I'm really pleased to be able to take the successes and roll them out to both our existing retailers and any new members. This is a really exciting time for Premier as we build upon more people shopping locally and ensuring our retailers have everything they need to maximise their store."
Delivery is a big focus for the store, with Singh's Drop a new home delivery addition to the business with sales now over £15,000 a week.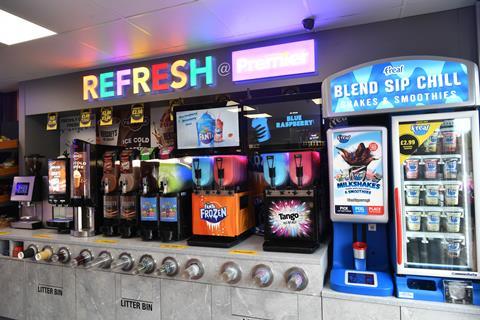 Refresh @ Premier is a new addition to the store. This new area includes F'real, Tango Ice Blast, Fanta Frozen, Jolly Rancher, Hershey Milk Shakes, along with coffee and hot chocolate. The products deliver a minimum of 70% POR which has increased the stores daily cash profit significantly.
As well as drinks, there's the food to go area which is completely new and is offering a wide range of hot and cold sandwiches, as well as paninis, sausage rolls, pies and pasties. The store also offers the Premier Meal Deal that includes a sandwich, crisps and a drink for only £3, with the store selling over 50 deals a day.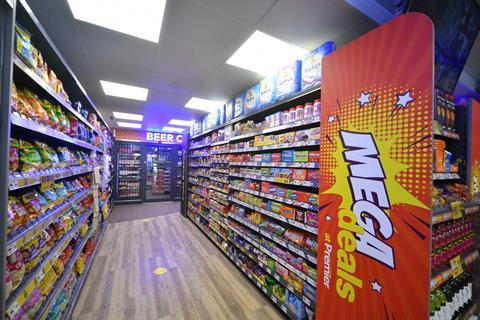 Mandeep explained some of the other changes. "We have kept a big focus on supporting local suppliers and have introduced bread, cakes and pies all from a local bakery and also a wide range of locally sourced fresh meats through our local butcher. There is also lots of pictures of Sheffield throughout the store and also my family, which I think is really important as we are here to serve our local Sheffield community. We are really, really pleased with the numbers that we are seeing – sales and profits are both exceeding our expectations and we'll have pay back in a year, which is great."
The store has more than doubled the fresh and chilled space to over ten metres, which has seen the introduction of over 200 new lines from BRP, local suppliers and more products from the local Booker branch range. This includes over 30 lines of fruit and vegetables such as parsnips, corn and asparagus. Sales for fruit & vegetables are over £500 a week while another highlight is the value everyday essential products such as 2 x 2L milk at only £2 and a 800g loaf at just 95p which continues to drive footfall.
Another new area is the Frozen Zone which features a vastly improved range. Frozen space have been doubled to ten metres and Mandeep is now selling over £1,200 of frozen food a week.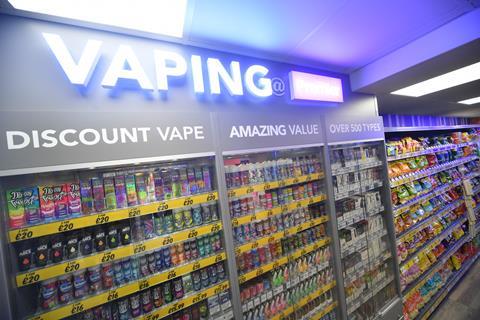 The Vaping @ Premier Zone has seen the introduction of three full bays of vaping solutions which includes the equipment as well as the liquids. This means the store offers a full service solution to cater for all shoppers needs so they do not need to go to a specialist alternative leading to weekly sales of more than £2,000 per week.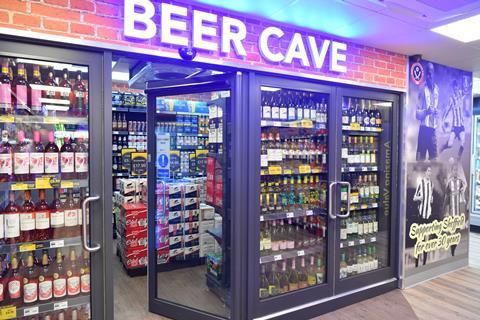 The addition of a beer cave allows the store to maximise sales from chilled beer, wine and spirit and gives the store a competitive advantage locally. The store is now selling over 40 beer kegs a day from zero before the re-fit. Both sales and profits have increased 50%.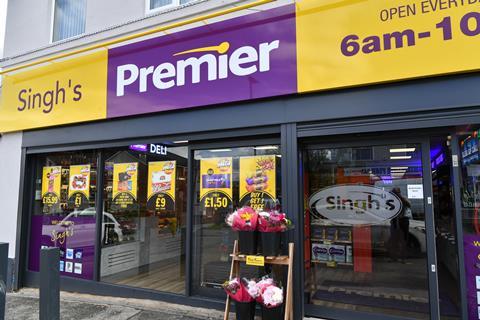 The store front has been opened up to allow greater visibility into the store and posters have been placed to highlight Premier's promotions. The store has also trialled new and improved Point of Sale which will be rolling out across the whole estate in the coming months.