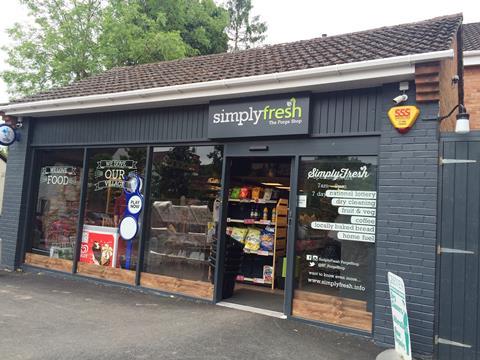 There is much to be impressed by at Chaz Chahal's new Simply Fresh store in Worcestershire: the attention to detail in its attractive yet functional bespoke fixtures and fittings; the significant investment in premium chilled produce and energy-saving systems; even Chaz's steely focus on ultra-efficient in-store technology. But when all's said and done, it's his approach to partnership and the relationships that he has successfully forged between various community groups, suppliers, staff and local shoppers that, in our opinion, shine the brightest and make this new store (his third) the red-hot triumph it is already proving to be.

Chaz knew from the get-go that buying and redeveloping the old 300sq ft Forge Shop - set on the high street in the affluent rural village of Inkberrow (fictional setting of radio drama The Archers) - was going to require baskets of charm and co-operation. Even before the ink on the first official plans was dry, Chaz arranged meetings with the local parish council and groups to explain his vision for the store. He passed this first hurdle because questions from councillors changed quickly from 'Who are you?' to 'How soon can you open?' and the lines of communication have remained open since, a fact which Chaz is sure helped to smooth the subsequent building process.
STORE FACTS
Simply Fresh The Forge Shop
Size: 1,000sq ft
Open since: May 2016
Staff: 15 part-time
Opening hours: 7am-8pm Monday to Sunday.
Services: National Lottery, dry-cleaning, food and drink to go
Chaz describes the store, which opened in late April after a year of involved works, as "the culmination of years of picking up ideas and inspiration from other retailers, trade shows and, of course, Convenience Store magazine". But it's also the result of a successful partnership between himself and the Simply Fresh team, particularly creative director Davinder Jheeta who was "a fantastic support" when it came to making Chaz's vision a reality.

The collaboration is particularly evident at the front of the extended store, which has been entirely remodelled to focus on fresh food for now and impulse goods. Products are given the space to shine thanks to the light and airy feel created by full-height windows, a raised ceiling, low shelf heights and warm 3k LED lighting, while bespoke panelling, attractive topiary pelmets and rustic wooden display stands conjure up an attractive farm-shop finish.

Behind the counter, tobacco has been shifted to low draws and the back wall space devoted to premium spirits ranged in an attractive, yet functional, wooden display stand. "I've seen a few stores which have used a similar idea, but in my opinion they've almost been made to look too quirky. It was important to me that the merchandising was practical as well as pretty," says Chaz. All the gin sits in one clear block, whisky in another and vodka in other. "It still needs to be clear for shoppers to understand," he points out.

Building the dream also required significant partnership between Chaz, construction workers and locals, especially considering that the store continued to trade throughout. Not wanting to inconvenience shoppers and cause congestion, Chaz ensured that workers' vans were parked away from the store during the day. Thankfully, the local pub, with whom he also struck up a positive relationship, facilitated this by offering up the end of its large car park for their use. Relationships between the pub and store teams have remained solid and Chaz stocks the pub's own local ale range.

The successful marrying of the old store and the new has also been crucial to its success. The store may have more than doubled in size and been entirely remodelled, but Chaz has been keen to maintain its links to its heritage with black and white pictures of the old store hanging near the entrance, and the former name 'The Old Forge' kept on the fascia alongside the Simply Fresh logo.

Behind the counter, three of the old store's staff work alongside new recruits, a large number of whom are young locals. Older and younger members are paired up in a buddy system which enables them to learn from their different experiences and strengths.

Chaz has also worked closely with suppliers and customers on range, accenting it with goods from local producers and speciality supplier Blakemore Fine Foods.

Chilled goods currently account for just over 20% of the sales mix and growing week on week, and Chaz looks on track to hit his target of 30% before long. The range includes surprising elements such as fresh fish, delivered twice a week from Seafresh of Cornwall, so fresh hake and lemon sole sit alongside salmon and cod fillets.

The store's attractive fruit and vegetable offer is refreshed by twice weekly visits to a produce wholesaler in Birmingham and is such a hit that Chaz has recently scrapped plans to introduce a free in-store ATM in favour of extending fresh produce.

Also climbing swiftly up the sales chart is food to go. Its central location in the high street and customer car park mean the store is proving to be a magnet for passing tradesmen on their way in and out of Stratford.

The food-to-go station includes a microwave which shoppers can use to heat a range of Rustlers products straight from the adjacent chiller, plus Uncle Ben's rice bowls, while the premium coffee machine and syrups are from supplier Rijo. All are encased within an attractive wood-panelled unit designed by Chaz.

Interestingly, the food-to-go range doesn't include store-baked bread or pastry products. "In my opinion there are two ways of doing food to go," explains Chaz. "You can do in-store bake-off and hot serve, but with all the additional staff costs that this entails I wasn't keen. I decided to do it the other way, which is using the skills of the suppliers themselves. I use a local bakery to provide fresh croissants, cakes and pastries each day, and that is complemented by a simple self-heat offer for customers if they want it. It's a much simpler model." So far it's proving to be a popular one, too, with upwards of 20 cups of coffee selling each day - with no promotion as of yet.

Sales are likely to rise as the summer progresses and Chaz makes good on further plans to add smart wooden tables and benches outside the store. Not only are these likely to appeal to the area's young parents and children, but also its elderly shoppers who like to pop in for a paper and a natter each day.

Chaz is also in the process of refurbishing the old store's vintage wooden fruit and veg cart. After being given a fresh coat of paint it will be loaded with a selection of the store's best fresh produce and parked outside. It should act as a strong footfall driver - another example of the old and new working together to create impact and, crucially, add sales. Speaking of sales, they are already tracking "well above target" and turnover is more than double that of the old store.

"The store really is the talk of the village," Chaz adds. "The reaction from customers has simply been amazing, and it just keeps on getting better."
Technology
Smart savings
Chaz, who has been charting his store's development in C-Store's Our Store spot, ensured that key energy-efficient touches were included in the design. Energy-saving glass doors mean that refrigeration costs are kept in check, while 3k LED light panels are fitted throughout.
The lights help to keep energy consumption low, but also serve an aesthetic purpose, suffusing produce with a warm golden light to set it off. "At night the soft glow of the lights looks beautiful on the woodwork. The store looks so inviting from outside, especially as shoppers can now see straight in thanks to the floor to ceiling windows. It definitely helps to pull in passing trade," Chaz adds.