Jacqui Dales tells C-Store how she keeps customers coming back to her bustling bakery and explains how she will grow the business over the coming 12 months
London Road Bakery in Boston, Lincolnshire, is in its 40th year and there's plenty to celebrate. Alongside its c-store offer, the Spar store offers an impressive range of food to go, including freshly baked and filled rolls and sweet pastries, plus a hot cabinet, which accounts for 45% of total turnover.
Bakery is performing well and, somewhat surprisingly in a store that prides itself on fresh rolls, the small selection of Spar own-brand sandwiches are also in growth. "Allergy awareness is leading people to buy packaged products, they trust the label, and those on diets can look at the calories," explains owner Jacqui.
However, customers with dietary requirements need only ask and staff are happy to oblige. "We have a guy who has a serious milk allergy and we always make him a sandwich fresh," says Jacqui. "We've also made stuff with Warburtons gluten-free bread if people have a wheat intolerance."
The business has taken steps to make its whole range more accessible to allergy sufferers. "We used to use margarine. Now we use sunflower spread so that it's suitable for people with dairy intolerance," says Jacqui. "We used to use a different mayonnaise, but our current one only has egg, whereas our last one had mustard and sulphites."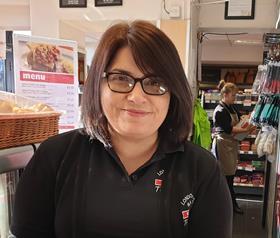 It's not just those with intolerances who have specific needs, though, claims Jacqui. "We've noticed a real difference in how the customer is more demanding," she says. "We have very specific things we make to order – no spread, extra onion and so on." However, while making to order is the store's unique selling point, it comes with its own issues. "We get people coming from a workplace with six different orders. The only thing that challenges us is the pricing," she says. "People don't want to pay extra for their special sandwich. The till system can't cope, so we ring it in on department, rather than having barcodes."
Not only does the store bend over backwards to offer choice, it makes sure the needs of those who work unconventional hours are met, with pasties served at breakfast. "We get a lot people finishing shifts at 6am – they're buying it for tea."
And for those starting their shifts, energy drinks are in high demand. "We have 95 different impulse lines within soft drinks, which runs across 2.5 metres of the store. With our early mornings, many people have an energy drink with breakfast."
Trade is seasonal and in the winter it's fairly quiet, but in the summer the store can serve 100 people an hour from 5am-8am. Up to 400 rolls are sold a day, and during the summer peak, in excess of 400. The firm makes a tasty 60% margin on its best-selling finger rolls, which retail between £1.50 and £2.
Of course, a busy store is great for business, but Jacqui concedes that operationally the store can sometimes struggle due to dated equipment. "The current till system is slowing us down," she claims. But she has plans to speed things up. "We're moving our tills to the front of the store and then the bakery will have a dedicated till."
The change is part of a major refit set to take place later in the year. "With the refit our new prep area will be behind the counter. We've been running down grocery to make space." She's also planning to sell store-made prepacked sandwiches, having trialled them last year. "The refit adds a small, standalone chiller near the serveovers," she explains.
She's experimenting with an ordering system, too. "Regulars are able to WhatsApp us an order." However, she draws the line at enabling people to pay remotely. "I'm loathed to go paying in advance as I'm worried I might miss top-up shops," she says.
Jacqui is also embracing the Too Good To Go food waste app. "It's working wonderfully," she says. "I love it, it's so simple. We have two types of bag: a food-to-go bag or a grocery bag." Bakery bags are £2 (with £6-worth of product) and grocery bags are £3 (with a value of £9).
"We don't get much grocery wastage, but with the bakery we do two or three bags a day. They sell instantly. There's a little cash reward, but it will be more important when we're restricted on how much food waste we can have. We've saved more than 500 meals since November."
Listening to her customers' needs has kept London Road Bakery head and shoulders above the competition. Despite both a Starbucks and Costa opening within half-a-mile in the past year, Jacqui claims that sales have been largely unaffected.
And yet she is eager to proceed with the refit and push the store onwards. "We've done filled sandwiches for 40 years, but expectations change and people are more sophisticated now," she says. This is one bakery that is definitely on the rise.
London Road Bakery, Boston, Lincolnshire
Opening hours: Mon-Sat 4:30am-10:30pm; Sun: 5am-10:30pm
Fresh chilled food to go: Filled rolls, salad bowls, Scotch eggs, cheese twists, pastries
Hot food to go: Pasties, bakes, sausage rolls bacon, sausage baps, burgers and jacket potatoes.
Packaged food to go: sandwiches, snacks and more than 95 impulse soft drinks lines