Last year ready-to-drink (RTD) gins broke £100m in off-trade sales for the first time1. With many consumers attending socially-distanced picnics and garden parties instead of pubs and bars, the convenience of the format gave the category a boost during the pandemic.
As a result of lockdowns and on-trade closures, consumers have turned to at-home cocktails and premium serves to bring the bar atmosphere into their front room. In fact, there have been an extra 1.2m cocktails served in the home over the last year, and this has led to more trials of premium spirits as consumers broaden their palates2.
Even as lockdown eases, RTD spirits are expected to enjoy sustained growth. Summer holidays are off the cards for most, so the category is well placed to capitalise on these al fresco drinking moments as consumers opt for days out in the park and staycations.
Serving this market is Edinburgh Gin's RTD range, the number one premium gin RTD range in the UK and second in the overall category3. Edinburgh Gin RTDs enjoyed 19% value growth in the off-trade in 20204.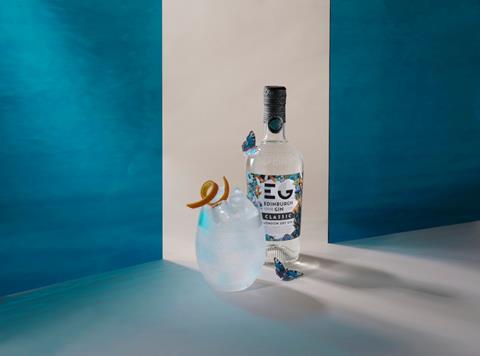 Tapping diversity
The popularity of at-home cocktails has made consumers more open to try a diverse range of drinks than before. Retailers hoping to make the most from the category must respond to the changing tastes.
Demand for variety and quality can only be satisfied by retailers showcasing a diverse range of products on shelf. Where possible, there should be branded collateral to educate consumers on perfect serves and easy-to-make cocktails.
There is also continued demand for premium drinks as at-home drinkers look beyond entry level spirits, beers and wines. To maximise sales, retailers should continue to develop their range of premium spirits and liqueurs.
Classic cocktails can also be given a new twist, with flavoured gins acting as a great stepping-stone for consumers who wouldn't traditionally drink gin and tonics. As the flavoured category has developed, shoppers have increasingly sought out a premium offering.
Stocking versatile liqueurs and premium spirits will therefore be key to tapping into demand. Offer a diverse range of original flavours and a couple of classics – like Edinburgh Gin's London Dry and Rhubarb & Ginger – to give consumers variety of choice and foster product trial.
No and low
Many consumers are also demanding low ABV alternatives to classic alcoholic drinks, with gin liqueurs well placed to satisfy this demand due to their serve versatility and lower alcohol content. The Edinburgh Gin liqueurs are always popular, letting consumers opt for a low ABV G&T while experimenting with premium flavours.
Low calorie drinking options are likewise increasingly in demand. Edinburgh Gin has launched a light version of its top-selling Rhubarb & Ginger drink with a ginger ale variant at 132 calories per serving, allowing consumers to enjoy the UK's number one premium gin RTD in an easy format.
Top products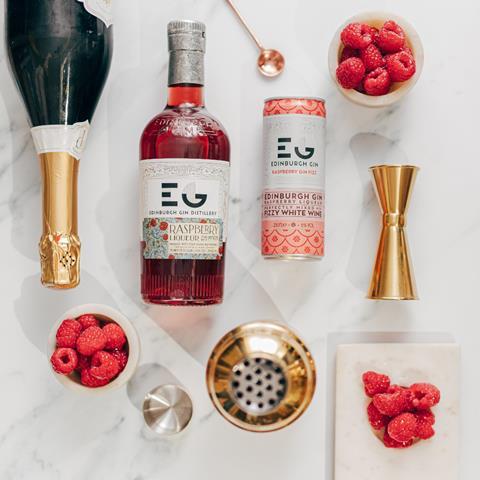 Classic
Edinburgh Gin's Classic London Dry Gin launched in 2010, sitting at the heart of the entire Edinburgh Gin range. It's a clean, zesty, juniper-forward gin which balances a unique blend of native plants and botanicals.
As a versatile gin, it's essential for any gin fixture. While marrying well with a slice of orange in a gin and tonic, it is equally suited as a punchy base spirit in a Negroni or Dry Martini.
Rhubarb & Ginger
Edinburgh Gin's Rhubarb & Ginger flavour profile changed the gin landscape in the UK, becoming the defining flavour combination for the flavoured gin category. The much-loved pairing is available across Edinburgh Gin's portfolio, either as a full-strength gin, a gin liqueur or in an RTD format.
The sweet, fragrant aromas of rhubarb are complemented by the juniper-forward base. The ginger gives a lift of spice and leads to a smooth, full finish.
Liqueurs
As the number one gin liqueur brand in the UK and globally5, the Edinburgh Gin Liqueurs are popular options for at-home mixing due to their serve versatility and premium flavour. This is true whether consumers are adding a seasonal spritz to a glass of prosecco or a fruity twist to a classic cocktail.
Raspberry Gin Fizz RTD
Launched last May, Edinburgh Gin's Raspberry Gin Fizz RTD tapped into the three-fold growth of wine-based RTDs over the past two years6. Infusing Italian sparkling wine with the brand's Raspberry Gin Liqueur, the result is a beautifully sweet, easy-to-drink cocktail in a can.
It has seen great success over the past year, accounting for up to 10% of category sales where listed7, as well as being perfect for celebrations no matter the location. The handy, on-the-go beverage has seen huge distribution and value share growth since launch.
Sources:
1, 3, 4 IRI, December 2020
2 Kantar, December 2020
5-7 IRI, April 2021