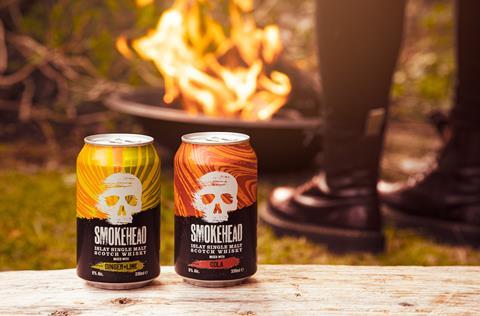 Smokehead Islay Single Malt Whisky claims to have launched the first-ever pre-mixed single malt in a ready to drink (RTD) can. Available in Cola and Ginger + Lime variants, the 330ml Smokehead RTDs (rrp £2.50) have an ABV of 6%.
'Smokehead mixed with Cola' is an ever-popular, long whisky serve. 'Smokehead mixed with Ginger Ale + Lime' blends smoky, sweet Smokehead with aromatic ginger ale, finished with a twist of lime.
Iain Weir, Smokehead brand director, said: "There is a long-standing debate whether a single malt should be mixed. But Smokehead is an unapologetically bold smoky whisky that is made to be enjoyed however you want it!
"Smokehead refuses to follow the rules of conventional whisky drinking. With summer here and BBQ season in full swing, what better time to launch the first ever pre-mixed single malt Scotch whisky in a can."
The RTD is available to order from Ian Macleod Distillers.