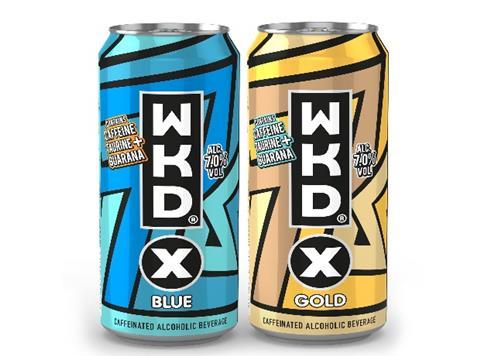 WKD is to launch an alcoholic drink containing caffeine, guarana and taurine.
WKD X will be available in 500ml single cans, in two variants: WKD X Blue and WKD X Gold (ABV 7%). The range will launch in May and is available in both standard and £3.29 price-marked packs. WKD X will be offered to stockists in trade cases of 12 x 500ml single cans.
The launch of WKD X is designed to capitalise on the growth of enhanced RTDs which generate £24m in sales and have grown 90% over the past two years (Nielsen).
Displays in cash and carries and off-shelf features in-store will support the launch while a high-profile communications campaign will build consumer awareness of WKD X through social media, extensive influencer activity and consumer-facing PR.
Alison Gray, head of brand – WKD at SHS Drinks, said: "WKD is synonymous with delivering great flavours and even greater times. The brand has always been about delivering for different consumer moments and needs across a whole spectrum of usage occasions, and WKD X will take our offering in independents to another level.
"WKD X is where the WKD brand meets the lust for life; it's an energetic fusion of the best of both. Consumers are already well versed in mixing alcoholic drinks with energy drinks – what WKD X delivers is the convenience of a pre-mixed format from a respected brand that consumers know and love. For depot managers and convenience retailers keen to focus on where incremental RTD category growth will come from, WKD X marks the spot."