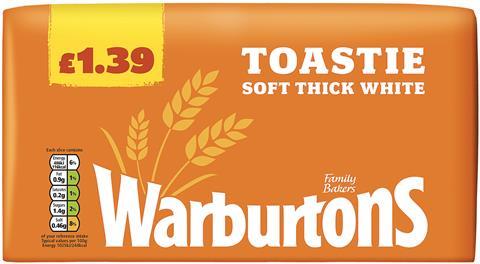 This September, Warburtons will be putting its signature Toastie loaf into pricemarked packaging for convenience stores across the UK.
The firm claims that shoppers have been found to buy more wrapped bakery with PMP (pricemarked packs) than the convenience category average and the signature wax paper-wrapped 800g Toastie Loaf (RRP £1.39) will join Warburtons' existing ranges in the convenience bakery category and complement the already existing range of PMPs (Wholemeal 800g £1.29 PMP, Half & Half 800g £1.29 PMP and Crumpets 99p PMP).
Warburtons says that the move – a first ever for the Toastie loaf – will be a boost for convenience customers and their bakery selection; one of their biggest drivers of footfall with over half of wrapped bakery shoppers purchasing a PMP when in store.
Chairman Jonathan Warburton says: "As a family business, we're committed to putting high quality, fresh products on shelves across the UK. Offering our iconic Toastie loaf and crumpets to convenience stores as price-marked packs means these products, that people know and love, will be available at great prices across the country."
Pricemarked Toastie loaves 800g will be available at Best-one, Costcutter and Spar stores from September.