­From thrift to health, how to please parents in this fast-moving category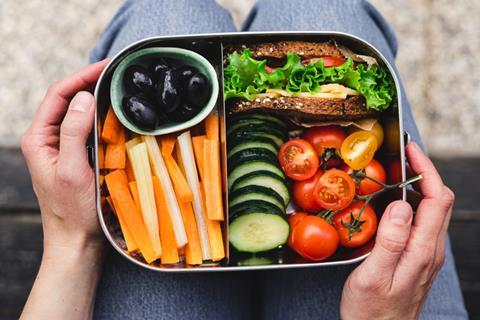 ­1. Carried-out lunch occasions are rising
Schools are back IRL, offices are open (sort of) and inflation means everybody's feeling a bit skint. All of which means that the lunchbox category could be returning to rude health.
"There has been a huge surge in out-of-home meal consumption moments following the UK's emergence from the Covid-19 lockdown and people's return to work and school," says Sam Linge, commercial controller (ambient) at John West Foods. "There was a drop in demand at the peak of lockdown, but this has since started to recover, as more people return to their daily routines and are increasingly in search of ease and convenience."
Sophie Towers, from One Stop in Burnley, has welcomed school-run shoppers back with open arms. "One of my shops is on a housing estate and the kids (and parents) all come in on the way to school to get their lunch – so it's a really big thing for me," says Sophie. "We do meal deals, which always sell very well, but also Lunchables, sausage rolls, chocolate bars, all those grab-and-go things do really well. It's just the convenience stuff that people can pop in and get on the way to the school or the office."
Sophie says she feels "lucky" that Covid-19 didn't put too much of a kibosh on the grab and go market (locals just popped in for a sarnie to take home instead). But it definitely helps boost basket spend as parents come in to buy for their kids, then splurge on themselves.
Richard Inglis, owner of several Welcome stores in Southampton, notes how wide the market for lunchbox really is, covering harried office workers, thrifty students and time-poor parents alike. "We have a real mixed bag of it," he says.
"People come in to buy our sandwich meal deals and we have students who buy lunch to take home. Then we get parents picking up a few odds and sods in the morning for their kid's lunchbox on the way through. It's interesting, because it's all part of the same market."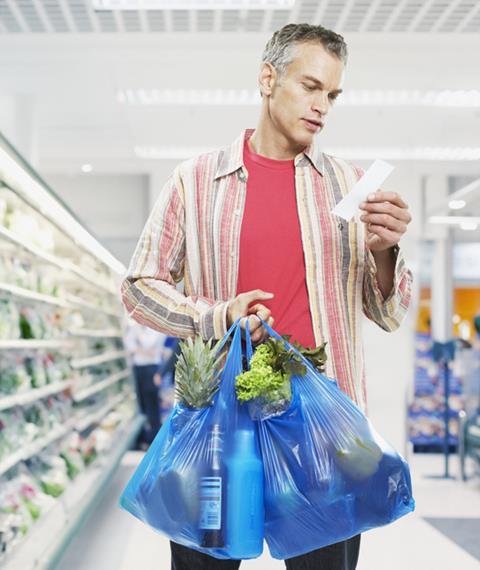 2. 60% of c-store shoppers claim to be 'very aware' of product prices
(Lumina Intelligence)
The cost-of-living crisis is already driving shoppers towards packed lunches. And it's also affecting what they choose to pop in them.
"With the cost of living currently on the rise, many shoppers will be making a conscious decision to have a packed lunch rather than eating from a high-street chain near their office," says Laura Trivulzio, marketing director at Peperami and Jack Link's.
"Shoppers will be looking for products that are good value for money, especially since many have become more money conscious as a result of the pandemic and the cost-of-living crisis hits everyone. The lead up to September and back to school is a particularly costly time for parents, so featuring promotions is an effective way of encouraging more customers to buy more."
"Value is important," adds Richard. "For instance, we see that the multipack crisps do well. But we've stopped doing a big range – now we just stock what's on offer, otherwise they just don't move."
Allison Wallentin, convenience category manager at Saputo Dairy UK, suggests that capitalising on value-tier products, such as Utterly Butterly 500g, and meal deals might be a smart move.
"Recent Lumina Intelligence insight suggests that some two thirds of convenience shoppers are being more careful what they spend money on and some 60% claim to be very aware of product prices in convenience stores [Lumina Intelligence]," she says. "Convenience retailers who respect this shopper need and continue to support their local customer base with a product offering at fair, uninflated price points, have a real opportunity to build a loyalty that will endure for years to come."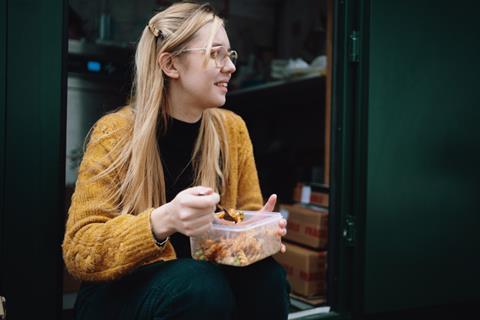 3. One-in-five 5- 6-year-olds are following a veggie or vegan diet
(BBC Good Food)
It's not news that many adults (7.2 million according to The Vegan Society) now follow a meat-free diet. But as the next generation gets inspired to ditch the meat, it's opening up a whole new market for children's snacks.
"A recent survey by BBC Good Food found that one in five (20%) of 5 – 16-year-olds are now following a vegetarian or vegan diet and many more would like to," says Sarah Augustine, brand manager at Squeaky Bean.
"The report showed that children surveyed were showing an active interest in becoming vegetarian or vegan – and were passionate about methods of food production that could be more sustainable for the planet – and are therefore beginning to lead the charge and take control of what they want from their own diets. This in turn is putting pressure on parents to stock their children's lunchboxes with something that's meat-free, but also super tasty, convenient and healthy."
Squeaky bean is busy innovating in the space with sandwich-ready Applewood Smoked Ham Style Vegan Slices and Roasted Chicken Style Slices, which are fortified with vitamin B12 and iron.
"C-stores can look to support parents with their children's vegan and veggie diets through providing them with an option on shelf that children not only want to eat as they are delicious and meat-free, but that they can feel confident in buying in terms of providing their child with a healthy, nutritious lunch," says Augustine.
Over in the dairy aisle, moo-free cheese alternatives are now growing faster than the 'real' stuff [+46% value sales in 2020 vs. 2019 compared to +13.5% for dairy cheese]. In response the brand has launched a "world-first" plant-based portioned cheese.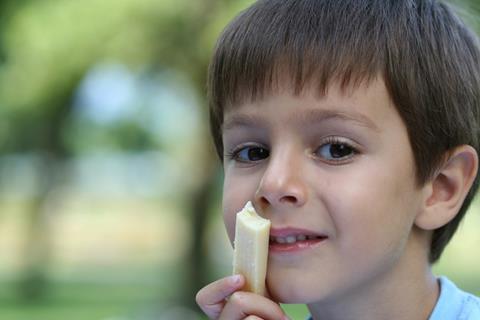 4. Four-in-ten households now choose 'lighter cheese' for snacking
Kantar Worldpanel
Cheese has always been a popular lunchbox snack – and the real growth seems to be in healthier options in the category. Neil Stewart, Cathedral City marketing controller at Saputo Dairy UK, says that four in ten households choose 'lighter cheese' with sales to 'middles families' (with kids aged 5-9) also in growth [Kantar], and buying more frequently.
Cathedral City ensures it stays the right side of school policy with its 100-calories commitment.
"Calories have been a long-standing marker of what constitutes a healthy snack, as advocated by the 2018 PHE Change4Life programme which promotes the idea of 100-calorie snacks," says Stewart.
"Products that support this, such as our Cathedral City Minis and kids' Cathedral City Nibbles, which offer a 100% natural snack that is high in protein, a source of calcium and contains fewer than 100kcals per portion, have a real opportunity to capitalise on this momentum."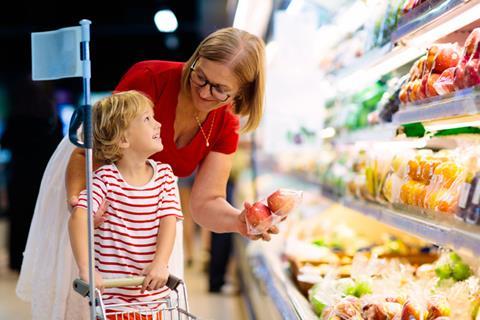 5. Families are becoming more concerned about healthy eating
The latest M&S Family Matters Index, reported that a third (33%) of families are concerned about getting enough nutritious food – the fastest-growing concern since the Family Matters Index launched in March 2021 (up 11%).
Amazon, which has opened 19 check-out-free Fresh stores in the UK, claims to be helping parents make healthy choices with an array of snack-size fruit and veg (like snap peas and pineapple chunks), alongside healthy snacks from Bear Yoyos and Urban Fruit.
"Over the last few years, we have noticed a shift in the types of products parents are looking for to fill their children's lunchboxes, with an explosion of variety and flavours compared to the lunchboxes we might have grown up with," says a spokesman. "This means at Amazon Fresh we have ensured that we are stocking what families are looking for, whether that's a loaf of bread and mild cheddar or lentil chips and smashed avocado, so everyone can cater for their children. Parents are also seeking foods that cater to their children's dietary requirements, which has led Amazon Fresh to offer an impressive selection of Free From products in store."
Richard ensures he has an array of fresh fruit to appeal to health conscious lunchbox shoppers, although he concedes it isn't his strongest seller. "People come in and buy the fruit for lunchboxes. I'm not going to say we don't sell it, but it does kind of trickle out!"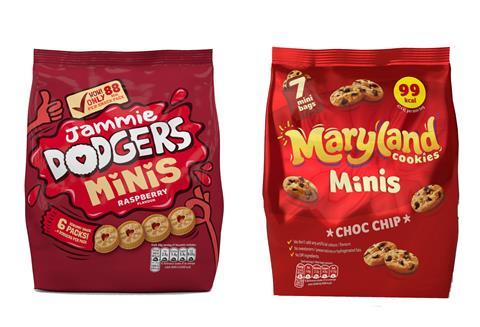 6. Children's biscuits have grown 29% year-on-year in impulse
NielsenIQ
Health may be the talk of the staff room – but there's still room for sweet treats in the nation's lunchboxes. Sweet biscuits are a key part of that market, with parents spending £120m on children's biscuits last year with sales in Impulse outstripping the mults (29% versus 17%) [NielsenIQ].
"Mini bags of biscuits are an area where we know all retailers can invest in range to meet shoppers' needs," says Colin Taylor, trade marketing director at FBC UK.
"Our new flavour variant of our iconic Party Rings product taps into the trend we are seeing for smaller portioned products: at 92 calories per mini bag our new Party Rings Choc Minis are great for eating on the go."
"The size of the prize for convenience retailers shouldn't be under-estimated," adds Kate Needham, marketing director at Burton's Biscuit Company.
"With Mini Biscuits (+14%) significantly outperforming the Sweet Biscuits category [Combined Read], those who look upon them as a nice to stock rather than a core offering are missing out on a major sales opportunity. Burton's advises retailers to consider adding Mini variants of well-known brands to the biscuit fixture to add incremental sales."
Richard adds that there's also plenty of space for the chocolate biscuits. "What tends to do well is the smaller type of wrapped biscuit, like Wagon Wheels and Penguins and things like that," he says.