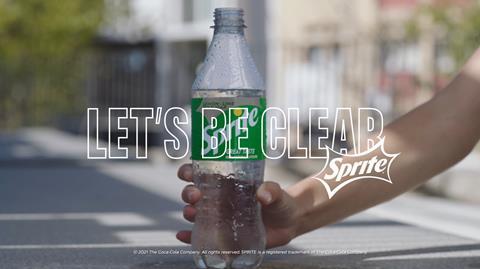 Sprite has launched a new TV ad as part of its new 'Let's Be Clear' multi-million-pound global marketing campaign. Let's Be Clear is designed to appeal to Gen Z – a generation of digital enthusiasts who are passionate about the world around them – encouraging them to take time to reset and refresh with a burst of refreshment from Sprite. The brand, which is manufactured and supplied by Coca-Cola Europacific Partners (CCEP) in GB, is enjoying 7.2% value growth (Nielsen MAT Total GB incl. discounters VAL period ending 27.03.21) in GB, and the aim is to build on this by taking ownership of the at-home chill-out occasion, while also catering for increasing consumption on-the-go.
The campaign will feature digital and snackable social media content, alongside out-of-home and print executions.
Soft drinks consumption in the home has increased significantly over the last year, which has helped to drive £65.6m worth of additional sales of flavoured carbonates in GB (ibid),claims CCEP.
Louise Maugest, marketing director at Coca-Cola GB, said: "As a brand, Sprite stands for individuality, self-expression and progress, and believes that honesty and genuine self-expression are truly refreshing.
"We know that these principles matter to our target audience of young adults – arguably the most informed generation ever, to whom gaining clarity is vital. That's why we're confident that this campaign will tap into their mindset, increasing the appeal of the brand and helping drive sales for our customers this summer and beyond.
"The advert features the Sprite 500ml clear plastic bottle – which will be made from 100% recycled plastic content in quarter four of this year. We moved Sprite from green plastic to clear plastic bottles in 2019, making them easier to recycle – a key factor in shoppers' buying decisions, especially young adults [IGD ShopperVista, May 2018]."