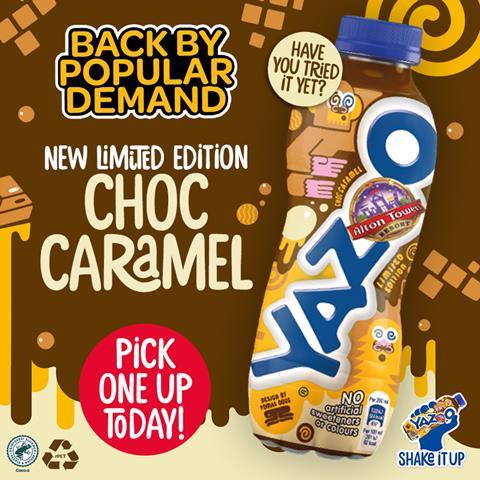 Friesland Campina has reported strong sales for its Yazoo and Chocomel brands following bespoke promotions with leading home delivery platform, Snappy Shopper. Significant uplifts demonstrate the effectiveness of digital point of purchase activation within the convenience channel.
For the two week-long trials, shoppers on the app were offered one free 250ml Chocomel sample via branded banners and geo targeted social media advertising, resulting in almost 5,000 organic redemptions – a +6,000% of sales for the same period in the same stores before the offer. So instant were the results of promotion, 500 bottles were sold within 48 hours, with the brand freeing up another 2,500 free products for the rest of the activation.
Following this, Yazoo's new limited-edition flavour, Choc Caramel, was advertised on Snappy Shopper with bold and compelling 'buy it while stocks last' messages via its dashboard, newsletter, and direct text messages. The pre-campaign push to Snappy Shopper retailers resulted in +81% increase in distribution, which led to a +2,800% purchases via the app following a similar, targeted social media campaign.
The Snappy Shopper tie-up supports the company's growth ambitions within convenience and appeals to a new audience, with an average of 80% customers being incremental to the brands during this period.
Maren Fuhrich, Yazoo brand manager at FrieslandCampina, said: "Now more than ever, consumers are looking for great value for money on the brands that they love. We're thrilled with the results from the Snappy Shopper promotions; it shows that a deal doesn't need to be extensive or complicated to work. This simple, easy to follow online mechanic has resulted in impressive sales and incremental purchases as well as improved our distribution within stores.
"Convenience is an incredibly important channel for both Yazoo and Chocomel, with a high percentage of our sales already through independents, so we'll certainly look to partner with Snappy Shopper again to engage and excite our loyal customers, as well as entice some new fans."