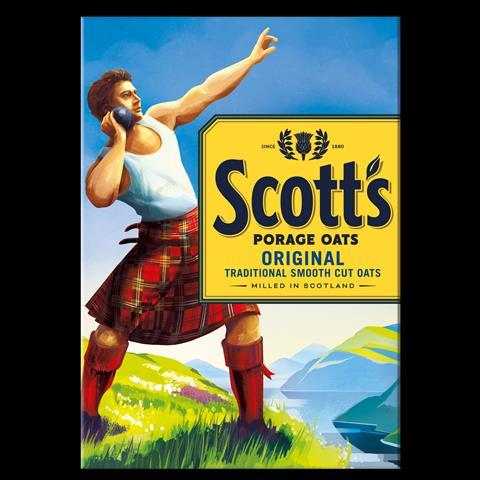 The Scott's Oats team is visiting stores across Scotland and Northern England, as well as introducing a media campaign, following the brand's packaging refresh across its classic oats ranges.
The new packaging features on both Scott's Original and Old-fashioned Oats, and highlights the authenticity and heritage of the brand.
Scott's Porage Oats continues to outperform the segment with strong growth of +13.8% YTD (Kantar, Value % change YA sales, Scotts, YTD TY WE 16.01.21). The traditional oats segment growth is +8.6% YTD (Kantar, Value % change YA sales, Trad Hots Total Value, YTD TY WE 16.01.21]). With 57% of hots segment sales happening during the colder months (Kantar, Quaker Tracker, Value Sales HOTs by Segment, WE 19.09.20), shoppers will be on the lookout for established oats brands to give them the best start to the day, claims the firm.
Heather Doyle, portfolio and innovation brand manager for Scott's Oats, said: "Over the last year, we've seen consumers continue to appreciate authentic brands and products. Scott's is loved for its established Scottish heritage and simple, high-quality product, our Oats have been Milled in Scotland since 1880 and this is something we wanted to celebrate. The new look will help to give our traditional image a modern twist for added stand-out on shelf but also shares more of our personality! We're focusing on what the brand is about – great tasting, Scottish milled oats."
The revamp will see typical Scottish humour brought to life on pack, with additions including Scottish phrases and their English translations, instructions on the traditional way to cook oats, and the way of spelling of 'porage' according to the brothers A&R Scott.