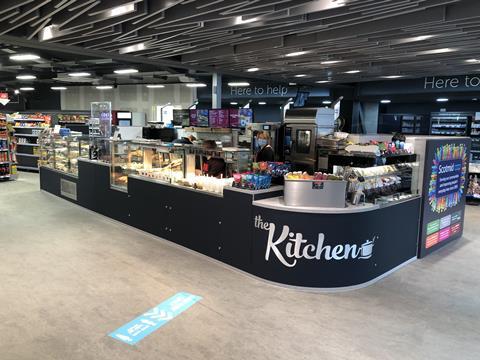 Revealed last week, Scotmid's food to go operations manager Danny Scobie took us through the new premium food to go offering at its Leven Street store in Edinburgh.
He explains that The Kitchen offering was always going to be at this site but due to Covid-19, work was delayed however that wasn't the only shift the business had to make because of the pandemic.
"We were looking at Leven Street around the middle of 2019 and knew the refit was coming up. By the end of 2019, we had the concept locked in but the schedule changed due to Covid-19. One of the things we were going to do but didn't because of Covid-19 was introduce a self service salad bar. It's not to say we won't come back to it but for now we've left that off the launchpad because it's harder to manage so we're stocking more pre-made salad bowls."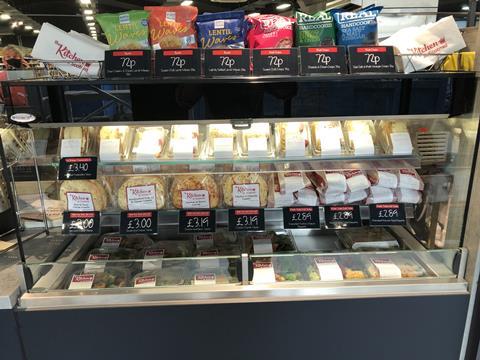 With it being a city centre store, Scobie and his team had to consider the customer base that would be visiting the site and find the right balance.
"One of the USPs of Leven Street is the served hot drinks counter. We believe there's a higher quality of product that way and creates a better experience for the customer. However, what we've challenged ourselves in Leven Street is to make half of the products to pick up and grab and go via self scan. That's a huge thing for city centre stores, customers don't always want to interact. In a store like Leven Street, about 65% of customers go through self scan so if you don't offer them a way of grab and going in a safe manner, you're probably going to miss out on a lot of people."
"Everything we do is designed to improve the customer experience and exceed what they're expecting."
He says that it's vital to have the right mix. "We're also looking closely at the serve side. We offer self serve and served coffee in that store because it's something we're examining closely. I've seen it done very well in Ireland and while we've been focused on self serve with Costa in other stores, we'll be branching out into served as well. We believe you don't lose anything on self serve machine but there's an opportunity to gain more customers that don't want to use a machine.
"This offering was really to push the boundaries of the range we offered from freshly made noodle pots to smoothies and make it different to what we're offering elsewhere."
These learnings from Scotmid are all part of offering more choice to the customer. The business is taking it one step further with more locally sourced products.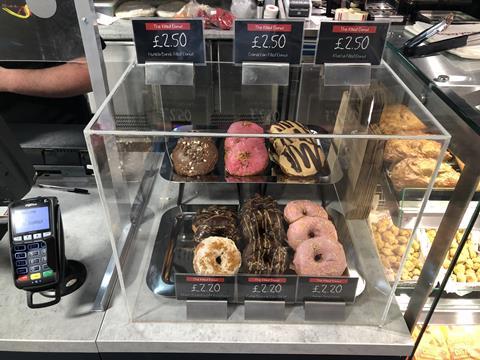 "We're trying to follow the customer now and give them more options. Leven Street has two local suppliers that no other Scotmid store currently stocks - a cheesecake and donut company. They could go into other stores but probably not en masse. It's because they're both Edinburgh brands and it's bringing their business into a new marketplace but also treating the customer to a different option. I don't think we'll ever get to the stage of totally bespoke stores because it's too hard to manage in an estate of 180 sites but we want to look at more options in each area."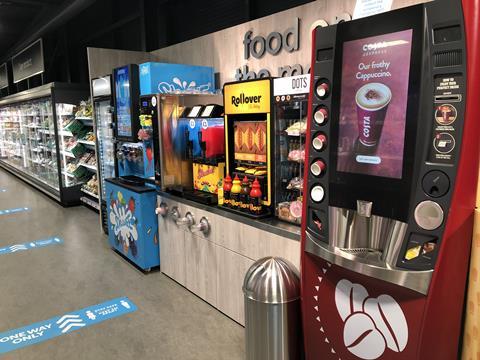 Another area of growth for convenience has been vending machines, Scobie says that Scotmid isn't ruling anything out.
"We've been looking at vending machines and if it's right for the store then we'd go for it. We already have a few in there and are open to more. Our main priority is the quality of food that we offer. The product has to be right and has to represent value regardless of price. Everything we do is designed to improve the customer experience and exceed what they're expecting."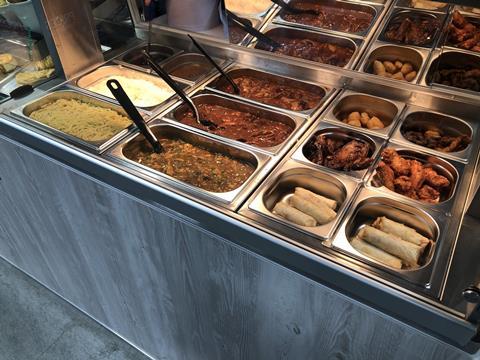 With food to go struggling in high street stores, Scotmid is making The Kitchen at Leven Street work hard by focusing on more meal occasions. "All the cabinets change over the course of the day. Full breakfast range, moving into lunch and then hot meals for the evening including pizza, noodles and loaded fries.
"At the moment it's a strange mix because usually the store has a large number of students shopping there but a lot of them aren't around right now. We expect it to return to normal when they come back and we won't be relying on the community customer base.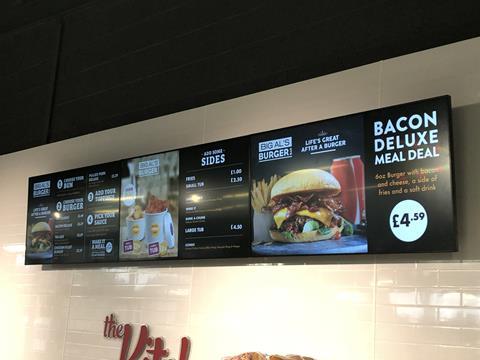 "We try and keep the offer moving and even have chilled meals that the customer can take home. We have Snappy Shopper in other stores and we'll be looking to add Leven Street to a delivery platform in the future."
"Wow them as they come in and keep surprising them as they go around the store."
While the concept will be added to other stores, there will be regional tweaks.
"We're trying a different concept for the city centre because we don't feel that we've got that offer right for a while. We've got larger concepts for community shops but the range is tailored for its location. It's not to say that some of the concept won't find its way into other types of stores but we're focused on this for now.
"In terms of stores of a similar size but probably a different range, we'll be looking at Laurencekirk or MacDuff. MacDuff will be getting a larger evening offer because it's only got a few take-aways nearby and there's a great opportunity for it to become a destination for meals in the evening.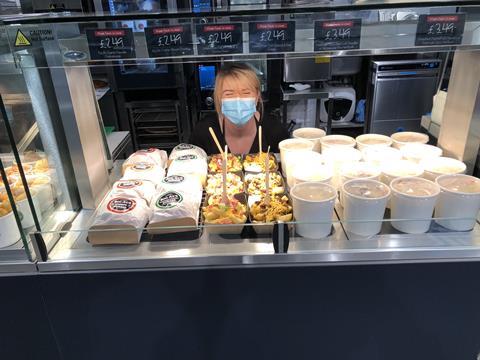 "We're about to launch our Barnton store which has elements of the range in Leven Street. We're taking the learnings from Leven Street and applying them to other stores. We've got some city centre stores coming up and their offering will be determined on how Leven Street performs."
Although only installed a few days, Scobie is pleased with the progress so far. "Early indications is that the new concept has gone down really well. Total size of the store is 9,500 sq ft. The biggest learning we found when researching what other people do is to make food to go the forefront of the store rather than tagging it on. Wow them as they come in and keep surprising them as they go around the store."
Is your store good to go on food to go? Well then enter The Convenience Awards 2021. Brought to you by ConvenienceStore.co.uk, The Grocer and Lumina Intelligence, the awards are now accepting entries. If you think your store has what it takes to be the very best in the industry, enter now.