Find out all the latest on cereals, cooked breakfasts and morning goods to help get your category sales off to a healthy start.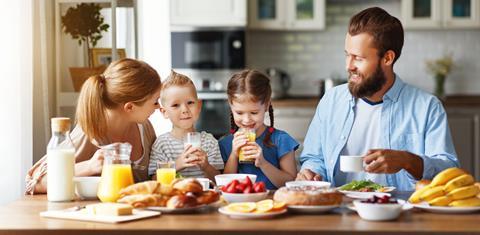 1. Breakfast consumption has soared as families spend more time together
"People have fallen back in love with breakfast and with cereal this year," says Mark Perry, Weetabix head of category and in-store. "The category overall is performing really well, up 15-16% in convenience. 65% of breakfast is cereal so that's really worked in the category's favour."
He claims that the biggest change has been the return of the family breakfast. "Because people have been more at home more together, that family demographic has really come together over the breakfast table which has been great to see," he says. "One of the areas where cereal consumption and breakfast consumption overall has grown is with younger people. People have reverted to the brands they love and trust, things like Weetabix, all year."
Harj Dhasee has seen the growth in breakfast first-hand. "Part of the upturn has been more people staying at home," says the owner of Mickleton Village Shop in Gloucestershire. "People used to skip breakfast, head out and grab breakfast on the go. We've also seen a massive uplift from children being at home."
Fewer shoppers have been skipping breakfast, concurs PepsiCo. "Attitudes are continuing to shift to recognise it as the most important meal of the day, with Brits eating 660 million additional breakfasts [Kantar, Consumption Data, In home breakfast occasions 52 w/e Sept 20]," says wholesale trading director Matt Goddard.
Big cereal brands are winning at Premier Linktown Local. "I've sold a bit more cereal," says owner Faraz Iqbal. "They buy the same as usual - Frosties, Cornflakes and Weetabix."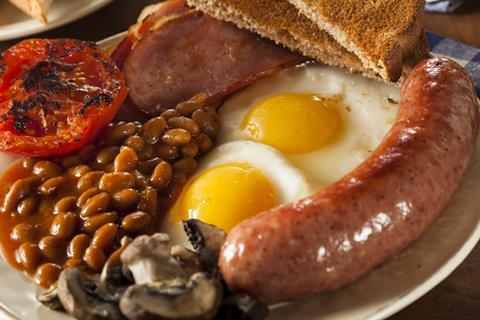 2. Cooked breakfasts have increased as people stay at home
Sausage value sales are up 20.8% year-on-year equating to £724.7m (IRI 52 w/e 9 April 2020), claims Kerry Foods. "This has been driven by the number of cooked breakfasts served in households growing 8% compared to last year, with an additional 355m occasions [Kantar June 2020]," says Victoria Southern, marketing & category director at Kerry Foods, which owns sausage brand Richmond. "As social distancing restrictions continue to be in place across the UK and the nation advised to still stay home wherever possible, we expect this trend to continue.
"Simultaneously, we also expect to see shoppers continue to be conscious about what they are eating and look for healthier alternatives when thinking about their cooked breakfasts," she adds. As a result, the firm claims more shoppers are opting for plant-based alternatives, such as Richmond Meat-Free Sausages, leading to a 30% increase in the meat-free category compared to last year, now worth £499.5m [IRI data (excludes Discounters) ending 9 August 2020].
Online takeaway platform Foodhub recently surveyed 2,000 Brits and found that a fifth of the nation claimed to eat an English breakfast once or twice a week.
Harj's customers are certainly fans. "We're selling more bacon, sausage and eggs, the whole cooked breakfast," he says.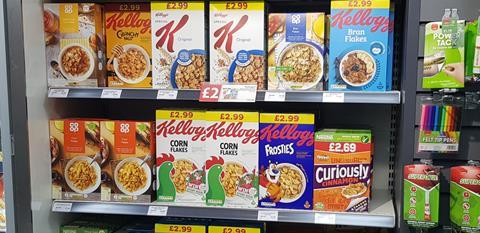 3. Breakfast cereal sales are in growth partly thanks to their value proposition
In the current environment, saving money has inevitably become increasingly important to consumers, making price play a key role in shopper behaviour, according to Nestlé Cereals. "With the average bowl of cereal costing 15p per bowl [Kantar Worldpanel Usage, 52 w/e 17 May 2020], it is an affordable option to enjoy breakfast and start the day," says Toby Baker, regional marketing director UKA. "Although the reduction in promotions at the beginning of lockdown initially had a restrictive impact on category volume growth, once restrictions eased mid-way through the year, promotions were able to return and average prices fell back down. We are now seeing volume per household grow, and in the last half of the year the cereal category has been able to boost its volume growth [Kantar data, 14 June 2020]."
Goddard urges retailers to review their pricemarked pack (PMP) offer. "Retailers need to think about the variety of PMPs that are available – not all need to be £1 rrp," he says. "PMPs instil shopper confidence as well as value, as such they could be £1.99 rrp like our 1kg Traditional Oats offering."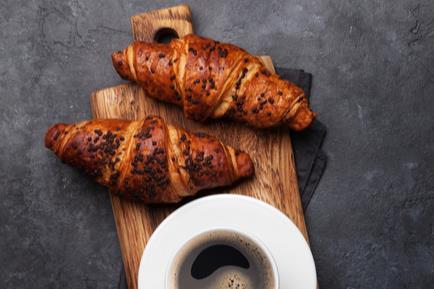 4. Morning goods have featured in a quarter more breakfast occasions
Morning goods, and croissants in particular, have featured in 25% more breakfast occasions (Kantar 2020), states St Pierre Groupe. "This trend is reflected in sales of the St Pierre range which have grown 15% YOY," says founder Paul Baker.
"The temporary closure of coffee shops, cafés and restaurants in the first lockdown had a lasting impact on the way we consume breakfast and brunch," he adds. "As a result, more people are keen to replicate their favourite out of home dishes at home and this has helped drive sales in the morning goods category."
Harj has witnessed people coming to his stores on a breakfast mission because the cafés are closed. "There's very much an increased demand for breakfast on the go lines because cafes aren't open," he says. "We have been selling more bacon and sausage baps and croissants and pain au chocolate. That whole market has increased, our baking area has seen a 25% increase over the last year."
Research shows that the growth in morning goods can be primarily attributed to the number of packs that each buyer takes home, which is up over 10%, according to Brioche Pasquier. "The 13.5% of overall growth in this sector over the past year is worth £191,589,000 [*Kantar, 6th Sept 2020]," says sales manager Charlotte Hulbert.
When it comes to Viennoiserie the growth is as impressive with 12.9% growth in the last year which is worth over £30m, claims the company. "There has been a 4.6% increase in the penetration rate and a growth in volume of 6.2% growth in the volume of packs per buyer."
Brioche Pasquier sales figures in 2020 reflected the overall trends and buyers of its Pitch chocolate filled snacks, which are popular at breakfast, took home 12.2% more packs, and also bought the products 12% more frequently.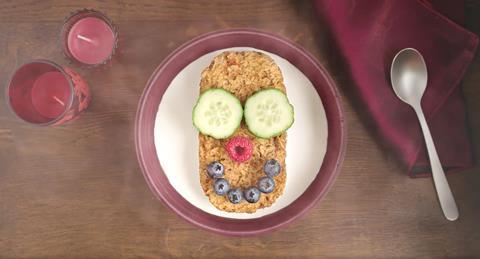 5. A fifth of families tried something totally new for breakfast during the pandemic
"The big change has been around trying something new and adding things to their breakfasts," says Weetabix's Perry. "A fifth of families are saying they've tried something totally new for breakfast this year. Personalisation even prior to covid was a growing trend within cereal. Whether that was topping their cereal or adding things to muesli or granola, they've had more time to do that." Weetabix has just launched a £2m campaign highlighting a range of serving suggestions. Perry claims that personalisation offers retailers a key merchandising opportunity to boost basket spend. "You can provide the cereal in store with seeds and nuts. There's lots of clever nudges to help people in store build their basket and build their bowls. The easiest thing is to merchandise things together if you can, but otherwise signage might work."
St Pierre Groupe adds that cross-merchandising their products with other relevant breakfast items can make the customer journey quicker and easier, as well as inspiring consumers to upgrade their breakfasts and brunches, such as St Pierre's Brioche Buns, eggs, avocado and bacon for an on-trend breakfast sandwich. "Retailers could also merchandise simple breakfast solutions next to each other, such as spreads next to the bakery section rather than with home baking products," says Baker.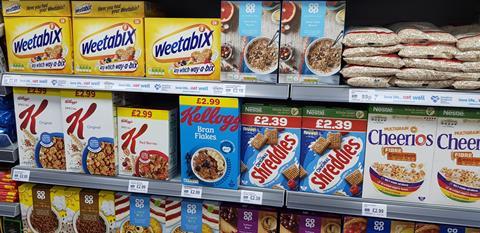 6. Covid has led to many consumers seeking out healthier breakfast cereals
Many consumers are now prioritising nutrition and seeking healthier lifestyles as a result of pandemic and 44% of breakfast occasions were chosen for health reasons last year (Kantar Usage Panel, April 2020). "During [the first national] lockdown it was our core, traditional brands [Shreddies, Cheerios and Shredded Wheat] that sold best," says Nestlé Cereals' Baker. He claims that the strong performance of these cereals this year "may be linked to increased consumer demand for more nutritious breakfast options". This month the firm has kicked off its 'Great starts with wholegrain' advert on TV and digital.
Goddard believes the health drive will benefit natural lines. "Consumers are considering the health benefits of what they eat and drink, which is likely to see segments that are natural and unprocessed experience growth," he says, noting that Quaker Oats is likely to benefit.
Functional breakfasts are also seeing renewed interest. Weetabix Protein saw a 34% sales increase following its digital summer campaign (Nielsen to 8th August: Latest 12 weeks vs same period year ago). The £4.3m brand includes the number one protein SKU in the segment with a 15% value share of the protein cereal market (Neilsen 12-months ending 13/6/20).
Fuel10k, which claims to be the UK's leading protein breakfast brand, is also reporting impressive sales. "We've seen really strong growth across the FUEL10K range in the last year despite the pandemic," says wholesale & convenience manager Lauren Bryce. "With more people being home based and working from home we've seen this positively impact our granola big box sales particularly in the convenience channel with people shopping locally." The firm claims that the retail sales value of its Granola big box is up 59% in AF Blakemore stores and 46% in Nisa outlets.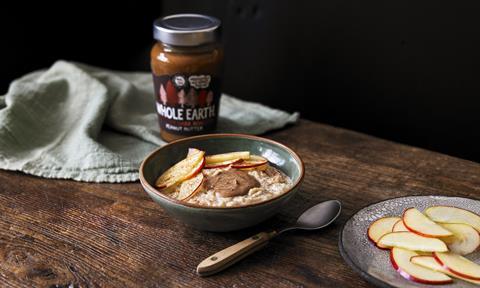 7. Peanut butter sales surge as Brits look for healthier spreads
Peanut butter gained a 35.5% increase in total sales during the first lockdown [IRI 12 w/e 25 April 2020] during lockdown, putting it firmly on track to overtake jam in the overall spreads category. "Health is front of focus, and we're seeing consumers seeking opportunities to incorporate healthier spreads during breakfast," says Bryan Martins, marketing and category director at Wessanen UK.
The firm claims that the versatility of peanut butter continues to be a driving force for demand too. In a Twitter poll run by Whole Earth, the brand measured how consumers best enjoyed their peanut butter during lockdown. 63% of consumers enjoyed it spread on toast or bagels. While 16.4% preferred it as a cereal or porridge topping and 12.3% liked to dip fruit into it.
Such is the product's popularity, Wessanen claims that peanut butter has overtaken jam within supermarkets.
Faraz has recently reduced his jam selection as part of a range review. "We've cut down on jams - we had 10 jams and we've cut them down to one of each flavour so we're sweating the shelving more," he says. "With chocolate spread - we had three sizes, so we've cut down to one. Nutella is a good seller for me."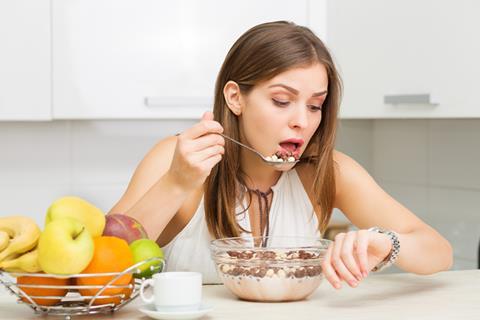 8. Consumers still want quick breakfast options despite working from home
"Over the course of the pandemic, convenience has remained a priority for many consumers," states Nestlé Cereals' Baker. "Although the majority of people are working from home, without needing to make the daily commute to work, despite having more time on their hands and not necessarily needing to eat breakfast 'on the go' - the majority (82%) of all breakfasts in June were prepared in just under 10 minutes [Kantar Usage Panel, 4 w/e 14 June 2020]. This continuing trend shows that consumers are still looking for quick and convenient breakfast options to fuel the day ahead, despite the new work from home set-up, which is why many are reverting to ready-to eat cereals as their breakfast option of choice."
Perry agrees that many people are still time poor even in lockdown. "So in our heads it's less around thinking about that person rushing for the tube or jumping on the bus and having their breakfast with them," he says. "It's around 'I'm in the house, I'm having to homeschool, I'm having to jump on my first Zoom call at 9 o'clock' or whatever it might be. The household is still busy. That's why we've seen phenomenal growth in our [Weetabix On The Go] multipacks."
Rustlers All Day Breakfast Muffin, which takes just 65 seconds to heat in the microwave, has seen seeing 17.8% growth YoY across independents (Nielsen, Independents, 52we 28 November 2020) and is currently worth £2m within the impulse channel (Nielsen Impulse Micro-Snacking, 52 w/e 28 November 2020), making it the number one breakfast product in micro-snacking with a 70.5% share of the market (Kantar WPO 52 we 29 November 2020). "Rustlers All Day Breakfast Sausage Muffin meets shopper demand for a quick and convenient hot breakfast solution with 66% of its breakfast shoppers being incremental to the category [ibid], making is a must-stock for retailers wanting to build their breakfast offering," says Monisha Singh, shopper marketing manager.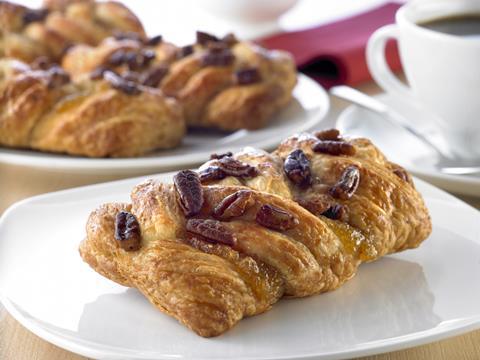 9. Economic uncertainty is fuelling indulgent breakfast products
The tasty (indulgent) sector is the largest and fastest growing sector in the cereals category, up 23% (Kantar 12 weeks to 14.6.20), according to Weetabix. "Tasty cereals have grown across 2020 with people looking for an indulgent treat, I think that's called the lipstick effect," says Perry. The firm claims that Weetabix Minis are up 23% in total impulse (Neilsen 52 weeks to 31.10.20).
Meanwhile, sweet treats account for over 30% of all breakfast occasions (Lumina Intelligence October '20) as consumers reward themselves during the pandemic, states Lantmännen Unibake UK. "Recessionary habits have traditionally seen people cutting back on big-budget spends," says marketing manager Paulina Gorska. "People may still reward themselves with more affordable sweet treats and that is where breakfast and bakery can continue to play a key part in their lives through 2021 and beyond." The firm recently launched the Schulstad 'Bake at Høme' range with Cinnamon Swirls and Maple Pecan Plaits.
Saint Pierre's Baker agrees consumers want a little luxury. "Data from Kantar shows that during this time, there has been a rise in comfort eating and, with the future still looking uncertain, for at least the first quarter of 2021, we predict that shoppers will continue to make more of the at home breakfast meal occasion and seek out ways to trade up."