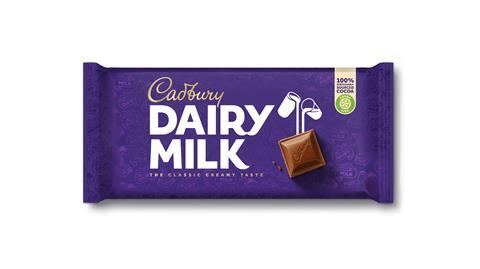 Cadbury Dairy Milk has a new visual identity which reflects the progressive vision of founder John Cadbury. The packaging includes a redrawn Cadbury wordmark, a new look for the Dairy Milk logo and a new pack design based on the original Dairy Milk, helping to drive further standout on shelf.
Mondelez International claims that the new look packs, which are currently starting to appear on single blocks before being rolled out across the range during 2021, reinforce the unique Cadbury Dairy Milk assets and product story at a time when consumers are looking for more authentic and higher quality offerings.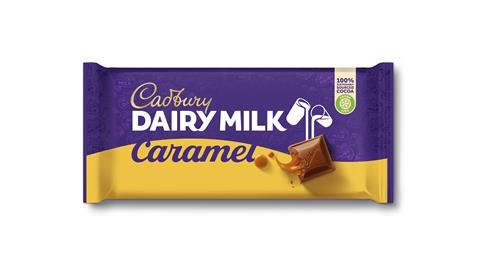 The new wordmark takes inspiration from the hand of founder, John Cadbury, by creating a signature with a more contemporary feel. Elsewhere on pack, the Dairy Milk logo has been recrafted while a distinctive pattern, based on the original 1905 Dairy Milk packaging, has been created to give greater depth to the iconic Cadbury purple colouring.
The Glass and a Half icon has also been redesigned so that it links directly with the chocolate chunk shape.
Pippa Rodgers, brand manager for Cadbury Dairy Milk, said: "Cadbury wanted to celebrate the brand's roots by honouring the philanthropic spirit of its founder, John Cadbury.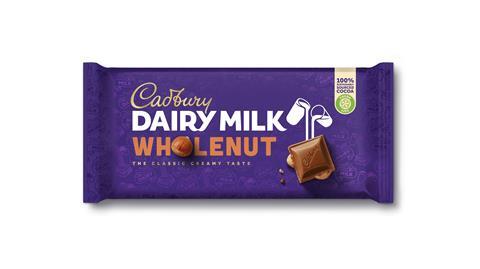 "The new identity is grounded in the original intent behind the brand, linking where Cadbury came from with what it means to shoppers today – a truly authentic brand and great tasting, quality chocolate."
The new packs give greater emphasis to Cadbury's Cocoa Life commitment, by including a more prominent Cocoa Life logo on both sides of the bar.
"Although the Cocoa Life programme has been integral to the brand for the past eight years, Cadbury believes the new visual identity emphasises its Cocoa Life commitment, as consumers increasingly scrutinise the sourcing behaviours of the brands they engage with," added Rodgers.