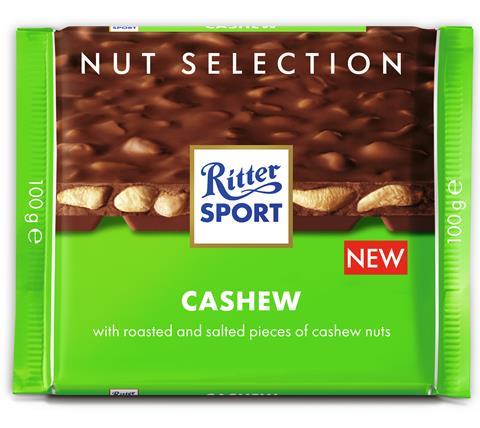 Ritter Sport has renamed its Nut Perfection range Nut Selection as part of a rebrand and added a 100g milk chocolate cashew bar (rrp £1.50) containing salted and roasted cashew nuts.
The pack redesign includes a natural and premium-looking matte foil and more visible ingredients to highlight the quality and inclusion of whole nuts in every bar. Packs also highlight the fact that the bars are made with 100% natural ingredients and feature a larger logo size to improve brand awareness on shelf. The Rainforest Alliance logo appears on the back of pack to show that Ritter Sport uses only 100% sustainably sourced cocoa across its range.
The firm's aim is to tap into the 17% yoy growth of the £191m nut block chocolate category, which accounts for 22% of the total block chocolate market. Nut is the second largest flavour category in total chocolate confectionery with sales of over £117m and is growing at 13% year on year (Nielsen Scantrack Total Coverage Including Discounters, MAT to 16.05.2020).
Ritter Sport brand manager Rebecca Cairney said: "Our new look and improved Nut Selection range offers retailers a fantastic opportunity to drive growth in the nut chocolate category. As one of the fastest growing flavour segments in total block chocolate, retailers can meet consumer demand for all things nutty by stocking our complete range. And with the addition of our new milk cashew bar there is more choice than ever before.
"As part of our new design, we're proud to display the Rainforest Alliance logo on all packs of Nut Selection. It further reminds consumers that we only use sustainably sourced cocoa – indeed we were the first major chocolate brand to do this. It just goes to show that doing the right things to create really good chocolate is at the heart of everything we do."