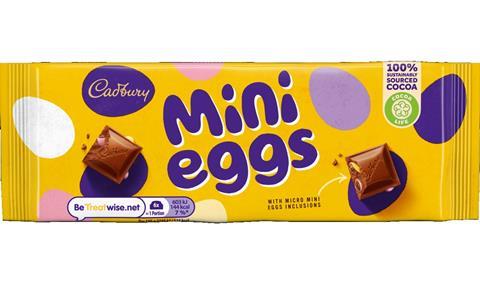 The firm is encouraging retailers to get a fast start on the season by stocking Creme Egg and Mini Egg impulse lines from January
The 110g Cadbury Mini Egg milk chocolate bar contains Mini Egg inclusions and will be available in cases of 20 at an rrp of £1.49. Mondelez is launching a new suite of Mini Egg POS material, as well as a new pack design across all Mini Egg products, to make them unmissable on shelf.
Cadbury Mini Eggs 80g bag was the number one product across all Easter SKUs in 2020 (Nielsen Total Market 20 weeks to 12/11/2020) with the brand accounting for 50% of total mini egg sales (Total Mini Egg Category RSV Nielsen Total Market 20 weeks to 12/04/2020).
Meanwhile, to celebrate its 'Golden Goobilee' Cadbury Creme Egg will give consumers the chance to win £5,000 by finding a Golden Creme Egg in their local store. What's more, there will be 30 golden eggs hidden in the convenience channel and independent retailers can win a variety of cash prizes or Amazon vouchers up to £1,000 if one is found in their store. The competition launches on December 26th and to participate, retailers must use Cadbury promotional display material.
The 'Golden Goobilee' campaign will be supported by digital, PR and activity to drive excitement throughout the Easter season. The brand will also be rolling out a celebratory new retro pack design to grab shoppers' attention in store.
Mondelez claims that Cadbury Creme Egg is the number one brand at Easter and continued to grow market share in 2020 (Nielsen Up to 17/04/2020 / Kantar FY 2020).