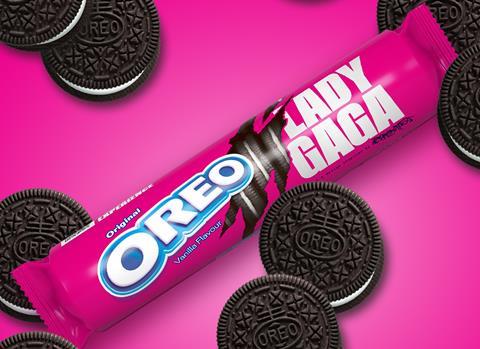 Oreo's collaboration with Lady Gaga is now available in UK stores.
The blue Oreo Original pack has had a Gaga make-over and comes in a vibrant pink colour with music prizes to be won.
The tie-in is inspired by Lady Gaga's 2020 album, Chromatica. The limited-edition packaging is available on Oreo vanilla single 154g pack, Oreo Vanilla 308g twin pack and PMP versions.
With every participating Oreo pack, fans can enter into a draw to win sensational music prizes, including some featuring Lady Gaga. The special packs also contain a QR code to allow access to Gagagrams, which are uplifting messages from the singer, to share with friends, family, colleagues and loved ones.
Oreo will also run a competition for shoppers, challenging Lady Gaga and Oreo lovers to share their own ultimate rendition of 'Stupid Love'. From the 1 February, the best ones will have their entry video edited to create a virtual 'DUET' music video alongside Lady Gaga.
"This collaboration is inspired by the world of Chromatica, where kindness rules all things," said Lady Gaga.
Brand manager for Oreo at Mondelēz International Bryony Tate said: "Shoppers can finally get their hands on this exciting collaboration, with the product hitting shelves. Beyond our delicious cookies, there are so many ways to get involved – from sharing messages of kindness, to musical prizes and even the chance to have your 'Stupid Love' rendition mashed-up into a virtual music duet with Lady Gaga. We hope this partnership creates excitement in-store".