The Isle of Man Post Office has issued a set of eight stamps to commemorate the Apollo space program and the 50th Anniversary of the first manned flight to land on the Moon in 1969.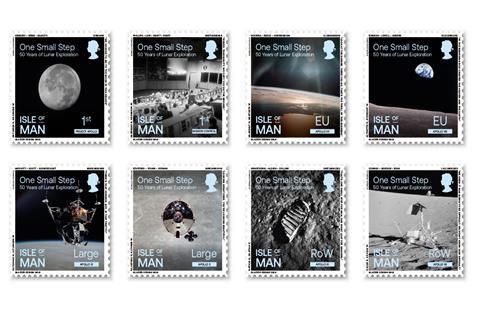 Featuring images of space, Earth and the Moon, the stamps were created by London design agency Glazier Design alongside former director of NASA's Johnson Space Center George Abbey, former astronauts and the NASA administration.
The collection also pays tribute to the NASA staff in Mission Control, the program directors and those who gave their lives for the Apollo missions. The references include secret binary codes honouring the crew that died in Apollo 1, quotes from a selection of missions, GPS references as well as important dates and times.
Ben Glazier of Glazier Design said "I was born during the Apollo 11 mission, so the moon landing has been with me all my life. To create a set of stamps to mark such an important event for humanity has a deep personal meaning for me. As humanity moves out into space with planned missions returning to the Moon and then on to Mars, we are honoured to play a small part in this great human expansion."
Former NASA Astronaut Nicole Stott, added: "Fifty years ago this July two people stepped out onto the Moon, humanity's first footsteps on another planetary body watched by the then largest television audience in history. The actions of these two men were supported by thousands more men and women on the ground. Many missions came before and came after Apollo 11. Now 50 years on we are only just now beginning to take those very same steps again, but this time we stay for good and like before for the good of all."
The 'One Small Step' collection is available as set sheets, A5 sheetlets, presentation packs, first day covers and prestige booklets.