The Sun's Giselle Wainwright has rewarded Loughborough retailer Sailesh (Sam) Tanna with a free holiday for being the top Sun Savers advocate in the country.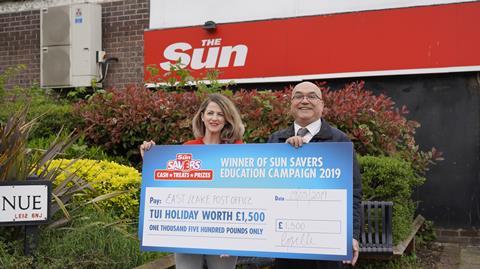 The prize, worth £1,500, recognises Sam's work to promote The Sun Savers education campaign and help inform customers at his at his East Leake Post Office store about the programme.
Launched in February, the education initiative saw The Sun owner News UK roll out new POS assets for retailers to demonstrate and communicate the mechanics of the Sun Savers scheme to customers.
The campaign, designed to help retailers drive footfall and increase spend in their stores, culminated in Wainwright's visit to Sam's store which also coincided with the Sun Savers club reaching one million sign ups.
When presented with his prize, Sam said he would take his wife of 30 years on the trip and praised the work that News UK in running the campaign: "The Sun field team brings great material that helps to highlight the Sun Savers reward programme - it just keeps the customers coming back for more.
"The team has helped me to educate myself, which in turn I have educated my customers. It's a win, win situation," he added.
News UK head of retail marketing, Chris Hughes, said: "We know how hard retailers work so I'm delighted that we can reward Sam with a well deserved holiday! Sam won the award for clearly demonstrating his knowledge of the scheme and the benefits to customers. The judges were particularly impressed with the way Sam embraced the education programme by training all of his staff and displaying highly visible point of sale assets in-store to promote Sun Savers to customers.
"Sun Savers' success is important both for us as a publisher and for retailers too - so we can keep loyal and engaged readers coming back into your store. Thanks to all our retailers that took part in this initiative and helping us on our journey to one million Sun Savers sign ups."
Sun Savers editor Giselle Wainwright added: "It was a pleasure to meet Sam and thank him for all his hard work in promoting Sun Savers. We know that our readers spend on average £8 per week than other newspaper shoppers so by promoting the programme our loyal readers can become your loyal customers! Thanks to all the retailers that champion The Sun every day and help us to do what we do best!"
Each of the fifty runners up in the competition also received £50 vouchers for their involvement in the campaign.
Watch the video below to see Sam accepting his prize: