The competition is exclusive to the convenience channel with the aim of helping retailers engage with their local shoppers. Three retailers will each win three luxury Ferrero Rocher rose bouquets worth £50 each to gift to loyal customers or those in their community who they feel deserve a reward, as well as well as a case of Ferrero Rocher T24.
For the chance to win, retailers can simply visit Ferrero's trade website, and order the Ferrero Rocher FSDU and add-on to be entered automatically. Alternatively, those who share an image of their boxed chocolate range via Ferrero's @FerreroYPS Twitter or to FerreroYourPerfectStore@cirkle.com will also be entered. The competition will run until 5pm on 7th February, with the winners receiving their bouquets ahead of the big day.
The activity is set to further highlight the importance of stocking the core Ferrero range ahead of key spring occasions, while available point of sale materials will also help retailers encourage cross category purchases of chocolate confectionery and flowers in-store.
Jacqui Dales, of Spar London Road Bakery in Boston, gifted Ferrero Rocher-inspired bouquets to customers last year. She said: "With Ferrero's support last Valentine's Day, we created a display at a prominent location within the store, stocking boxed chocolates – including Ferrero Rocher and Thorntons Classic, alongside flowers and sparkling wine to remind shoppers to pick up gifts as they shopped.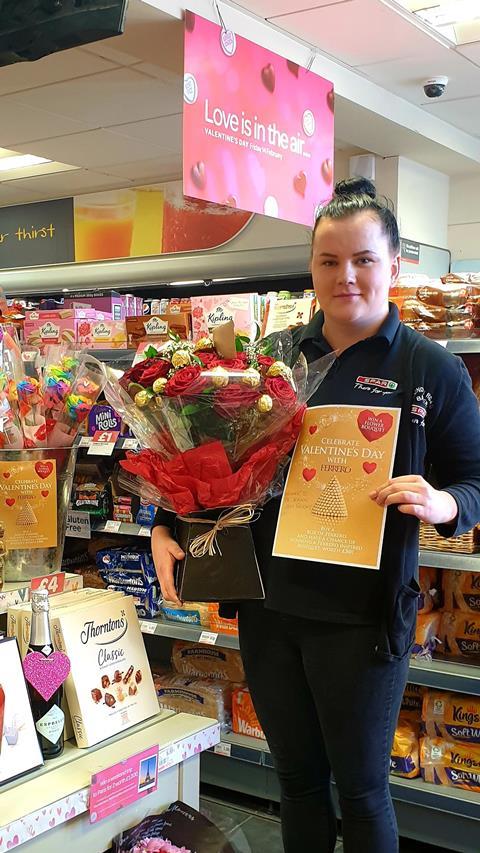 "Our store is in a very tight-knit community, so we gifted one of the prize bouquets to a local care home to reward their work. We showed people what we were doing and promoted the competition via our social media channels too, which let our shoppers know about the prizes and remind them to pick up Valentine's Day gifts from us. Overall, the activity generated a lot of positive goodwill and we are looking forward to doing something similar again this year."
Levi Boorer, customer development director at Ferrero, said: "While Valentine's Day is likely to be celebrated slightly differently this year, we believe the appetite to gift premium products will still be high. People want to treat their loved ones or give to those closest to them, and we're keen to support retailers in making this possible. Ferrero Rocher is the perfect gift and our bouquets are back by popular demand from retailers as they are a fantastic way to engage with shoppers, whether creating in-store displays, gifting them or including them in a community raffle to raise money for local charities."