Budweiser Brewing Group UK & Ireland is introducing its first range of Beck's beer bottles made using direct object printing, known as The Art Series.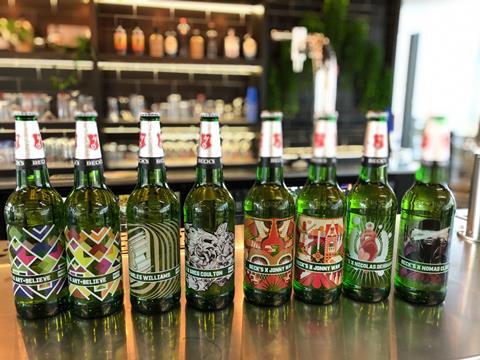 Rolling out across 200,000 limited edition bottles, the prints have been created through a collaboration with Budweiser's Global Innovation and Technology Center using artwork from six artists to create a nine-strong range complete with Beck's branding.
"Direct object printing on glass is a revolution in print and Budweiser is pioneering this technology", said Simon Gerdesmann, digital object printing and TAP site manager for the group.
The Art Series bottles feature ink and varnish applied directly to the glass for a 'no label' look, full bottle decoration and a premium design. The technology also allows for digital embossing, giving the glass a tactile effect.
"This digital embossing is one of the most unusual capabilities of this technology," Gerdesmann explained. "We are excited that we now have a way to combine a digital print and a premium bottle design which enables our beer brands to deliver unique and varying messages on the bottles.
"Premium small batch productions for specific events or moments are now possible four weeks faster than the traditional bottle labels - from designing to having it on the shelf, where it will definitely stand out from the pack." he added.