Budweiser Brewing Group is investing in new technology designed to eliminate plastic rings from its entire range of UK-produced beer cans by the end of 2020.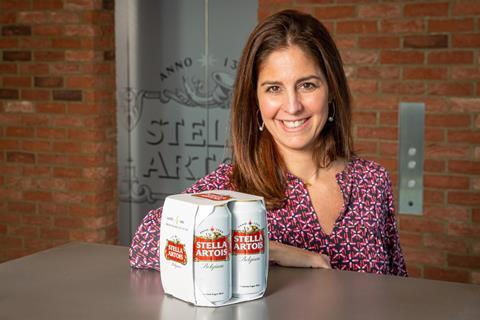 The firm is spending £6.3m on the project that will see a total of 850 tonnes of plastic saved each year – the equivalent weight of 425 black cabs, 67 double decker buses or 10 blue whales.
This total will include removing 250 tonnes of plastic rings, previously used to hold packs of beer cans together, and 600 tonnes of shrink film, normally used as tertiary packaging around trays of shipped beer.
This announcement comes as C&C Group, a key distribution partner for Budweiser Brewing Group, also unveiled plans to cut plastic rings and shrink wrap across its British cider portfolio, including Magner's and Orchard Pig, removing almost 250 additional tonnes of plastic from the UK market.
The changes will begin to roll out from March next year, beginning with the Magners 18-can pack, which will be packaged in recyclable paperboard.
Commenting on the measures, implemented following Budweiser Brewing Group's 2025 Sustainability Goals, Paula Lindenberg, president of Budweiser Brewing Group UK & Ireland (pictured), said: "Protecting our natural resources and operating efficiently is crucial for our business, as well as the communities we live and work in. This is why we have spent the past decade investing in circular packaging initiatives around the world to close the loop and reduce waste.
"We're proud of the work we've already done so far, but we realised more needed to be done to address the issue of single use plastics. This announcement ensures that the UK's favourite beers will soon come in recyclable paperboard packaging, so consumers can make even better choices each time they shop. This is another important step towards a more sustainable future, as we move towards brewing our biggest beer brands with 100% locally-sourced barley and 100% renewable electricity from solar power."