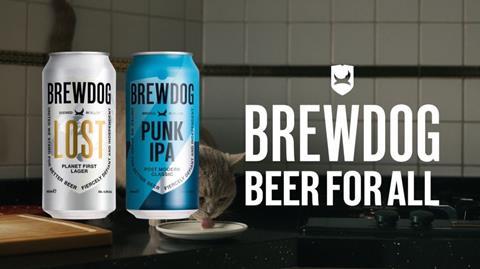 BrewDog has launched a new campaign focusing on its credentials as the world's first carbon negative brewery.
The campaign, which aims to reach 26m adults throughout August and September shows the different lives that its customers – and even non-customers – lead, and highlights that its carbon negative credentials mean that it is here for the planet and all of its inhabitants.
The TV ad will feature during high profile ITV shows throughout August, including Love Island and Coronation Street, English Premier League Games on Sky Sports and the upcoming Paralympic Games on C4 and All4.
The TV and VoD ad will be supported by OOH, digital, social and print ads. The production of all assets in the campaign has also been offset through planting trees, making it a sustainable campaign in every sense.
BrewDog's special projects director Lauren Carrol said: "The new campaign reinforces BrewDog's commitment to having a positive impact, both on our diverse audience and the planet. We're proud to be a beer for all and to serve our amazing global community. As a carbon-negative brewery, every beer that is enjoyed around the world can have a positive planetary impact."