Special dietary requirements are big business and retailers can generate some healthy sales if they get their offering right.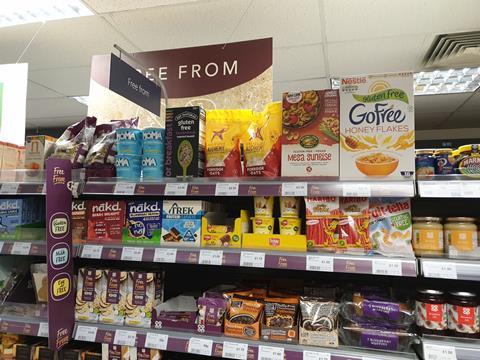 1. Lockdown panic buying has fuelled long-term interest in Free From
"Due to panic buying in the first lockdown, shoppers found themselves purchasing from the Free From aisle as a substitute for their usual favourites," says Moo Free chief executive officer Andrea Jessop. "This led to new customers and boosted the category by 17.6 per cent in comparison to the same period the previous year (Nielsen, 4 weeks to 16 May 2020). As a result, this triggered repeat purchasing and has had a positive impact on the free from category in the longer term. As restrictions start to lift, shoppers who have become familiar with these brands will expect to see them stocked in their local convenience stores, so this brings great opportunity for retailers."
This was certainly the case for Aberdeenshire-based Nisa retailer Sid Ali. "I think the free-from market is really growing," he says. "We went into it by accident, I fell into it in the first lockdown. The only flour I could get was free from and the only spaghetti I could get was free from, so we just took them in. Then other people asked us for other stuff."
The picture surrounding the free-from category during the pandemic is complex, according to Saputo Dairy UK. The company claims that over the longer term demand for dairy free spreads has softened since the first lockdown spike. "The sector has continued to recruit new buyers throughout the last year however, with Kantar reporting an influx of 450,000 new shoppers into the dairy free spreads category in the 52wks to 27 Dec 2020," says convenience category manager Allison Wallentin.
Eurostar Commodities has welcomed so many new customers to its Gluten Free Chapati Flour White and Brown varieties (demand soared by 42%) that it decided to launch a larger 3kg bag. "We've had such an overwhelming response to this flour," says managing director Philip Bull. "We find that customers try a 1.5kg bag, and return to stock up on cases of gluten free flour."
Dr Oetker believes the pandemic will continue to drive c-store free from sales. "There's now a huge opportunity for c-stores in 2021 if they're able to meet consumer's demand for free-from options, as Covid-19 restrictions persist in 2021," says Paula Wyatt, head of marketing – pizza. Ristorante has expanded its portfolio with a gluten & lactose free pizza featuring mozzarella, cherry tomatoes and pesto. "In both the total market, and specifically the convenience channel, it's the fastest growing gluten free pizza," claims Wyatt.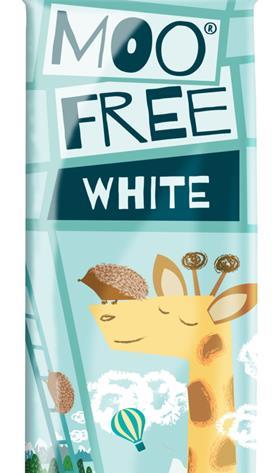 2. Free From chocolate is in demand
Free from chocolate manufacturer Moo Free has reported annual growth of 30% as consumers seek out free from treats. The firm launched a Mini Bar White Chocolate (rrp 60p) made from UTZ/Rainforest Alliance cocoa last year, sales of which have grown 100% in the last three months in its online shop alone. "Due to its extended shelf-life, retailers won't have to worry about the risk of wastage, giving them a chance to trial new lines," notes Jessop.
Carol Oldbury, director of Hames Chocolates, claims allergen-free chocolate will be a big trend for 2021. "The trend for free-from foods including dairy free "milk" chocolate continues to gain momentum. As a result, we are working to remove some of the allergens in our chocolate including dairy free "milk" chocolate and chocolate made with sunflower lecithin rather than soya."
New dairy-free oat milk chocolate brand Happi has already replaced soya lecithin with sunflower lecithin to make its range completely allergen free. "The Free From market is dominated by major brands, however challenger brands are beginning to break through and we want Happi to introduce new consumers to the category and have them buying not once, but multiple times," says founder Gavin Cox.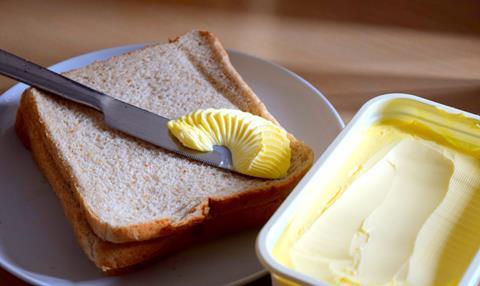 3. Dairy free spreads are enjoying double digit growth in convenience
Within Butters and Spreads, 13% of households are now buying into dairy free spreads (Kantar 52we 27 Dec 2020), which equates to a potential 1 in every 10 convenience customers seeking to fulfil this need, states Saputo Dairy UK. Dairy-free spreads are posting high double digit volume growth in the Convenience channel (IRI Total Convenience, 52we 23 Jan 2021), claims the company.
The firm's Vitalite brand continues to lead the way in Dairy Free Spreads as the UK's number one fully dairy-free brand, valued at £11.5M (IRI Total Grocers + Kantar Discounters 52we 26th Dec 2020) and driving 34% volume & value growth in Convenience (IRI Total Convenience 52we 26th Dec).
Once Sid saw the success of free-from milk in his store, he realised that there were opportunities for other dairy alternative lines. "Recently we've taken in Elmlea plant-based cream and Flora has done a plant-based spread," he says. "The success that we have with the oat milk and the non-dairy milk made me think there must be people buying that because they can't tolerate dairy products and they'll be wanting a margarine and things too."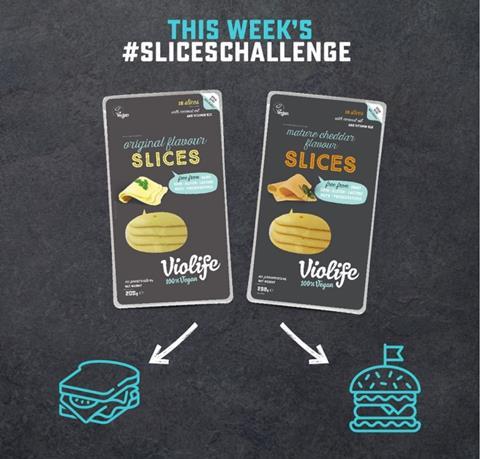 4. Free from cheese has seen an 89% increase in value sales within convenience
Though still relatively niche (accounting for a small fraction of the total market), dairy free cheese is making its mark in the convenience channel. "Within Convenience, the dairy and lactose free cheese category saw an incredible 89% increase in value sales, currently at £3m to the end of last year, with volume sales up 73% (IRI Total Convenience 52we 26th Dec)," says Saputo Dairy UK's Wallentin. The group is keen to grow distribution of its Vitalite Dairy Free Cheese Alternatives, which launched in late 2019, and claims that the range performs well where listed.
Sid began stocking dairy free cheese following customer requests. "People have asked for dairy-free cheese, so we've got Violife cheese in," he says.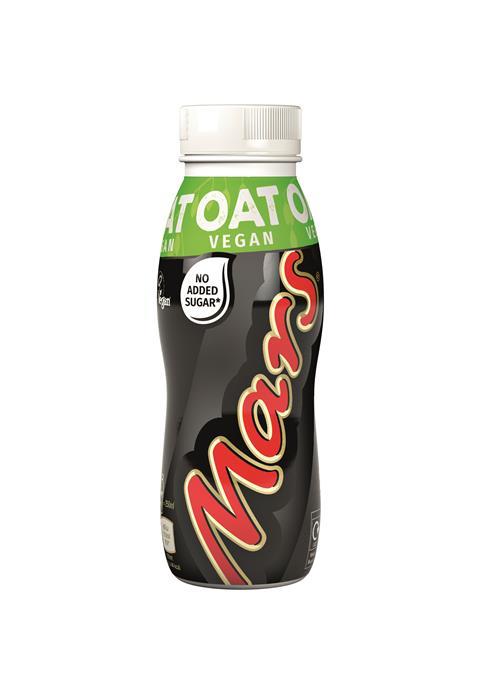 5. Dairy alternative drinks have grown 40.3% YOY within convenience
The total dairy alternative drinks category is worth £361 million (IRI 52 w/e 26th Dec 2020 Total Market, Dairy Alternatives, Value Sales). Within convenience, the category is growing 40.3% YOY, with a current value of £58.4 million (IRI 52 w/e 26th Dec 2020 Convenience, Dairy Alternatives, Value Sales).
"We have a fantastic selection of non-dairy milks," says Sid. "The most popular one is one I'd never even heard of called Oatly. That is experiencing crazy sales - we're selling the equivalent of normal milk of that - about 20 or 30 packets a week, which compares not badly with a 1ltr milk. We sell a lot of Alpro soya based milk too."
Oat milk almost doubled to £94.3 million from £47.8m in the UK over the previous year, according to Kantar data for July.
Mars Chocolate Drinks and Treats claims that oat is the largest segment within convenience, growing 205.4% with a value of £19.4m (ibid). This company launched its Mars Vegan drink containing oat milk last July. The 250ml Mars drink joined the firm's existing Galaxy and Bounty vegan drinks, all of which are registered with the Vegan Society.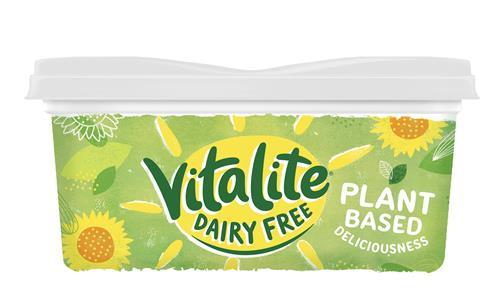 6. The popularity of vegan diets is propelling free from sales
Recent reports show a continued consumer movement towards consciously healthy eating habits, within which vegan and plant-based diets are a dynamic trend, claims Saputo Dairy UK. "We expect dynamic growth of dairy free to continue as more and more consumers adopt plant-based diets, together with an explosion of new products entering the market catering to this consumer 'need', and in turn increased space on shelf for these new ranges," says Wallentin. "Demand for free-from is no longer driven by medical necessity, but rather has become a lifestyle habit and is very much entering the mainstream." The firm recently refreshed its Vitalite packaging, with 500g tubs of the dairy free spread now bearing 'plant based deliciousness' messaging in response to growing consumer appetite for plant-based diets.
Moo Free concurs that the vegan trend is driving free from sales. "Free From chocolate is growing in popularity as it doesn't just cater for those with allergies, but also for people who follow a more plant-based diet or are vegan," says Jessop. "By selling products that are suitable for a range of diets, retailers don't have to stock multiple items which can help save in-store floor space," she says.
"Vegan and flexitarian trends are leading new customers to our free-from brand," claims Bryan Martins, Mrs Crimble's marketing and category director at Ecotone UK (formerly Wessanen UK), which reports strong growth in its vegan chocolate and macaroons. The firm will be using Coeliac Awareness Week (13-20 March) to reach out to new consumers through NPD launches, shopper marketing and highly-targeted social media content.

Sarah is Deputy Editor for conveniencestore.co.uk.